Ceviche's
7210 Wrightsville Ave., Wilmington, 910-256-3131, wbceviche.com
Inspired Panamanian Restaurant & Bar
By BRIDGET CALLAHAN » Photos by JENNIFER SIMPSON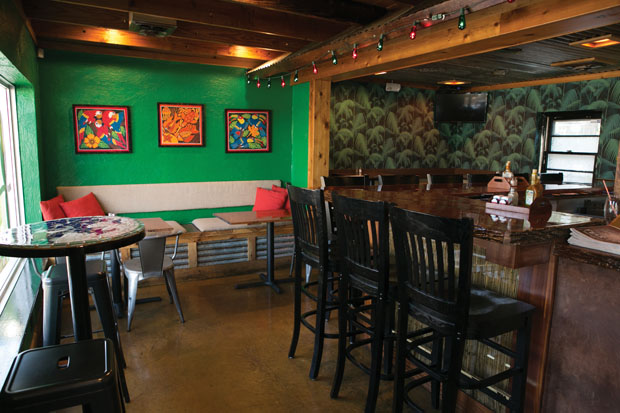 Did you know that every year, thousands of people who grew up in the Canal Zone in Panama come together from all over the world to have a "reunion"? The Canal Zone was a chunk of territory on either side of the Panama Canal that for seventy six years was controlled by Americans, until it was given back to Panama in 1979. This unique group of people from this very unique time and place call themselves Zonians. They even have an international phone directory, to keep in touch with their members around the world, and share their nostalgia and love for Panama.
Now if you weren't lucky enough to be born in paradise, you might feel a little left out of the Zonians, but never fear! There's a consolation prize, which is that you live currently in a different kind of paradise, Wilmington, NC, and we have a restaurant by the beach called Ceviche's. You may not actually be in Panama, but owners Hunter and Laura Tiblier are going to do their best to make you feel like you are as much a Zonian as the next person.
The authenticity comes from Hunter's side - he's an actual Zonian, born and raised, and his ceviches were the hit of parties for many years before he decided to make the dish professionally. But the restaurant's adorable and unique location is thanks to Laura. She does yoga at a studio nearby, and noticed the small wooden building on eastern Wrightsville Avenue when it was formerly a cupcake shop. "In my head, for two years, I said 'I want that building, but I don't know why.' I just kept holding onto it energetically," she says.
The building became available the day before the couple was headed to Panama, to introduce Laura to Hunter's family. Laura knew she wanted it, but still didn't know exactly what to do with it, so they asked the landlord to hold it for them. Then, while they were in Panama trying all the different ceviches that fish-market street vendors ladled up from big barrels, the idea of a Panamanian themed restaurant took shape in the couple's hearts. The wooden carved toucan, Ricardo, that Laura brought back from that trip became their mascot, and they modeled it after one of Hunter's favorite places in Panama. It was just a surf shack on a beach, owned by a friend, but a place where you could eat the freshest fish, connect with friends, and enjoy the natural beauty and sunshine around you.
"It's his happiest place on earth," Laura says about that beach shack far away.
"This is very much like it," Hunter replies, smiling.
They started from scratch, with a building that had never even had a kitchen. Neither of them had any previous restaurant experience, he was retired military and she was a nurse, but they did their research, worked the 24-hour days required, and managed to open Ceviche's doors in September of 2014. At first, Hunter tried to run the kitchen on his own. But when head chef Sam Cahoon walked in two months later and offered his services, the couple snatched him up. Cahoon has been cooking in the Wilmington area for years, but was looking for a kitchen to call his own. Merging the Tiblier's vision with his own wasn't that hard.
"He [Hunter] is a great home cook, and he knew the basics. I took those basics and just kind of ran with it. It was his vision from the beginning, so I took some of what he had already going, and just continued to expand," Cahoon says.
What Hunter wanted is authentic Panamanian style food, and that's exactly what you'll find on the menu. He is quick to point out that each Central American and South American country has a unique and subtle difference in their foods, like capers versus olives in arroz con pollo, or is the fish marinated in lemon or lime? A traditional Panamanian ceviche is corvina, sea bass, "cooked" overnight in fresh lime juice, with red onion, jalapeno, and cilantro. The rest of the menu includes favorites like ropa vieja, fried arepas, empanadas, and sweet plantains. But the ceviches are the stars, so the best bet is El Cuatro, which gives you four ounces of each kind to try. Being so small currently allows the restaurant to source most of their produce locally, and their seafood fresh caught from Mott's Channel. The daily fresh catch is an attraction for regulars, offering up anything interesting that catches Cahoon's eye that morning, from shark to barracuda.
Ceviche's is celebrating its one year anniversary, and so are the Tibliers, who got married only two weeks after the restaurant opened. The couple has plans to expand next Spring into a neighboring building, giving them more dining space and allowing them to apply for a liquor license (they're particularly excited about the idea of creating a rum-focused bar), but they have no intention of letting go of their original "beach shack", which will still be open for lunch and as a bar. Wednesday through Saturday, you can enjoy the ocean breeze, have a South American beer or delve into the deep wine list, and listen to live music on the wooden porch. It might be the smallest restaurant in the city, but the heart behind it is certainly big enough.