Great Gatherings
09 Nov 2015

Five designers turn their talents to the holiday season and give reason to celebrate the special occasions
By CAROLINE GOBBLE
Photos by KELLY STARBUCK, Salt Studio Photography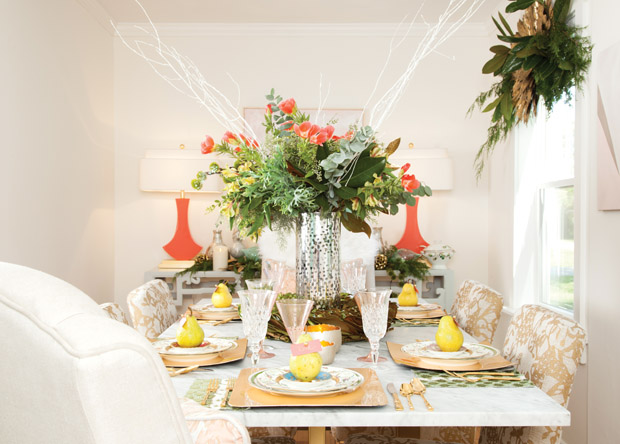 LouAnne Liverman
Nest Fine Gifts and Interiors
No colors represent the holiday season quite like the traditional reds and greens. And, of course, golds! LouAnne Liverman, an interior designer at Nest Fine Gifts and Interiors, a unique home furnishings boutique also offering interior and design services, wanted the table scape to resonate the traditional holiday ambience, but with a twist on the classic Christmas color trio of red, green and gold. Instead, she opted for silver accents instead of gold. The outcome is a fresh, coastal look on a tried-and-true classic style. The perfect blend for holiday dinners with family and friends at the beach!
To achieve this more mainstream, modern look alongside a vintage favorite, Liverman first chose an oblong hammered silver bowl stacked with preserved boxwood greenery and shiny cranberry ornaments for a textural centerpiece. Continuing the greenery theme, she added the multi-sized boxwoods in mercury glass pots intertwined with silver-plated coral candleholders for aesthetic ambience. Casafina plates in bright reds and crisp whites offer a visually clean and contemporary look and are offset texturally by soft, silvery placemats and taupe table linens. Artisan stem- and glassware—with minute detail and texture— are a blend of both elegance and old-fashioned festiveness. Lastly, beautiful handmade Beatriz Ball metal ware gleans on the limed oak table as part of Nest's traditional-with-a-twist table scape. Nest Fine Gifts and Interiors, 910-256-6378.
Hooper Patterson, Lindsay Scott
Hooper Patterson Interior Design
Hooper Patterson and Lindsay Scott of Hooper Patterson Interior Design created a beautiful holiday setting at HPID, The Studio. They chose a marble and brass dining table as a modern focal point and paired it with linen and gold mid-century style chairs to give it an edgy look. Patterson has a passion for using traditional china, heirloom pieces, and flatware to set a table so mixing in traditional elements with the sleeker furniture creates a nice juxtaposition.
Switching up the color palette from traditional holiday red and green, Patterson used bright greens and gold with pops of coral instead of red. She brought in fresh clippings and mixed them with organic elements, fresh flowers and touches of bright green, coral and gold for a less traditional look. Additional layers of china and antique pieces created a timeless look to the table.
Patterned napkins add a pop of color to the table and are made from a fabric remnant in a heavy luxurious fabric as opposed to traditional linens. Patterson also added in candles, antique pink wine glasses mixed with crystal, gold chargers, brass flatware and the finishing touch — a fresh pear trimmed with a coral linen place card tacked with a pretty gold pin.
The centerpiece, a mercury glass vase, filled with twigs, fresh greenery, flowers and gold leaves, added sparkle to the table. To add a Southern touch, Patterson placed a magnolia wreath around the vase.
Patterson suggests mixing traditional family china with new for a layered look. Use a wreath in unexpected ways such as integrating it into a centerpiece or hanging it on a mirror or window. Try making your own napkins from pretty fabric remnants, and use greenery around mirrors or centerpieces to add swag. Lastly, she says to personalize each place setting with a piece of fruit, a painted leaf, or an unexpected element to hold a place card.
Hooper Patterson Interior Design, 910-352-0797.
Stephanie Martins
SMart Interior Design Studios
When decorating a table for the holidays, Stephanie Martins of SMart Interior Design Studios always starts with layering and building from a base up. In this Thanksgiving setting, Martins started with a hard place mat then added a softer neutral one on top. The play in texture creates a natural grounding for the place settings. Color is her second goal. By layering solids and prints the scheme is never boring or overpowering. Lastly, she looks to add elements from nature. Leaves, giant acorns, and even moss in a glass vase help bring the outdoors in. Anytime you can bring live foliage into a space, it is a direct link to the season, making the atmosphere feel truer.
When it comes to DIY decorating, Martins recommends wrapping mums in burlap and finishing it with a shimmering ribbon. Add a personal touch by handwriting place cards and add the feel of fall using fabric leaves. Finally, she recommends filling a glass vase with moss and glittered gourds for a little autumnal sparkle. SMart Interior Design Studios, 731-514-4624.
Ayla Schares, Lauren Brown, Sydney Perry
BigSky Design
Designers Ayla Schares, Lauren Brown, and Sydney Perry at BigSky Design created a non-traditional, yet elegant table that is perfect for holiday entertaining at the coast. They did not limit themselves to the table plane itself, but instead, they took advantage of the potential above by adding greenery and ornaments to a large light fixture that was already in place. The simple, clear, glass ornaments added a lot of sparkle without disrupting the view.
The non-traditional, coastal color palette used was inspired by the finishes and colors already within the home. Rather than introducing traditional reds and greens, they were able to maintain cohesion in the room by building on the bold turquoise and green accents. Fresh flowers and greenery contribute to the peaceful yet elegant setting, while the bold turquoise candleholders in varying sizes add depth and dimension.
Designers from BigSky suggest adding interest to decorating spaces by mixing textures, scale and finish. The overall look should be visually interesting, but not overwhelming. They advise choosing a color palette of no more than two or three colors, and "don't be afraid to combine metallics! Gone are the days when everything had to match. Have fun playing with new combinations and always remember to mix old with new!" BigSky Design, 910-793-3992.
Debby Gomulka
Debby Gomulka Designs
"I will honor Christmas in my heart, and try to keep it all the year," a quote from A Christmas Carol is the inspiration for Debby Gomulka's tablescape boasting a "St. Nicholas Tea" theme. It celebrates a Vintage Christmas with all the festivities and sparkle found from a bygone era. Since styling and designing historic homes is a specialty at Debby Gomulka Designs, it would only be fitting to create her tablescape at the Latimer House in historic downtown Wilmington.
A pair of stunning silver candelabras set the mood with a grand focal point of fresh roses and carry the vision of special, collected decorations, passed down from generations to evoke memories with family and friends of Christmas traditions. Place cards and thoughtful invitations add a layer of appropriateness for a proper tea party.
When planning your own fete, spend some time scouring antique and thrift shops to find authentic pieces for your table. The key to creating a festive, eye-catching tablescape is to think of the unexpected! Combining old with new, mix up your style to make it fun. For example, vintage Christmas ornaments are carefully displayed among the heirloom family dessert dishes, cordial stemware, and tea cups, while mirrored round trays placed at the base of the candelabras create twinkle and sparkle from the reflection of the candles. Adding another layer of vintage lemon garland and fruits among the magnolia leaves sets a lovely tone of Southern Hospitality. And, the pair of pineapples mingled with grapes, says, "Welcome!" Debby Gomulka Designs, 910-352-7339.