Chirp of the Otter
01 Mar 2023
The squeaky cries of the Aquarium's newest baby otters attract attention to their cuteness and larger vulnerability

By Deyanira Romo Rossell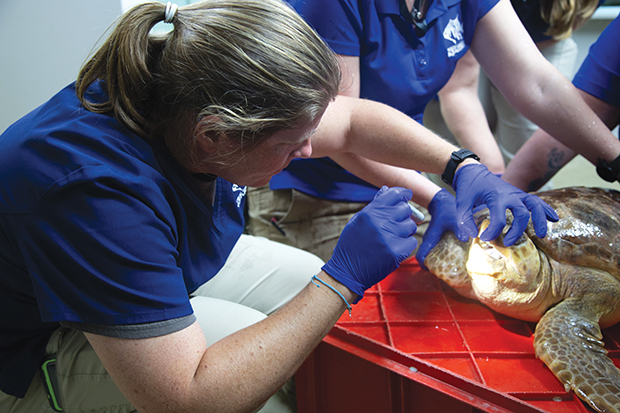 Phenomenal talent and the most impactful purpose-driven work very often go unseen – a hidden treasure. At the North Carolina Aquarium at Fort Fisher (NCAFF), visitors experience passion for saving species through presentations and conversations with volunteers and staff on the floor. Immediately captivating visitors are the hijinks of an otter family, the resplendent color of a fish or the majesty of a bald eagle.

There are more than 3,600 of these treasures in the Aquarium collection and more than 475,000 visitors immerse in their uniqueness yearly. For many, there is a sense of peace and calm that comes from watching a stingray swim or the delight from seeing an otter pup frolic and toss rocks in their habitat pool.

Behind the scenes, our hidden treasures, aquarists, work compassionately to tend to animal welfare and to ensure the habitats are performing at optimal levels. It's this commitment that creates a one-of-a-kind experience in the moment and continues to resonate after a visit. Taking away greater appreciation for the animals leads to inspiration to do more to protect them—we hope.

A vulnerable species gains attention

Asian small-clawed otters steal the show immediately as visitors step into the Aquarium Conservatory. Already very popular, the otters have captured extra attention celebrating the birth of a trio of otter pups, first in May 2022 and again in January 2023. That attention is critical in telling the story of these otters which are declining in population as a result of many threats, including residential and commercial development, deforestation, the illegal pet trade, pollution, climate change and poaching. While Asian small-clawed otter habitats are in Indonesia, southern China, southern India, Southeast Asia and the Philippines, their survival matters to all of us.

A call to action

The squeaky chirp of the otter gets attention and calls us all to immediate action to protect the species, their ecosystem and the planet. While one person can't do everything, everyone can do something; individual actions in local communities can protect local species, creating a ripple effect that can lead to protections for species across the globe.

What can you do?

- Buy shade-grown coffee: it's produced on farms with a shade cover that provides important habitat for different species, preventing deforestation and destruction of homes for animals like Asian small-clawed otters.

- Don't support illegally traded wild animals as pets. Find out more about the dangers of buying exotic pets at aza.org.

- Don't buy furs.

- Support Aquarium conservation priorities by visiting the Aquarium and/or donating.

- Eliminate the use of single-use plastic: Use reusable water bottles and produce/grocery store bags—and use them repeatedly.

- Find some great ways to make smart seafood choices at FishWatch.gov or SeafoodWatch.org.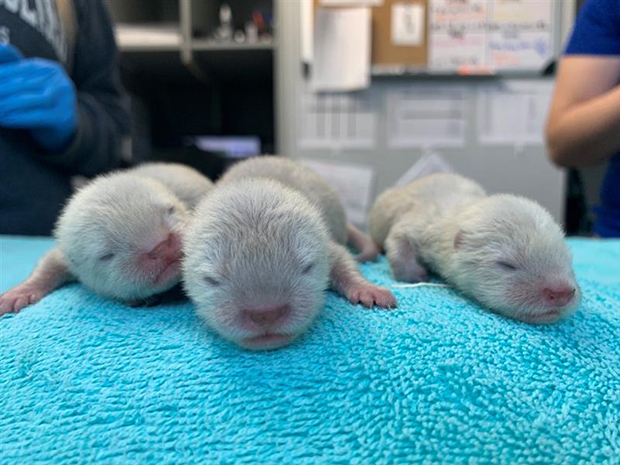 Leveraging our network to advance conservation

NCAFF is an accredited member the Association of Zoos and Aquariums (AZA), a 501(c)3 non-profit organization dedicated to the advancement of zoos and aquariums in the areas of conservation, education, science and recreation. Our conservation work never stops.

- All sea turtle species are endangered or threatened. Five of the seven sea turtle species are found in North Carolina. The North Carolina Aquariums at Fort Fisher, Pine Knoll Shores and Roanoke Island, home to the renowned Sea Turtle Assistance and Rehabilitation Center (STAR), recently rehabilitated more than 250 sea turtles following a cold-stunning event.

- The NCAFF team focuses on saving gopher frogs, a state endangered species through headstarting. This program supports the North Carolina Wildlife Resources Commission gopher frog recovery initiative. The team collects small portions of each egg mass and raises them in human care for future release. NCAFF aquarists suggested the plan after monitoring egg masses in Holly Shelter Game Land for several years and noticing the numbers of frogs appeared low, with as few as six to eight egg masses deposited in some years. Drought conditions meant that the pond had just enough water to stimulate the frogs to breed, but it would not hold water long enough for tadpoles to fully develop.

- Sharks play a vital role in keeping the ocean healthy, yet their populations are threatened worldwide by overfishing, and increased demand in some parts of the world for shark fins. The Aquariums are collaborating with other major aquariums and conservation leaders on research initiatives to support shark populations in the wild.

The North Carolina Aquariums and Jennette's Pier are a division of the North Carolina Department of Natural and Cultural Resources.


About the author

Deyanira Romo Rossell approaches storytelling as a journalist—her first career after college. As the communication manager for the North Carolina Aquarium at Fort Fisher, Dey is leading the Aquarium's marketing and public relations, with a focus on sustainability, diversity, and inclusion to empower visitors and supporters to lean in
on conservation.