Country Estate in the City
01 Mar 2023
"Green Acres" stars on the Azalea Garden Tour

By Nina Brown » Photos provided by Tom Faust and Stone Garden NC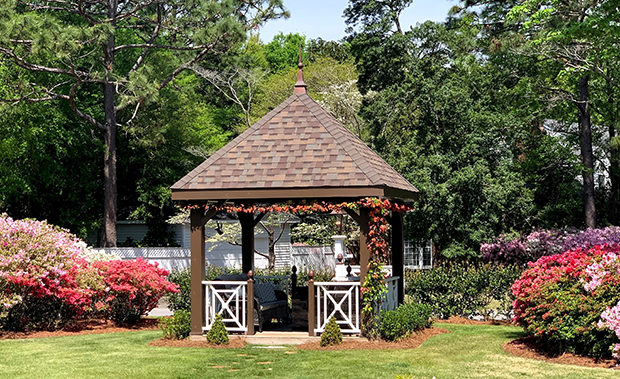 Gregg Thomas and Tom Faust live in their dream home on Blythe Road in Glen Meade, a Wilmington neighborhood adjacent to Forest Hills. Thomas first spotted the property for sale in 2017 and felt an immediate connection. At the time, the couple was not looking to move from their historic, neo-classical residence on downtown Front Street. But "life in the country" kept beckoning to Thomas, with memories of the 30-acre farm he grew up on with his parents and grandparents.

Fast forward two years and the two were delighted to discover the Blythe Road house was still on the market. "Serendipity—It was meant to be," says Thomas. "I took my husband to see it the next day and 24 hours later we had it under contract, with one condition imposed by Tom: adding a pool."

Although not classically trained, Thomas has an amazing eye for architecture and landscape design. He had a clear vision of what the property needed. The day after closing, eager to begin, he borrowed a truck and chain and ripped out all the foundation plants. "The following 14 months were an absolute joy for me!" he says.

Serving as his own general contractor, working six days a week, Thomas pulled together a team of carpenters, electricians, plumbers, roofers and painters to tackle the project. The red brick exterior was dramatically brightened through a lime-wash process. An inviting front porch was added. Interior rooms were soon redecorated.

He then turned his attention to the 1.5-acre grounds to create a garden worthy of the new home. "Classic, formal and elegant became the buzz words for everything," says Thomas. There were over thirty years of growth since the original owners built the house in 1982. This created a solid backbone for the garden. "We were very fortunate to inherit a stunning display of mature azaleas, camellias and dogwoods that completely encircle three sides of the property," Thomas adds.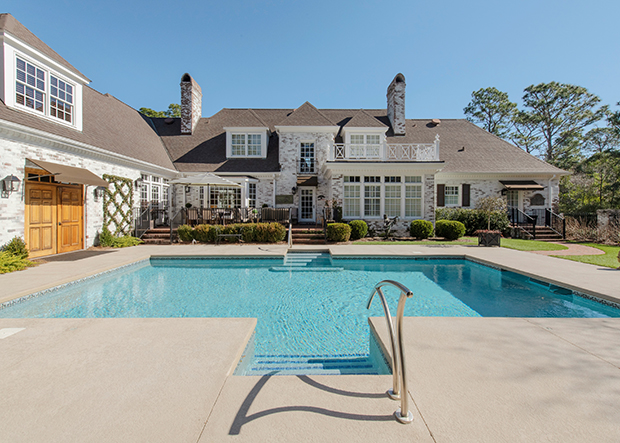 Playing off the symmetry of the house, Thomas added boxwood hedges to the circular driveway for a stately appearance. The asphalt was replaced with new pavement and dressed up with brick accents. Four tractor trailer loads of empire zoysia grass created a lush carpet of green. Flagstone pathways diverge from the right and left of the driveway, continuing the theme of symmetry. One leads to a gazebo on the front lawn where the couple can easily interact with neighbors walking by. The other leads to double gates that introduce visitors to the backyard pool and pavilion area.

The pool is Faust's favorite and he's in it at least six months of the year. It's also their party pad where friends gather on a regular basis. The breezy pavilion boasts a bar, outdoor kitchen, brick fireplace and expansive seating area. Artificial turf surrounds the pool, providing a dirt-free playground for the couple's Labrador retrievers, Riley and Lady Bird.

A recently completed koi pond in the backyard is Thomas' favorite feature. It was created and designed by Drew Thorndyke of Cape Fear Water Gardens using 22 tons of boulders from Stone Garden. Bronze sculptures of children at play complete the tranquil setting. "As a child, I always enjoyed hanging out around my grandmother's pond on our farm," Thomas says.

Hen Haven: a folksy coop houses a baker's dozen of chickens supplying fresh eggs for friends and neighbors just like Thomas' maternal grandmother used to do. "We're on our third go around with chickens, but we have never had a coop like this," Thomas says.

Friends tease Thomas and Faust, jokingly comparing them to the 1960s TV show "Green Acres" starring Eva Gabor. The sitcom tells the story of a socialite couple living on Park Avenue in NYC who move to the country to satisfy the husband's wish for a farm. Now, "Green Acres" adorns the gate posts at Blythe Road. As the song goes, it really is "the place to be."

This year marks their fourth year living at "Green Acres" and 26 years of being together. "We are delighted to be included in the upcoming 2023 Azalea Garden Tour!" says Faust. "We look forward to sharing what we call our 'happy place' with visitors and guests for years to come."