Courageously Creative
03 Jan 2018
Looking to branch out in 2018? Take some inspiration from local artist, Addie Alexandra Wuensch
By KIM HENRY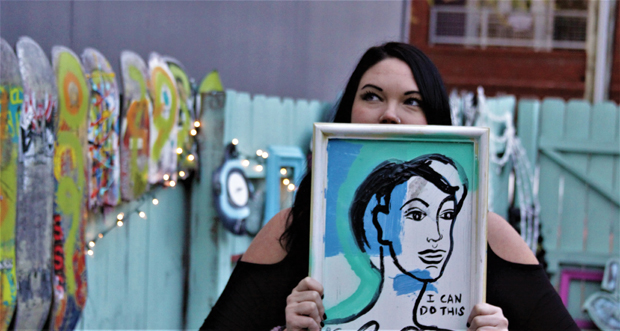 Every once in a while you meet an artist who exudes creative passion with every wave of their hand, and every word from their mouth. Their entire surroundings are an extension of who they are, and they cannot help but express themselves to the fullest degree in every aspect of their world. There is no separation between their social, working and artistic life. Instead, these vibrant threads weave together into an eclectic dance that reflects the very essence of their being. Meet Addie Alexandra Wuensch – a local painter, singer, poet, performer, jewelry maker, former model and business owner – and you have the perfect illustration of just such an artist.
Born and raised in Corning, New York, Wuensch has the pulse of the city coursing through her veins. "Some of the most important years of my life were spent in New York City," smiles Wuensch. She recalls a time "ten thousand pizzas ago," while she was modeling for Fusion Model Management, when she finally got her first art show. Wuensch would sneak a few pictures of her artwork into her portfolio and ask everyone she came across if they could get her a show. After many, many no's, someone finally said yes, and this led to her first public exhibit, which in turn landed her the TriBeCa gallery in Manhattan.
Yet the charm of Wilmington has finally won her over. Despite succumbing to the lure of the big apple a couple of times since graduating from UNCW with a BA in Art, Wilmington is now home. Both her jewelry and paintings have been displayed in a number of galleries across Wilmington, and then just last year, she bought Bottega. In the bar/art space, original art covers every square inch of the joint – including the floor and ceiling. On any given night Bottega may be hosting a writers meet-up, poetry slam, drum circle, jewelry making, live music or open mic. Often described as 'the alternative Cheers,' everyone is welcome at Bottega, and the crowd of musicians, artists, healers and poets that gather, are as colorful a display of diversity as Wuensch's eclectic works of art.
Many of the weird and wonderful items are from other local artists, but some are from Wuensch herself. "That piece took ten years before I considered it finished." Wuensch points to a huge canvass hanging on the wall, "it is layer after layer of my life experience." It's easy to see why Wuensch refers to her work as multi-media. The spray paint and acrylic canvas is laden with personal photos, 3D objects, and lines of her poetry, fusing together in a bold display of ideas, feelings and images. An old fashioned black purse is a part of one of her paintings, and her blue eyes glint with humor as she says that sometimes people leave her little notes and poems in there.
Reoccurring themes, such as female empowerment, social justice, and paying homage to iconic artist Frida Kahlo, are easy to spot in Wuensch's work. "Frida is one of many sources of inspiration for me. She took all of her darkness and sadness and made some of the most moving art I've ever seen," explains Wuensch.
Adding yet more strings to her creative bow, Wuensch has a poetry book on Amazon, 'Glitter Bath' and is a celebrated singer/song writer. Her current band, 'Red Gemini,' has just secured its first single on iTunes and Spotify, and they're working on their second. "It's girl power rock, its poetry, it's weird, it's big and it's loud," says Wuensch, breaking out into infectious laughter. And as if her cup wasn't already overflowing, Wuensch has also been known to indulge in some pretty outrageous performance art with her performance art partner, Gray Pascal. Their work may pop up at ACME art studios and could easily include the entire audience being woven into a black yarn web, sitting in a bath of glitter or dancing beneath a mask of dripping ice.
One of Picasso's most famous quotes comes to mind – "All children are artists. The problem is how to remain an artist once we grow up." Everything about Wuensch's prolific self expression reminds us to play a little more, be a little less fearful, and to step into the realm of unknowing and explore. What better time to challenge ourselves to do something new than right now? Here's to a courageously creative 2018.