A Coastal Dream Come True
03 Jan 2018
Quality, workmanship, and service is a family affair for Firetti Builders
By Christine Hennessey
Photos by TJ DRECHSEL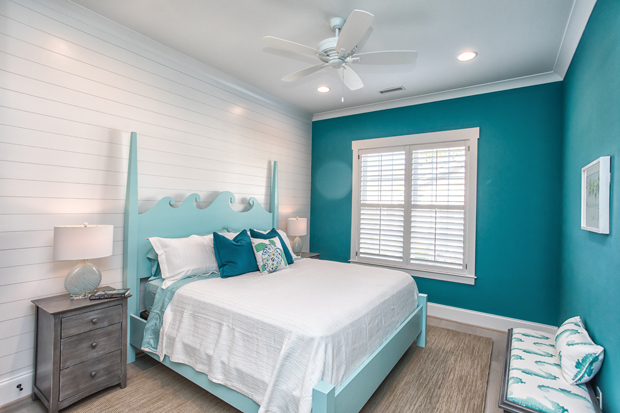 In 2012, Mike and Suzanne Hayes took a trip down the North Carolina coast. While such a journey sounds pleasant enough, the couple had an ulterior motive. "Our daughter went to UNCW Chapel Hill," Suzanne explains, "and we went to the Outer Banks every year for vacation. We knew we wanted to retire in North Carolina." The only thing they had to figure out was where.
Originally from northwestern New Jersey, Mike, an Exon Mobile engineer, and Suzanne, an underwriter for insurance companies, had a few key features on their "must-have" list. Mike loves to golf, so beautiful courses were essential. Suzanne loves the beach, which is why they were sticking to the coast. Beyond that they were open to pretty much anything, and they hoped to find a city that felt like home during their road trip.
"The original plan was to start in the Outer Banks and go all the way to Charleston," Mike says. "Along the way we stopped at St James Plantation in Southport, talked to the real estate folks, and really liked it. We kept driving and spent the next day in South Carolina. At the end of that day, Suzanne turned to me and said, 'I think we ought to go back to St James.' We ended up buying a lot."
The couple still had a few years before they were ready to retire, but their land brought them a lot of joy in the interim. "It was nice to dream about when we could finally get away from winter and move to North Carolina," Suzanne says. In 2016, that time finally arrived.
Choosing a Builder
Mike and Suzanne knew that choosing the right builder for their home was essential, so they took their time finding the perfect fit. In the end, they went with Firetti Builders, a choice they have not regretted. "When we bought our lot, St James provided a list of builders that they work with," Suzanne says. "I went on Firetti's website, loved their floor plans, and just had a good feeling from them. Joe Firetti really listened to us and was great to work with."
Firetti Builders has been building homes since 1977 and working exclusively in North Carolina since 2001. Founded by Joe Firetti, Sr., the company is now run Joe Firetti II, a third-generation homebuilder. A true family affair, the company prides itself on quality, workmanship, and service, as well as providing an enjoyable and exciting experience for their customers. "Over the years, we've built about 1,500 homes in Brunswick County, ranging in size from 2,700 to 6,000 square feet," Joe says. "And we've won three out of the last four years at the Parade of Homes event."
The coveted Diamond Award isn't the only thing Firetti Builders prides itself on. They're also proud of the relationships they form with their customers. "We work very closely with the clients," Joe says. "It's a kind of constant, three-way communication channel between me, the clients, and the designer. We talk on a weekly basis to make sure we understand what they want."
This ability to listen and communicate was especially important to Mike and Suzanne, since they would remain in New Jersey while their home was being built. "We came down twice to check on the progress, and then finally moved down full time in May of 2016," Mike says. "It was important, especially as they started the house, to feel comfortable with the builder, and it helped that Joe had already built 150 homes in St James. It wasn't his first rodeo and his professionalism made that clear."
Coasting Along
While the Hayeses had previously built a house up north, the process for their North Carolina home was much different.
"We'd built with larger builders in New Jersey, and when you build with those guys it's like a multiple-choice exam," Mike says. "They tell you to choose one of six models for the home, one of five colors for the kitchen, one of three surfaces for the counters."
In their St James home, however, every surface required a decision, and it wasn't as easy as simply mixing and matching. "This was our first truly custom home," Suzanne says.
Rather than feel overwhelmed, the Hayeses embraced the challenge. It helped that Firetti Builders assigned a designer to work with them as they made choice after choice.
"That's something Joe does that's pretty unique," Mike says appreciatively. "We worked with Kathleen Abrams of McKenzie Baker, who guided us through the design process and gave us a lot of advice on colors, fabrics, and finishes. The notion that he appointed a designer was a big plus in our book."
One of the reasons the Hayeses chose to design and build a home was fairly straightforward. "So I could get exactly what I wanted!" Suzanne laughs. The couple had clear ideas of what their house should look and feel like, which was only solidified during the four years they spent dreaming about their future home. "Coastal, beachy, and casual," Suzanne says. "The big thing for me was to have a pool. St James has a community pool, but I really wanted my own where I could swim and relax in peace."
"We wanted to build something where our kids and friends would want to come down, stay with us, and take advantage of the beach and golf courses," Mike adds. "We wanted a home that would get our siblings down here so we could have some good family outings."
Joe and his team approached the project the same way they approach all their homes—by listening to the client. "We try to find out what they're looking for, keeping budget and square footage in mind." Because every client is different, Firetti Builders isn't known for a specific look or style. "We've built all styles of houses, from coastal to contemporary to cottage. Our homes aren't duplicates," he says. Rather, each one is as unique as the family that eventually lives in it.
The Finishing Touches
Mike and Suzanne officially moved into their St James home in October 2017. While it's only been a few months, they have nothing but good things to say about the finished product.
"This home is a little bigger than what we had previously," Suzanne says. "We have three guest bedrooms here, even though we only have two children. We're hoping for grandchildren one day, so for holidays each of our children will have a room and then we'll have one room for the grandchildren."
"We made some changes based on the advice of our designer and builder," Mike adds. "The deck out by the pool is different than what we originally planned. I wanted an outdoor kitchen, which actually ended up on the lanai. Now, I can use it year-round."
"Joe always did his best to give us what we wanted," Suzanne says. "If we said we expected something different, he found a way to make it happen."
These expectations—now made real—are scattered throughout the home. Suzanne mentions the pool as her favorite part of the home, but there are other details that bring her just as much joy and satisfaction. "I love the room with shiplap and deep teal on the walls," she says. "I also love the shell tile around the fireplace. It's coastal yet neutral enough that it's not in your face. It makes me feel like I'm at the beach."
"We've already been cooking in the outdoor kitchen," Mike says. "The other feature that I like is the backsplash in the kitchen. It was my idea to incorporate two beach chairs looking out at the ocean. That painting was exactly what we wanted when moved down here, and we got it."
Looking Forward
Now that the house is built and the Hayeses have embraced their lives in North Carolina, their next project is to simply unpack.
"We love the house, but we're focused on boxes right now," Suzanne laughs. "Our kids came for Thanksgiving so we had to at least get the guest rooms organized." Hosting a holiday a month after moving into a new house isn't easy, but for Mike and Suzanne it was worth it.
"We sat around the edge of the pool after dinner with our feet in the water," Suzanne says. And just like that, they were home.
Resources
Builder: Firetti Builders, 910-477-6018, firettibuilders.com
Designer: Kathleen Abrams, McKenzie Baker Interiors, 910-231-1959, mckenziebakerinteriors.com