Easy Seasonal Flavors for Your Holiday Table
07 Nov 2018
Upscale dishes to impress your guests

By KAITLIN GOODING Photos by SALLY TAYLOR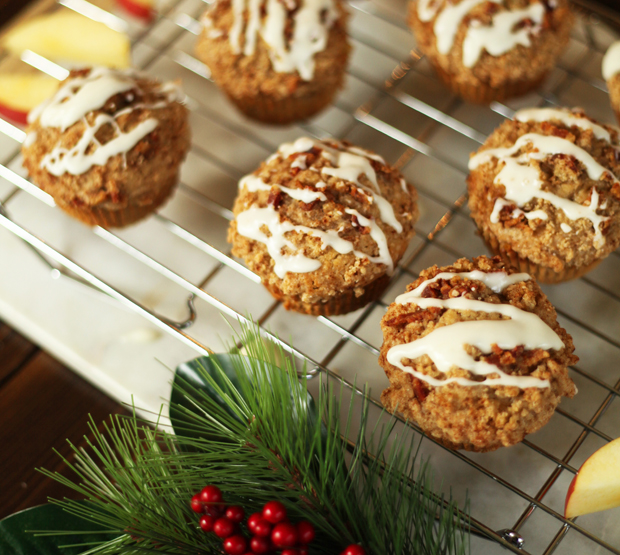 Hints of autumn are everywhere in the Carolinas. The scent of pumpkin lattes carries farther on the crisp air; those comfy autumnal socks beckon; and the milky blue of the Carolina sky becomes our canvas. Believe it or not, the holiday season is finally upon us, so open the windows and enjoy the warmth and aroma coming from your stove. This season brims with comfort and indulgence. The colors of the leaves are changing and a bounty of new produce is coming in season. Let us help you fill your homes with the decadent smells of bacon apple muffins and sweet cinnamon butternut squash. It may be a busy season, but find time to slow down in the kitchen, and enjoy the process of preparing these tasty treats to share with your loved ones during the holidays.


Apple-Bacon-Maple Glaze Muffins
Servings: 12 Muffins

2 cups all purpose flour
1 cup apples (chopped)
2 eggs
1/2 cup brown sugar
1/2 cup butter
1 tbsp cinnamon
1 cup cooked bacon (chopped)
2/3 cup milk
1 tsp baking powder

Crumble Top

1/4 cup brown sugar
1 tsp cinnamon,
butter, mix and set aside

Glaze

1 cup confectioners sugar
3 tbsp heavy cream
1 tbsp maple syrup

Directions:

Preheat the oven to 350. Prepare muffin tin with muffin cups and baking spray.
In a bowl mix the dry ingredients together. In another bowl mix the wet ingredients together and then pour into the dry bowl mix. Blend until smooth. Add the apples & 3/4 cup of bacon and mix until completely combined.
Spoon the mixture into each muffin cup.
Mix the ingredients together for the crumble top and sprinkle over top the muffins. Lightly press it into the mix so it will stick after baking. Add extra 1/4 cup bacon bits on top
Add to oven and cook for 20-25 minutes. Once finished cooking remove from the stove and let cool.
Mix your glaze and pour over top once the muffins have completely cooled.
---
Harvest Salad

Serves: approx. 4

Ingredients

1 butternut squash
1/4 cup grated pecorino or as desired
2 oz prosciutto
4 cups red winter kale (chopped)
1 cup wheat berries
1/4 red onion (feathered)
2 red pears (diced)
1.5 cups green beans
1 garlic clove
1 tsp ghee or butter
1 tbsp olive oil

Dressing: Sweet Orange Vinaigrette

juice of two oranges
1 garlic clove
1 tsp white wine vinegar
1.5 tbsp pure maple syrup
1/2 tsp ground mustard
2 tbsp extra virgin olive oil

Directions:

Preheat the oven to 375. Prepare the butternut squash for roasting by peeling it, scooping out the seeds, and dicing the squash into to small pieces. Add to a baking sheet, spray with olive oil, and salt. Cook between 20-30 minutes in the oven and remove once finished cooking. Set aside.
Wash and dry your kale. Chop the kale into small pieces. Set aside
Bring a pot of water up a to boil and cook the green beans. Boil for about 3-5 minutes. Remove from the heat and add to skillet. Add the red onions, garlic, and 1 tbsp olive oil. Consistently stirring around, let cook on medium heat for about 6-8 minutes.
Toss all the ingredients for the salad together and get ready to plate.
Add all ingredients for the dressing into a blender and blend until smooth. Once it is mixed well, pour over the salad, and serve fresh.
---
Pecan Falafel

Servings: 12-14 balls

Ingredients

2 cans chickpeas
4 tbsp almond flour (gf) / or all purpose flour
1 cup pecans
2 tbsp chopped parsley
2 garlic cloves (minced)
2 egg
2 tsp salt
1.5 tsp baking powder
2 tsp lemon juice
1 tbsp pumpkin spice
1 tbsp olive oil
1 tbsp raw honey

Directions:

Preheat oven to 350.
Add pecans to blender or food processor and blend until you have small chunks or you can blend until flour like consistency if you don't like the crunch. Add the rest of the ingredients and blend until you can form balls with the dough. Form about 1 inch balls and add to baking sheet. Sprinkle extra pumpkin spice on top of the balls.
Cook for 15-20 minutes or until lightly browned on top.

Note: Add the pecan balls to the soup for a real treat
---
Coconut Pumpkin Soup

Serves: Approx. 4

1.5 cups vegetable or chicken stock
1 can coconut milk
1 can pumpkin puree
2 green onions
2 garlic cloves
1 tbsp olive oil
1 tsp ground ginger
1 tbsp cinnamon
salt/pepper to taste

Toppings

plain yogurt
pumpkin seeds

Directions

In a pot add the olive oil and onion and allow to cook till it becomes fragrant then add the garlic and let cook for one more minute. Add in the stock and coconut milk. Bring up to a boil and then turn down to medium-low heat.
Add the pumpkin puree, ginger, cinnamon, and salt/pepper. Let it warm through and stir. Turn it to low heat and let it thicken. Once ready to serve divide up into bowls.
Top it with pumpkin seeds and a dash of yogurt for a fun look. Add pecan balls if using together.
---
Peppermint Chocolate Ganache Pie

Crust:

1 1/2 cups all purpose flour
1/2 cup butter
1 egg
2-3 tbsp water
dash of salt

Filling

1.5 (12oz) bags of dark chocolate morsels
1 tsp peppermint extract
1.5 cups heavy whipping cream
4 tbsp unsalted butter

Topping

3-4 peppermint sticks/ or candy canes (crushed)


Directions:

Start by making the crust. Add all the ingredients together and mix until the consistency is dough like. Form into a ball and set in the fridge for 20-30 minutes.
Preheat the oven to 375. Once finished roll the crust out and add to a pie pan pressing into the pan and crimping the edges. Fork a few holes through the bottom and sides of pie where it won't be seen. Cut out parchment round about 9 inches and place in the center to add pie weights for a blind bake pie crust. You can add dry rice or dried beans and fill it about 2/3 full.
Cook for about 20-30 minutes or until the crust is golden. Once finished, set aside and let cool.
Begin making your filling. Place your chocolate and butter in a bowl. In a pot bring the whipping cream to a boil. Pour the hot cream over the chocolate and butter. Stir until smooth. Pour smooth mixture into your pie crust.
Let sit over night in the fridge. The next day crush your peppermint sticks and crumble over top!
---
Spiced Chai Tea

Serves: 2

Ingredients:

2 teabags black tea
2 cups water
1 tbsp maple syrup
1/2 cinnamon stick
1 star anise
2 tsp coconut milk

Directions:

Bring a pot of water to a boil. Once boiling add the water to a bowl with teabags, cinnamon stick, maple syrup, and anise. Let stand for five minutes. Add milk and blend well.

Note: If you have a frother, froth a little added milk to put on top and drizzle some ground cinnamon. You can also make as a spiked hot cocktail by adding a vodka or rum of choice to your glass.