Surf House Oyster Bar + Surf Camp
07 Nov 2018
Surf culture and creative cuisine unite in Carolina Beach

604 North Lake Park Blvd.
Carolina Beach, NC
910-707-0422
surfhousenc.com

By BRIDGET CALLAHAN Photos by ERIN WHITTLE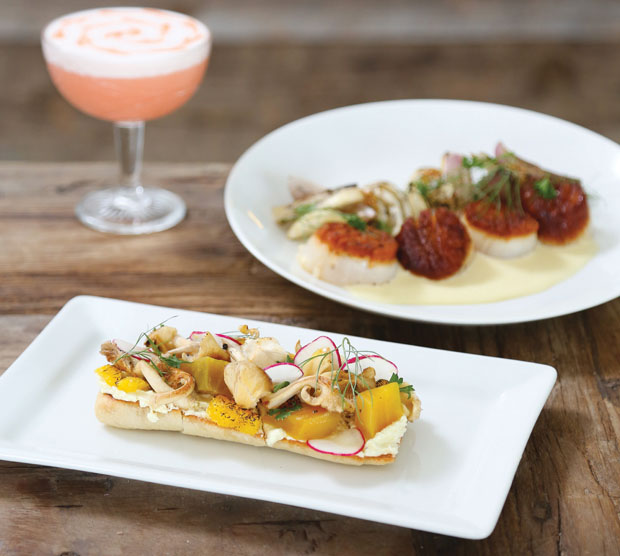 Depending on when you lived in Carolina Beach, you will remember a very different version of Surf House Oyster Bar and Surf Camp. If you lived there in 2009, you might remember the scrappy little cafe that sold surfing gear and lemonade, a long way from the upscale dinner experience they tout now. Annalee Berry, now the general manager, started working with chef Craig Love seven and a half years ago when she was a senior in high school waiting tables.

"It was back when we were just a little sandwich and surf shop," Berry recalls. "Half of the restaurant sold surfboards, apparel, sunglasses, boardshorts. Then the other half was just a few little tables with some directors chairs. We sold coffee, and we had a cooler of beer. People would walk up and grab what they wanted. We had our famous turkey cuban that everyone loved, fish sandwiches, fish tacos. We've definitely changed a lot over the years and for the better. Even now, we're always trying to perfect what we have."

Berry left that high school job, went to ECU for hospitality, and when she was done, she found herself gravitating back to her original mentor, Love.

"He's hilarious, first of all," Berry says. "He's very kind, and he always wants to do things for his community. He's always looking to give back, and he cares about employee life - what they are doing outside of work, making sure they have time to go on trips and still have a life. A lot of times in the restaurant industry that can get lost."

Both Berry and Love believe that attitude, that an employee's life outside work matters, has propelled Surf House to where it is now.

"The real difference to our direction is developing our own professionals in the industry," Love says. "We've created a culture here in which people realize they are going to have an opportunity to apply their skill sets and their passions. That's allowed us to have a unique environment where we're not just churning through a long week of hours, we're not burning people out. We encourage and support our team to express their own creativity and talents. We realized from the start that those individual passions and talents were exactly what was going to help us get better faster."

Which is how Love has been able to retain great local talent like Berry, bar manager Greg Ewan, and Wine Director, Phil Castelluzzo. Since Surf House is so small, thirty seats in the dining room and eight at the bar, hospitality is the highest priority for them. After all, chances are you'll be talking to customers, even if you work in the kitchen.

"Our staff is so dedicated. They really go the extra mile to make sure every guest has a different experience so that it's not the same thing you're going to find at any other place. Specifically around here. We try to change up the routine a bit," Berry says.

The menu is small, but always thoughtful. There are, of course, oysters, as befits a place with oyster bar in the name. But you will also find an ever shifting selection featuring seasonal flavors and fresh, regional proteins. Like many of the restaurants in the area, at the time of this interview, Love was struggling to put together the Fall menu after Hurricane Florence shut down many local supply chains. Even though they were lucky to avoid too much hurricane damage, the hurricane will affect the menu for months.

"We have duck we use from Pennsylvania. Hanger steak we get from Georgia. So those aren't impacted. The local farms in Burgaw that we utilize a lot of our vegetable source from, we understand they may not be able to get a fall harvest in the ground, because of flooding and conditions, so we're a little nervous about where they are for the season. Obviously things like sweet potatoes, squashes, apples from Asheville, will be great options on our menu we can pepper in. The seafood will slowly recover. And they may take another month or two to recover, but we'll have clams back for the Fall," Love says.

And he's still excited for the new dishes coming, hurricane be darned.

"We've been working for a while on a clam chowder that's been doing pretty well over the course of the last year. We'll tweak it again this year to roll out," Love says. "It has local sausages, sweet potatoes, local claims. It's a manhattan style base, tomato and bacon driven. We also have a smoked trout in clam sauce. We'll be using trout coming out of Asheville, and that's a brand new dish."

"We're gauging a Fall menu that looks more local as we get into early November. It takes a little juggling, but we're fortunate that our vendors are connected, and they direct us to similar resources and farms. It won't be too much of a hurdle, certainly a speed bump, but nothing too crazy," he adds.

The start of island off-season means that Surf House's Half Price for Half Portion menus are back. Every Tuesday through Thursday, from 5-7pm, diners can request half portions of certain dishes, creating a tapas-style meal. And off-season also means the return of the restaurant's popular Beverage Program dinners. Once a month, Ewan and Castelluzzo put together a five course pairing menu around a drink theme. October's, for instance, featured new Californian wines for the season. Space is always limited, but the program has devoted regulars, and those looking to get in on the fun can check Surf House's Facebook page for upcoming events that will run through Spring.