Event Calendar Sept-Oct 2023
04 Sep 2023
Looking to fill your social calendar? We've got the rundown on what to do this fall season.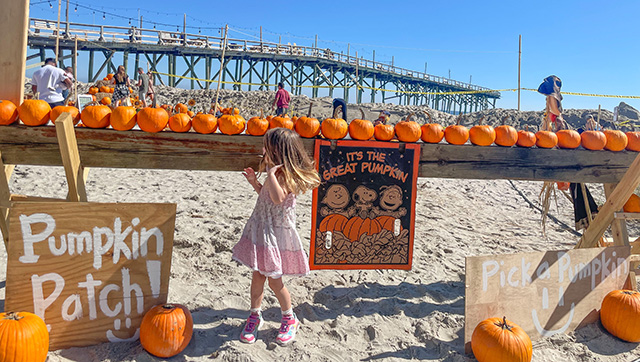 MUSIC + SHOWS
Live Oak Bank Pavilion at Riverfront Park
livenation.com
Tedeschi Trucks Band, September 7
Widespread Panic, September 15-16
Jelly Roll: Backroad Baptism Tour, October 5
The Wilson Center at CFCC
wilsoncentertickets.com
Laugh Your Socks Off, September 16
Joe Gatto's Night of Comedy, September 17
Alice Cooper, October 5
Romantic Masters, October 7
An Evening with Billy Ocean, October 9
Nick Carter, October 13
Pam Tillis, October 14
Brooklyn Arts Center + The Annex
brooklynartsnc.com
40 Under Forty Presented by Star News Media & Wilmington Chamber of Commerce, September 21
Cameron Arts Museum (CAM)
cameronartmuseum.org
Love Exhibition, Daily through October 8
Jazz at CAM with Rahsaan Barber, September 7
Jazz at CAM with Lenora Zenzalai Helm and the Tribe Jazz Orchestra Nonet, October 5
Jazz at CAM with Rebecca Kleinmann Quintet, November 2
GET ACTIVE!
Carolina Beach Inshore Challenge
September 8-9
Sign up for the premiere inshore tournament located in the heart of North Carolina's red drum territory. Headquartered at the Inlet Watch Marina, with the iconic backdrop of Carolina Beach Inlet, register at fishermanspost.com/tournaments/cbic.
Riverlights Kayaking Adventure
September 22-23
Join Wilmington Outdoor Adventures on a two-day program designed to teach you basic kayaking skills and build confidence on day one before launching for a shark tooth-hunting adventure on the Cape Fear River on day two. (4.5 hours total). wilmingtonoutdooradventures.com
Pier-2-Pier Open Water Swim Race
September 23
Accept the exciting open water challenge of the Annual Pier-2-Pier Swim Race at beautiful Wrightsville Beach. This annual event entails swimming approximately 1.7 miles between Johnnie Mercers Pier and the Crystal Pier around marker buoys. The starting point for the race will be determined on race day per the ocean current. Register at runsignup.com.
YMCA Wrightsville Beach Sprint Triathlon
September 30
Historically the largest single-distance one-day race from northern Virginia to Florida, this has been a favorite for both spectators and participants since 1979. The highly anticipated USA Triathlon-sanctioned event consists of a 1,350-meter swim, an 11.5-mile bike and a 5K run in Wrightsville Beach. Youth distances: swim: 100 meters, bike: 4 miles and run: 1.6 miles.
ymcawbtri.com
Island Paddle & Yoga
October 8
Wilmington Outdoor Adventures and Terra Sol yoga instructor Brian Luce will host a three-hour event open to beginner and intermediate kayakers and yogis. The event includes a one-hour guided kayaking tour through a myriad of creek systems to Masonboro Island and a one-hour guided practice yoga session with Brian before paddling back to the mainland at sunset. wilmingtonoutdooradventures.com
Outrigger East Coast Championship
October 14
Join the excitement of the Outrigger East Coast Championships starting and finishing at Soundside Adventures at Wrightsville Beach. The 12-mile course will include flat water on Banks Channel as well as ocean paddling. This competition is sure to be swift and thrilling to watch! paddleguru.com
Zombie Run 5K and Monster Mile
October 14
Start your spooky Halloween season by running for your life in the first annual Zombie Run! Doomed participants navigate a non-timed 5K course with a flag belt while groups of costumed zombies stationed and hidden throughout the course try to pull flags from the runners' belts. runsignup.com
Swim the Loop and Mott's Chanel Sprint
October 15
Join the fun or cheer on the Swim the Loop swimmers as they start and finish a 3.5-mile swim at the Dockside Restaurant. Meanwhile, the 1.3-mile Mott's Channel Sprint will start at the Blockade Runner Beach Resort and then finish across the Intracoastal Waterway at the Dockside Restaurant. runsignup.com
IRONMAN 70.3 North Carolina
October 21
With excitement from the beach to the battleship, the IRONMAN 70.3 North Carolina triathlon will feature a 1.2-mile swim, 56-mile bike and 13.1-mile run. The event begins in Wrightsville Beach and takes athletes along the same fast-channel swim. The bike course runs through the coastal countryside outside Wilmington, and the run loops around Greenfield Park before athletes finish in historic downtown across the river from the Battleship NORTH CAROLINA.ironman.com/im703-north-carolina
Pleasure Island Surf Fishing Challenge
October 20-22
Pleasure Island provides the perfect coastline for surf fishing and is home to the area's premier land-based surf fishing tournament. Everyone is welcome to come and join this weekend of fishing for a chance to win over $30,000 in cash and prizes. fishermanspost.com
Seaside Shuffle 5K
October 29
Join the fun with a classic race that starts and ends at Wrightsville Beach Park! Organized by the Wilmington Road Runners, this long-standing race added an award for the largest team of runners. wilmingtonroadrunners.wildapricot.org
ART + FESTIVALS
Compass Kick-Off Event
September 13
LS3P, a prominent architecture and interior design firm in Wilmington, is hosting a cocktail party for CAM's Compass Society at their downtown office. The office, with a stunning view from the fifth floor of the Truist Building, offers a picturesque setting to enjoy the sunset, wine, and discuss the Art of Architecture. ls3p.com
American Craft Walk
September 16
Stroll Historic Downtown Wilmington's picturesque streets and view colorful and creative works of art in a variety of mediums at Wilmington's largest outdoor art show and sale. Don't miss your chance to pick up some of these one-of-a-kind local pieces from over 100 talented artists. americancraftwalk.com
ARTfall 2023
September 22-30
Enjoy the eighth annual ARTfall (part of the Wilmington American Craft Walk) this September. Featuring the works of established artists as well as newcomers, this juried exhibition and sale showcases a variety of mediums. Enjoy unique art right in the heart of Historic Downtown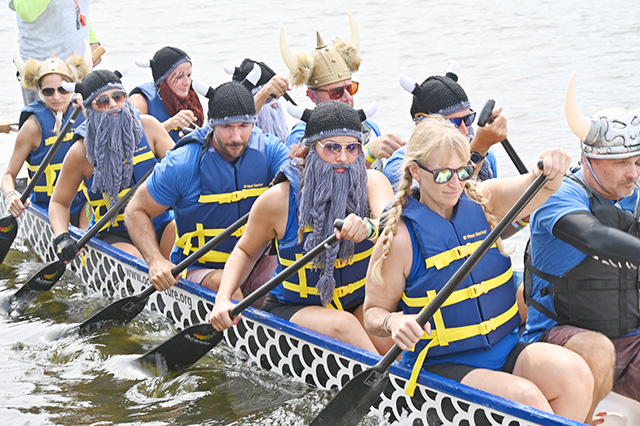 Carolina Beach Dragon Boat Regatta and Festival
September 22
Celebrate the colorful Dragon Boat Regatta and Festival at Carolina Beach. The fun starts Friday evening with a kickoff party featuring a free outdoor concert. Saturday, get ready to race or watch and enjoy the gathering of vendors around starting line at the Carolina Beach Marina with fun, food and drink items for sale. carolinabeachdragonboatregatta.org
Art in the Arboretum
October 14-15
Join fellow art and nature lovers for one of the leading events of the Fall Season. This year's festival will launch with a preview party called "Sip, Savor, and Shop" on Friday, with special raffle items for members of friends of the Arboretum, sponsors and special guests. The event will be open to the public Saturday and Sunday. artinthearboretum.org
Fire in the Pines Festival
October 14
Celebrate Wilmington's fire forests at the Fire in the Pines Festival, with live animals, a visit from Smokey the Bear, fire truck tours, informational displays, kid's crafts, face painting, children's scavenger hunt, hayrides, food trucks, live music and, if the weather allows, an actual controlled burn. fireinthepines.org
HISTORY + SPOOKY SPIRIT
Oakdale Cemetery Flashlight Tour
September 16
Learn about the history of Oakdale Cemetery with a unique night tour led by local historians Chris Fonvielle, Hunter Ingram and Robin Triplett. Enjoy stories of the history of Oakdale, Civil War veterans, funerary art and stories about Oakdale's prominent citizens during this flashlight tour. oakdalecemetery.org
Cape Fear Legends & Lore Walking Tour
October 6-7
Experience a new walking tour giving you a closer look at the legends that define the Cape Fear region. Learn about the intriguing and infamous tunnels beneath the streets, the landmark arrival of Lord Cornwallis, a duel over post-Revolutionary War tension, and more. burgwinwrighthouse.com
October Paranormal Ghost Tours
October 6
Start your October with a spooky tour as Poplar Grove is presenting an evening to perchance be visited by the spirits along a lighted pathway. Haunts, or haints, of all ages from 1850 through the 20th century continue to hover in and around the restored Manor House, Tenant House, graveyard and grounds. poplargrove.org
Back Door Kitchen Tour: Residents of Old Wilmington
October 14
Differing from other historic home tours, participants are invited to "come through the back door" and get a closer look at cooking and living arrangements in a wide variety of homes. Each home has several docents present to explain its history, features, renovations and quirky items, as well as the unique history of special kitchens designed for the homes. rowilmington.org
Lantern and Lore Walking Tours
October 26
Join the Historic Wilmington Foundation as they explore the true stories behind local lore on a guided walking tour. Beginning and ending on Orange Street, travel down dark alleys and outside secret nooks as well as the private yards of historic homes as you listen to ghostly stories and ghoulish legends. historicwilmington.org
FURRY FRIENDS
Bark in the Park
October 7
Mighty mutts and playful purebreds will leap to the sky to catch flying discs at the Bark in the Park Skyhoundz Hyperflite Canine Disc Championships. Everyone is welcome to enjoy this free, unique event and applaud the talented canine athletes. Spectators can vote for the Best Dressed Dog, Best Dressed Team and Most Personality. townofwrightsvillebeach.com
Pets in the Park
October 7
Come celebrate pets, their owners and pet-friendly businesses at the family-friendly event lakeside. Expect K9 demonstrations, a puppy kissing booth, an "ask a vet" booth, pet blessings, rescue groups, a pet parade, a costume contest, DJ Mike, DOGA (a half-hour yoga session with your pup), face painting and amazing food trucks (for pets and their humans). If furry pets aren't your "thing", check out Fresh Start Rescue and their awesome snakes, lizards, turtles and more. pleasureislandnc.org