The Water is Calling
04 Sep 2023
Experience outdoor adventure for all ages with local guide, biologist and conservationist Kay Lynn Hernandez
By Carin Hall » Photos by Carin Hall and Madeline Gray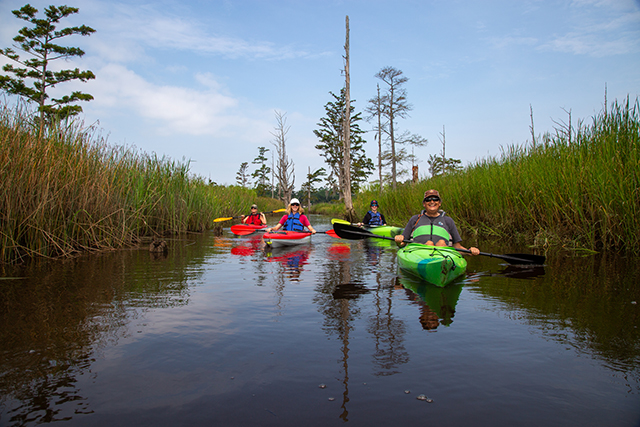 Kay Lynn Hernandez, owner of Wilmington Outdoor Adventures (WOA), is on a mission to connect people with nature through safe and unforgettable experiences out on the water. When it comes to choosing your adventure, she offers guided tours through every season except winter, when she escapes the cold to manage an island preserve in the middle of the Pacific (more on that later).
In Wilmington, Hernandez also offers surf and kayak camps for kids, as well as programs for underserved populations. And she is passionate about spreading awareness of our local history, natural treasures and the conservation efforts to preserve them, all while providing a taste of the health benefits of getting out in nature. She wears many hats. And she does most of it on her own.
Kayaking in this region is not for the faint of heart. Sporadic weather conditions, tides, currents, wind speeds and encounters with wildlife all need to be taken into consideration before planning a trip. The last thing you want is to be stuck working against the current, getting stranded for hours without water or getting lost among the miles of waterways throughout our region. Less about physical ability, Hernandez's tours are more about helping others learn how to approach our water systems knowledgeably while taking in the beauty of Cape Fear's
unique landscape.
WOA provides tours in several locations, including Masonboro Island Preserve, Eagles Island, Greenfield Lake and Barnards Creek. Wanting to learn more about some of the unique history in the region, I opted for Eagles Island.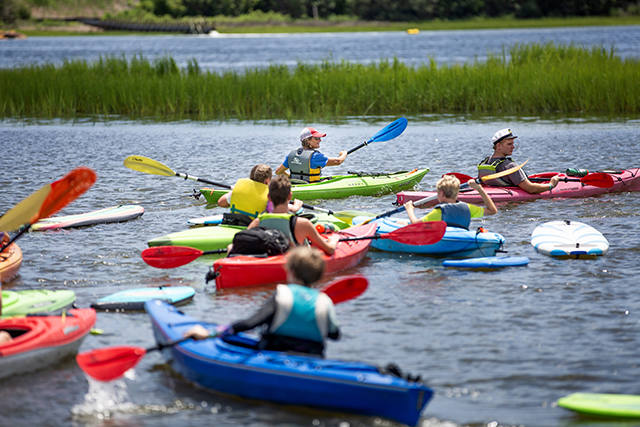 An Adventure Through Eagles Island
"I look forward to paddling with you tomorrow," reads an email from Hernandez the evening before a group tour set for a July Saturday. "The weather looks good with temps in the mid- to upper-80s, partly cloudy skies and a northerly breeze."
After driving down a dirt road to a meeting point in Cypress Cove Park, I find another family waiting for the day's tour—a San Diego couple and their two young-adult sons touring the South, following the band Phish. A former San Diegan, I was in good company. A few half-jokes about Alligator Creek later, we brushed off our anxiety as we signed safety waivers and picked out life jackets.
"They're nothing to be concerned about," says Hernandez, who's conducted hundreds of tours over the years without any issues. "I just think it's so cool that we get to see them at all—they're like living dinosaurs."
We shuttled in two cars to our initial launching point at Brunswick Riverwalk Park. WOA is the only local business with agreements with both the towns of Leland and Belville to utilize both kayak launches for this tour.
A distant rumble of thunder and an overcast sky set in. Hernandez checked a weather app to ensure the storm would pass, with nothing behind it. To be safe, it's standard practice to wait at least 30 minutes after any sightings of lightning.
"I never take any risks with my groups," says Hernandez. So, we waited and made our way to the dock, where we saw an alligator peering its head near some fisherman. More interested in stealing their catch than human activity, it quickly disappeared, along with at least some of the fear I had of encountering more of its kind.
None of us had much experience kayaking, but that didn't matter. Hernandez showed us some basics at the dock, shared her story and safety training experience, and we were swiftly on our way.
Following the tide through another app she monitors closely, we headed up Brunswick River under bridges and eventually through old rice canal systems, constructed by the Gullah Geechee before the Civil War. Fiddler crabs lined the vines and branches along the waterway and various bird species made an appearance, including two ospreys minding their nest atop a ghost tree, aka coastal casualties from the introduction of salt water.
She also points out the plants that rare skippers utilize, a species of butterfly that was thought extinct until Hernandez spotted them on Eagles Island and had officially confirmed by the state with the help of a local nature photographer, Bryan Putnam.
Making our way toward Sturgeon Creek (and quickly past Alligator Creek), a tree trunk had fallen in our path since Hernandez's last tour. Without a guide, it was at this point I realized that navigating what already seemed like a maze, let alone any obstructions, would have been nearly impossible.
After a good bit of paddling, we entered the calmer waters of Sturgeon and Mill Creek, surrounded by rich greenery. Pausing to drink water and listening to Hernandez talk about the unique characteristics of each spot, I could see the wonder in everyone's eyes, each of us enjoying different aspects at our own pace. It was a perfect day out on the water.
I had done kayak tours before, but these waterways were a completely different experience. A guide was critical. It's also a lot of work for one person.
"I love doing it," she says, as she bids me farewell on the way to collect and load the kayaks back onto her trailer by herself.
What I am left with—a reminder of how nature and physical movement makes us feel—I cannot wait to share with others and, especially, my daughter when she is old enough to attend WOA's summer camp programs.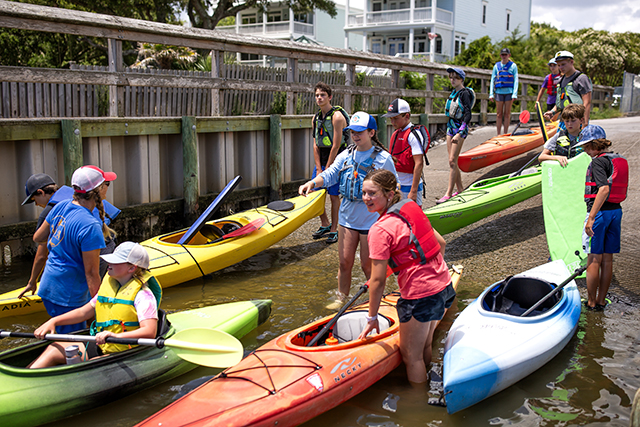 For the Kids
Every summer, Hernandez hosts week-long camps in the summer for kids ages seven to nine and 10+. At this year's Coastal Kids Camp, WOA took younger kids out on field trips that included an introduction to kayaking, swimming in the ocean, boogie boarding, disk golf, ranger-led hikes and presentations, and a ferry trip to Southport. For the older age group, WOA partners with Masonboro Paddle Company (MPC) to offer the only summer camp in the Cape Fear region that combines kayaking and surfing into four-day experiences. MPC provides additional kayaks as well as an extra guide/camp counselor to kayak with Hernandez and the kids to Masonboro Island, where they surf and play games for the day before kayaking back. While these camps sell out quickly, WOA also hosts shark tooth hunting tours for ages seven and up on a kayak tour of Barnards Creek and the Cape Fear River.
What you won't find on the WOA website, though, is the additional work Hernandez does for underserved kids in the local community, which in part earned her a YWCA Women's Achievement Award in 2015.
"At the time, I had initiated a lot of programs with schools and wrote grant proposals to get funding for kids from lower-income communities to attend camps at no charge," she explains, which accounted for half of the kids at camps when she worked for a local nonprofit. "The goal was to bring those two [groups] together and to ensure that no matter what their family income is, they have the opportunity to go to a camp that could enrich their lives."
Through WOA, Hernandez continues to work on similar initiatives. She currently offers free kayaking to participants in the Bigg Buddy program and has partnered with the Surfrider Foundation, NSEA Swim Foundation, and Voyage of Wilmington to find and offer swim, surf and kayaking lessons to kids of color.
For the Environment
Another interesting tidbit about Hernandez—aside from all that she brings to the Wilmington area—is her professional experience and background in nature preservation.
After attending grad school for marine biology, Hernandez managed three nature parks on a Caribbean Island before working as a Biologist and Project Manager at a consulting firm in Louisiana. Marriage and taking time off to raise two daughters brought her to Wilmington, where she eventually directed environmental education and small projects at a local nonprofit.
In 2021, she was hired by The Nature Conservancy to manage the preserve at Palmyra Atoll during the winter season. One of the most remote and pristine places in the world, Palmyra is considered a haven for conservation scientists conducting vital research on coral reefs and marine ecosystems. In the near future, Hernandez plans to return each winter season after her teen daughter graduates from high school.
As one of the few who have had the opportunity to experience Palmyra, which is mostly preserved for scientists, volunteers and select students, Hernandez's understanding and passion for conservation efforts runs deep.
In Wilmington, "my ultimate goal is to connect people with the waterways around them and foster a greater appreciation for nature and conservation efforts in our region," she explains. "By infusing fun and adventure into that educational experience, I think I've been able to reach a lot of people."
To book a tour (scheduled or private) with WOA, visit wilmingtonoutdooradventures.com