So Much More Than a Garden Center
04 Sep 2023
Blooms & Branches, in Cathy Brewington's memory, brings community and plant varieties to locals like nowhere else
By Jen Reed » Photos by Grace Muckenfuss & DesignLoud Agency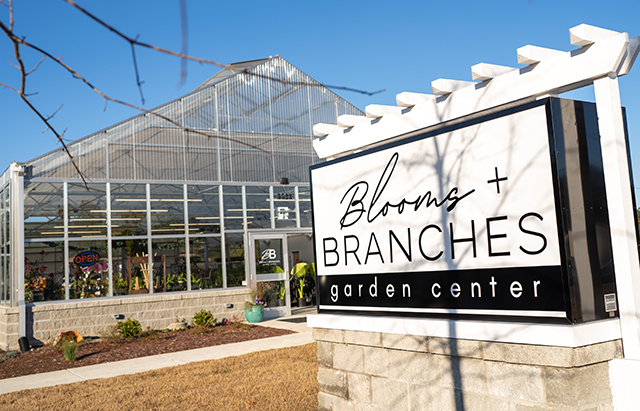 Planting a tree or flowers in a person's memory when they have passed away is customary. But for Ernie Brewington of Wilmington, his late wife Cathy's memory was worthy of so much more. So, he built her an entire nursery and garden center.
Blooms & Branches, located at 5523 Oleander Drive, is a family owned and operated retail garden center serving the greater Wilmington area. Set on a four-acre parcel, the greenhouse and nursery cover about half the space, where gardeners can find almost anything from annuals, perennials, moderate and high-end pottery, and field-grown trees, for which they offer simple installation service. They also offer plant rentals and staging and—while they don't offer landscaping service per se—they have partnerships with several landscaping companies they can recommend.
Blooms & Branches opened its door on Mother's Day weekend, 2022 and according to Manager Reina Laws, it has been humming ever since. Offerings through the garden center continue to evolve through the seasons, and according to Laws, the goal is to be able to offer items that may not be easily found at other operations in the greater Wilmington area.
"We try to accommodate requests of our customers, and we generally have the flexibility to be able to do that," she says. "We don't deal with just one distributor for our products, so we are able to reach out to places in a way other big box garden operations can't."
According to Laws, Blooms & Branches offers more varieties of azaleas, camellias and many tropical plants that they are able to hand select, because they're not limited to any sole provider. They also offer 40-50 species of grass, giving customers options when installing a lawn or other green space. Given the composition of the soil in this area and the high sand content, giving customers options is key. Not to mention, they offer a selection of carnivorous plants, which can only be purchased through an authorized operation such as Blooms & Branches.
"Carnivorous plants are actually protected because they are endangered," says Laws. "If you see one in the wild, it's illegal to take it. But we have them available and have the ability to get them from the farms."
Most of the plants and trees offered at Blooms & Branches are acquired through farms in North and South Carolina, as well as Virginia. According to Laws, it's important to Ernie, who also owns Five Oaks Tree Farm & Nursery in Wilmington and Burgaw, to support local farms and growers as much as they can.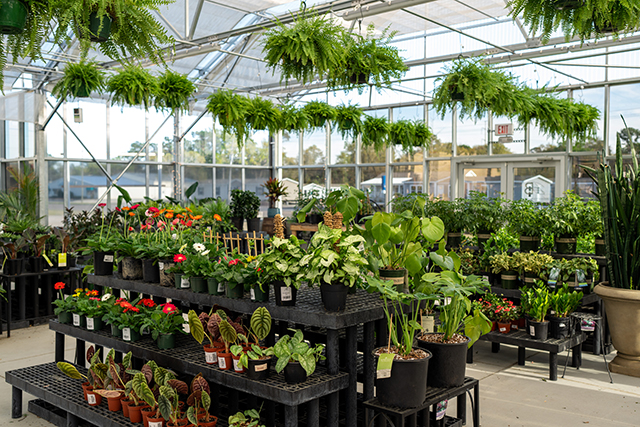 For Cathy
Ernie is joined by his daughter Kary and son-in-law Wil in running the operation, which was the dream and vision of his wife Cathy. And while she was never able to see it come to fruition, her spirit can be felt and heard in every story Ernie shares about his wife's passion.
Cathy had a very intense yet rewarding job as a lead nurse in the OR. Gardening was a way for her to escape and relax after a long day of work. When Cathy and Ernie lived in Florida, her favorite plants were Hawaiian Ti's, Hibiscus and the Curcuma Ginger plant. She was very athletic and loved the outdoors. She was an accomplished barefoot skier and horseback rider. Cathy had a love for life and adventure.
Community + Growth
Blooms & Branches is not simply about landscaping and retail, it's also about community. According to Laws, the facility has represented a great opportunity for students at UNCW and Cape Fear Community College studying horticulture and landscaping to work and gain experience. She says they look for experience in horticulture when hiring new team members, to serve the needs of the customer: answering questions and making recommendations when asked about particular projects. It's that attention to detail that truly sets Blooms & Branches apart, and the outstanding customer service they strive for that keeps their customers coming back.
With a wine and beer license secured for fall, patrons can expect a variety of beverage options available. Laws said they are hoping to host a fall festival-type event that will include food trucks, and they continue to support several charities in the area as well.
Offerings in the fall will include a vast array of mums and what Laws calls some of the "most beautiful" poinsettias you will ever see, just in time for Christmas. And while Blooms & Branches will not be offering full-size Christmas trees, they will be selling dwarf trees of about two-feet tall.
Moving ahead, she said the goal is to start offering classes to the community on a regular basis and hopes that will start at some point next year. Bigger picture plans include continuing to build out their property, offering walking gardens and eventually event space. And while those plans may be a couple of years in the distance, there is certainly enough to keep Blooms & Branches going—and growing—into a visually appealing destination for the Wilmington community.