Folk Art for the Garden
01 Jul 2022
The legend and mystique of blue bottle trees
Story and photos by Christine Hall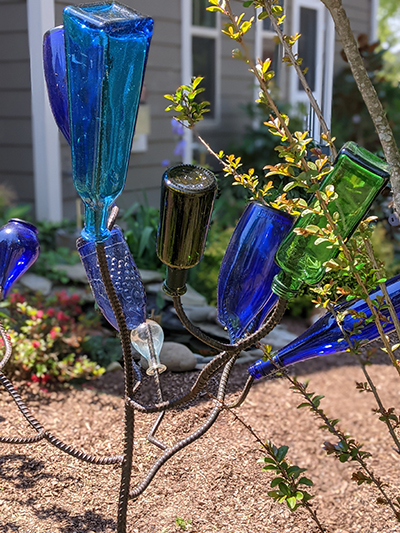 I was working in a friend's backyard in Pinehurst on a hot Sandhills day helping to plant clusters of new accent shrubs and perennials. We were in the final stages of our project, when she pointed over to her side yard and said, "How do you feel about that, there?"
"The wine bottles tree?" I asked, as I squinted toward cobalt-colored bottles perched atop wrought iron branches. "I like it," I replied curiously. As an aficionado of art and a dash of whimsy, I told her I felt it added unique beauty to the landscape with its blue glass bottles reflecting the sun's rays.
"I think I'm ready for something new," she said. "Would you like it?"
My jaw dropped as sweat ran down my brow. "Sure, I would," I said, holding excitement under my breath. "But are you sure?"
As I examined the blue bottles, each unique in shape and texture, my friend Harriet shared the backstory of her bottle tree. It was a purchase made with a friend of hers many years ago while on a trip to South Carolina. The tree had stood proudly in her garden for over a decade, and now she was ready to share it with a new owner.
As we packed up for the day and sunset neared, she asked if I knew the real history of bottle trees and how they came about. "You know, there is much more to this tree than its beauty," she shared.
"African peoples developed the practice of setting blue bottles in trees to capture evil spirits passing by," she explained. "When the wind blew, glass bottles were known to emit a humming noise —signifying spirits had been captured overnight. The next day at sunrise, the rays of light would banish the spirits, leaving the residing peoples safe."
I soon learned that this folklore superstition dated back to ninth century Congo and was then passed on through generations. The tradition came to the U.S. through the slave trade in the 17th century, and bottle trees eventually appeared most often in crepe myrtles as well as other trees throughout the South, a tie to the Old Testament belief that trees represented freedom.
Blue, specifically cobalt blue, became the most popular color for bottle trees. The belief was that this hue held healing powers. In fact, the blue color was sometimes referred to as "haint blue" — a Southern variation of the word "haunt" — referring to spirits or ghosts. Blue also represented water, and it was thought that spirits could not travel through water, thus keeping them at bay.
Today, blue is one of the most common colors for bottle trees, although when travelling you may come upon trees of varying colors.
Like a rite of passage, Harriet and I pulled up the wrought iron tree and placed each blue bottle safely in my car. I took it home and "planted" it near our small fishpond out back where our family could enjoy its reflecting color from the porch.
While you may not be concerned with warding off evil spirits, you can still enjoy the peace, serenity and playfulness of a bottle tree in your own yard. Premade bottle trees made of rebar or other metals are readily available for purchase, yet if you are looking for a crafty summer project, try tackling this creation yourself.
Creating Your Own Bottle Tree
- Define a base for your tree, whether that be a wood post or metal rebar. Alternatively, you can look for dead or dying trees on your property and use those for your base.
- Collect regular-sized wine or spirits bottles in colors to your liking.
- If blue is your hue, blue spirit bottles, like that of Skyy Vodka or Bombay Sapphire Gin, go nicely with common green glassed bottles.
- Remove all labels by soaking in vinegar and water.
- Dig a hole in your yard and pour a concrete base, if needed, according to how compact your soil is. Insert your post into the ground and allow it to dry.
- Drill holes around each side of the tree in alternating spaces. Use a downward angle and extend each hole about 2 to 3 inches.
- Insert metal rods and vary from 6 to 18 inches to mimic branches.
- Top with bottles of choice.
- For an added touch, train vines to grow up the center section of your tree.