Great Neighborhoods
16 May 2017
One good thing about this housing market: there are deals to be had. Lots of them. Home prices are affordable, and infrastructures are in place to support the growth and boon that Wilmington is experiencing. The popular neighborhoods all offer great conveniences like close proximity shopping and dining, to great amenities like walking trails, boat slips and pools.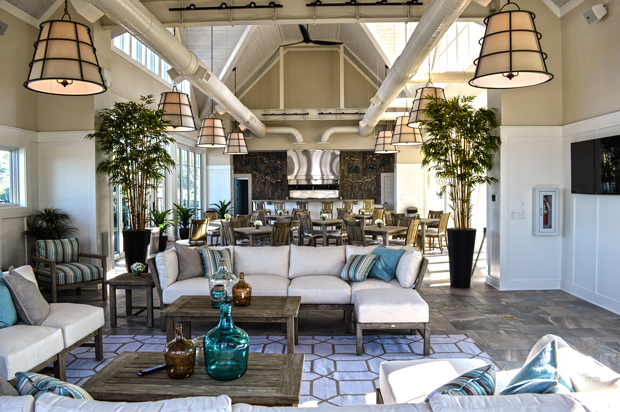 River Bluffs: A Vibrant Community on the Coast
River Bluffs is a gated riverfront village, located along the banks of the Cape Fear River, just minutes from Downtown Wilmington. While beautiful homes line the streets—think classic southern architecture and inviting front porches—more than a third of the community's land is preserved as open space, which includes trails and parks. This is no coincidence.
Environment is Everything
"We've been blessed with a beautiful site," says Burrows Smith, one of River Bluffs' owners and developers. Rather than pave over the natural beauty, they make every effort to save trees and work with the terrain. This attention to sustainability and the environment encourages residents to get outside, which leads to deeper connections. "Residents see each other," Smith says. "They start conversations and realize they have a lot in common, no matter where they're from." While residents come from diverse backgrounds, they have at least one thing in common—an appreciation for nature and a love for the environment.
One of River Bluffs' biggest successes has been the Porches Café. While the community offers many places to gather, such as the community post office, the business center, and the pool, the café is different. "It's a place where people can just hang out, have a glass of wine or beer, meet up and actually talk to each other," Smith says.
From Conversation to Club
Because of those café chats, several River Bluffs residents have organized clubs and groups to continue the conversation. Some of the groups are for boaters, runners, or kayakers, while those who want to discuss books, investments, or history belong to others. There are even a few options for people who want to be active in different ways—the Foodie Club and the Volunteer Club are both popular choices.
This sense of community and camaraderie wasn't planned, though Smith acknowledges that River Bluffs naturally fosters it. "We created an atmosphere that people seem to love. They've taken it and run with it. It's been neat to watch."
Moving Forward Together
As River Bluffs grows, Smith plans to further develop the neighborhood with that sense of community in mind. They hope to complete a sports complex, just in time for summer. They're also putting the finishing touches on a new 2,500-foot long Riverwalk, which will give residents and tourists even more access to the Cape Fear River, as well as a place to dock at the 141-slip marina.
No matter what projects are in the works, one thing is clear—River Bluffs' residents will continue to find new ways to make their home their own. 910-623-5015, riverbluffsliving.com
---
Logan Homes: A Simple Life of Luxury
Logan Homes has been building houses and communities along the Carolina coast since 1986. Throughout their 30 years of business, their mission and goals have remained the same—to create luxury houses in a range of styles that make their clients dreams come true.
In addition to individual houses, Logan Homes is also known for developing communities and neighborhoods that exude luxury and quality. When it comes to coastal communities, Vice-President PJ Kelly says the company's first concern is location. "One of the struggles in New Hanover County is the amount of available land," he explains. As land becomes scarcer, it's more important than ever to make sure they're developing in the right places.
The second thing Logan Homes considers is vision—their clients', as well as their own. "We want to ensure that our communities can meet different people's needs, wants, and desires," Kelly says. That means making life a little bit simpler whenever and wherever they can.
This desire for simplicity is reflected in the many amenities some of the newest Logan Homes neighborhoods offer. By creating communities that include things like boat slips, resort-style pools, and meeting spaces, residents can enjoy an active and engaged lifestyle right outside their door.
Helms Port
Located on the Intracoastal Waterway, Helms Port is one of the few communities that offers true waterfront living. In this coastal neighborhood, residents enjoy a 75-slip marina, kayak launch, private beach, clubhouse with resort-style pool, and a can't-be-beat view of the water.
Cottage Grove
If you like mature oak trees and gentle rolling hills, then you'll love Cottage Grove. This neighborhood features coastal-brick patio style homes in a range of sizes. It's also within walking distance of the upcoming Ogden Marketplace, a shopping complex that will be anchored by a Publix grocery store.
Clearwater Preserve
As the newest community in the Logan Homes family, this Wilmington neighborhood is less than fifteen minutes from the beach. It offers both one and two story homes with quaint coastal accents and plenty of space. The open floor plans are the ultimate in comfort and quality.
"Wilmington is a destination area," Kelly says. "People want to be here because of the beaches and the downtown area. Our goal at Logan Homes is to make sure our neighborhoods lend themselves to that vision." By the look of their newest neighborhoods, Logan Homes has already achieved that goal. 800-761-4707, loganhomes.com