Kitchen Overhaul
29 Dec 2018
Remodeling the heart of the home

By JUDY ROYAL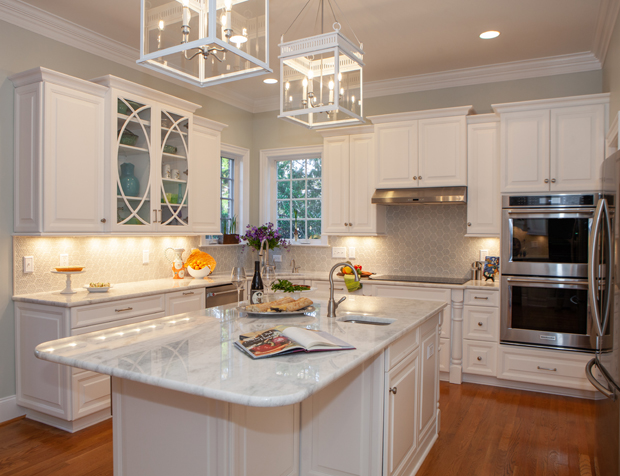 The new year offers a fresh start for people thinking about bettering themselves. While many strive to live a healthier lifestyle through individual challenges, others will use the clean slate that the start of 2019 offers by finally starting home improvement projects that have been on the back burner for way too long.

Remodeling is not only a way for homeowners to make their living space more comfortable and practical, but such projects can greatly increase the resale value of a residence. And with the kitchen increasingly being considered the most important room in the home, it's no surprise that this area is often the focal point of proposed changes.

If you're ready to take your kitchen to the next level, these two local projects might serve as the inspiration you need to finally get things off the ground in 2019.

Dynamic Kitchens and Interiors

Alice Evans, designer and president of Dynamic Kitchens and Interiors of Wilmington, revamped a kitchen for a couple looking to brighten up their space and add a bigger island. The project was located in Porters Neck Plantation, a private, gated golf course community offering a blend of traditional neighborhoods and modern amenities.

Evans accomplished the need for more "light" by replacing cherry cabinets and dark granite countertops with new cabinets from Signature Custom Cabinetry featuring raised-panel colonial doors in a white paint finish as well as marble countertops in Shadow Storm by Majestic Marble and Glass Company. Four glass doors with curved vesica mullions, Sonoma Stellar Isla Shore tiles from Southeastern Tile Connection, and lantern pendants from Lantern & Scroll of Charlotte are other details that gave the kitchen a fresh, new look.

"This project took a little longer because the countertop search for the perfect stone became a quest," Evans said.

While seeking out the perfect elements can delay a remodel, experts say it's important not to rush the process. After all, you'll likely be living with the end result for many years to come, so you want it to meet all of your expectations.

Homeowners can help the process by doing a little research and preparation first, however.

"When you invite a designer to your house to talk about your remodel, you need to have your wish list ready to help the new vision come to fruition," Evans said. "Also, the best advice for someone who wants to remodel a kitchen is to have a plan for an alternative cooking and cleaning spot."

Dynamic Kitchens and Interiors specialize in bathroom, kitchen, and office renovations, working closely with clients to plan remodels that match their vision and feature durable materials that fit each budget. The goal is to leave you with a renovated home you'll love.

Among the reasons the company offers for why it is a top choice for kitchen projects are the following:

- They are certified kitchen designers.
- They can complete your remodel from start to finish.
- They have 20 years of construction industry experience.

Evans has been working in the interior design field for more than 30 years.

"My first career was in the silk screen textile business," she said. "Then in 1994, after earning a BFA in environmental design from East Carolina University, I started designing kitchens for Superior Millwork in Wilmington. From the beginning, I loved solving the puzzle that is creating a functional and beautiful kitchen or bath.

"By 1997, I was ready to go out on my own, and I opened the doors of Dynamic Kitchens and Interiors," she added. "I enjoy working with the complexity of color and the diversity of wood, stone, tiles, and stainless steel. But, above all, the function of the kitchen must work."

Dynamic Kitchens and Interiors is located at 1815 Carolina Beach Road, Wilmington: 910-763-9870, dynamickitchens.com.


Markraft Cabinets

Markraft Cabinets of Wilmington tackled the remodel of a third-floor kitchen for a couple's beach house on North Topsail Island. They were seeking more storage and workspace, but were unsure how to make it happen. They only thing they really knew for certain was that they didn't want it to look like the old kitchen.

Markraft designer Amanda Fisher and Markraft project manager Jim Bauer worked together to make the couple's vision a reality, paying special attention to layout changes that would yield a more functional area with increased storage and counter space.

"We wanted to try to hide the laundry door as much as possible to create a focal wall with the hood since this is so open to the living spaces," Fisher said. "We tried to find a color balance between grey and brown, including the floor, to update the colors but still coordinate nicely with the existing furniture. The products chosen were those we thought would be easy to clean and be durable since this is a beach house."

Bauer said one of his most notable challenges was trying to match the older flooring. He ended up re-staining the entire floor so there would be consistency.

Among Bauer's main tasks were scheduling and supervising all of the other trades to do tile, electrical, plumbing, flooring, and painting work. Among the contractors that worked on the project were Cabinet & Granite Solutions (countertops), Tile Guys USA (backsplash), Calico Cabinets, Oceanside Electrical, Evanko Hardwood Floors, and Plumber Medic. The project took about three months from demolition to completion.

"It's unrecognizable from the old kitchen," Fisher said. "It is exactly what I had envisioned. I'm proud of this design."

Bauer added: "It was a big job, and like all customers, there were high expectations. The whole job turned out really nice."

If you've been dreaming of a new kitchen, the beginning of 2019 is a great time to take the first step.

"The best way for a customer to get started is by coming in to our showroom to get ideas and see products and displays that are current, showing them what is trending, etc.," Fisher said. "Then they set up an appointment with a designer to discuss what they want to achieve, and our team will help make it all come together."

Established 30 years ago, Markraft Cabinets specializes in cabinet and countertop design as well as installation for custom remodeling projects and new residential and commercial construction. Among the services the company offers are product selection, custom design, and installation. There is also a full-service warranty department to track and handle all post-job completion issues.

Markraft's local Sales & Design Center is located at 2705 Castle Creek Lane, Wilmington: 910-427-5480, markraft.com.