Know Your Growers
04 Jul 2023
A guide to local farmers markets and why it's important to support them
By Judy Royal » Photos Carin Hall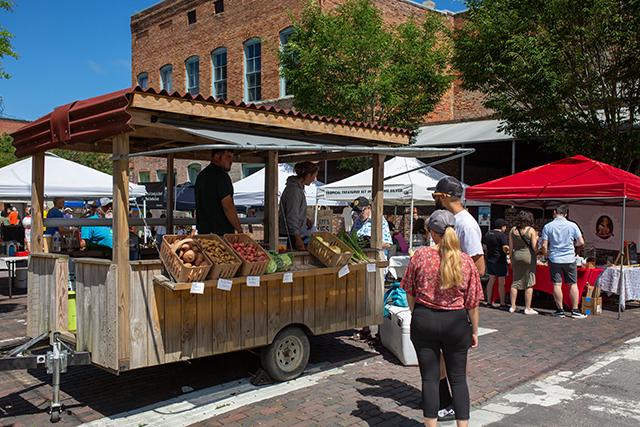 You know summer is near when the farmers markets start popping back up. No matter where you are in the Wilmington area, you won't have to travel too far to find an outdoor gathering place that showcases fresh local produce and connects consumers directly with those who grow the food.
Farmers markets are more fun than your typical trip to the grocery store, offering shoppers a unique experience. But they also directly support the local economy and give access to products that have traveled just a few miles from where they originated.
Get to know your growers at the following markets this summer and fall:
Riverfront Farmers Market
Saturday
riverfrontfarmersmarket.org
Celebrating 20 years, the Riverfront Farmers Market has been a prime spot for locally grown and produced foods in downtown Wilmington since 2003. The market sets up on Dock Street between Second and Water streets Saturdays from 8am–1pm, April 1–November 18.
"This was envisioned as an event that would enrich the community by providing a social gathering and a source of healthy foods for the community," says James Christopher of Cool Wilmington, who manages the market. "We are the longest continuously running farmers market in Wilmington, and the market has changed quite a bit over the last two decades. The Wilmington community has really embraced this market. We are now probably five times the size of our first markets."
Farmers markets are an integral part of the community, he says.
"Our members are your neighbors," says Christopher. "When you buy from the farmers market, you are buying locally grown produce and you are supporting your friends and neighbors. Most of the food that is purchased at local grocery chains has been transported over 1,300 miles and touched by dozens of people before it ends up on your table. That is not the case with the Riverfront Farmers Market, where the person who is selling the product to you is the person who planted it, cultivated it and harvested it."
The Riverfront Farmers Market, which has an average attendance of 2,500 to 3,000 visitors per week, often acts as an incubator for small businesses, he adds.
"By providing a wealth of marketing and outreach to the Wilmington community, we provide our members with an amazing opportunity to begin a small business and connect one on one with their clientele," says Christopher. "In many instances, our members have decided to take the next step and open brick-and-mortar storefronts. I think they feel confident in doing this because they know they have built a consumer base and built their brand through the Riverfront Farmers Market."
Vegan restaurant Panacea Brewing Company, located at 4107 Oleander Drive in Wilmington, is an example of a local business that launched at Port City farmers markets. Owners Artie and Robin Hill began selling their locally brewed kombucha from a Volkswagen bus in 2016.
"We started the Riverfront Farmers Market, and it was very important for our business," says Robin. "Attending farmers markets for a lot of people is very habitual, and it became just a very easy way to connect with our customers every single week. They knew we would be there. They knew they could bring their bottles and refill them. So, the education piece was very important, and it allowed us to meet a lot of people when we had zero budget for advertising."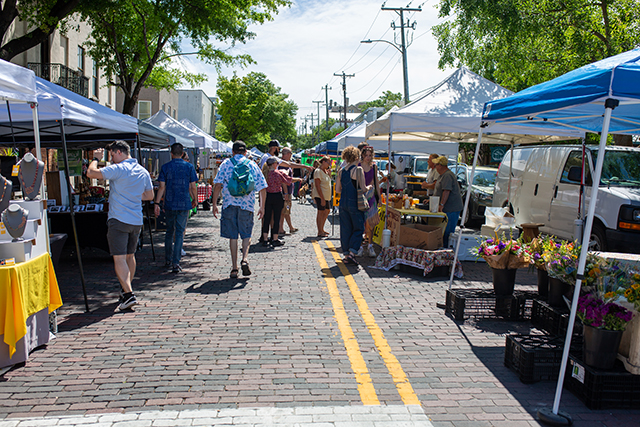 Wrightsville Beach Farmers Market
Monday
townofwrightsvillebeach.com
Located on the Municipal Grounds off West Salisbury Street adjacent to Town Hall, the Wrightsville Beach Farmers Market began in June 2009. It takes place Mondays from 8am–1pm,
May 15–December 4. Free parking in the surrounding field is available for patrons.
Poplar Grove Plantation Farmers Market
Wednesday
poplargrove.org
Come to historic Poplar Grove Plantation, 10200 U.S. Highway 17 in the Scotts Hill area of Wilmington, for a farmers market every Wednesday from 8am–1pm, April 12–September 27. The market strives to promote local farmers and the use of local products.
The Wilmington Farmers Market at Tidal Creek
Saturday
thewilmingtonfarmersmarket.com
Just outside Tidal Creek Co-op, 5329 Oleander Drive in Wilmington, is The Wilmington Farmers Market, which started in spring 2018 when a group of local farmers got together. It happens Saturdays from 8am–1pm all year long and offers local produce, meats, seafood, eggs, bread and other staple food items.
Carolina Beach Market
Saturday
carolinabeach.org
Although the Carolina Beach Market is not designated as a farmers market, you can find several local growers set up among the vendors. It's at Lake Park, 400 S. Lake Park Blvd. in Carolina Beach every Saturday from 8am–1pm, May 20–September 30.