Cool & easy summer recipes showcase the colors of the season
Recipes and photos by Kaitlin Gooding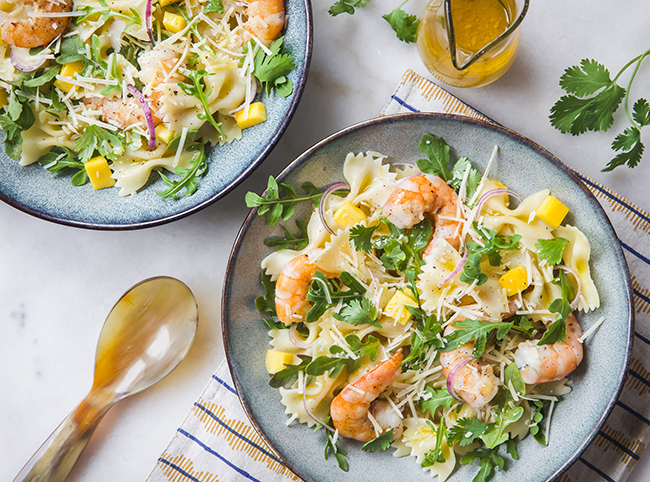 Summertime is known for its vibrant produce and these fresh recipes showcase all of the colors of the season. Enjoy coastal flavors by adding fresh shrimp to this pasta salad dressed in a honey-lime vinaigrette. Perfect for date night! Take these creamy coconut lime bars to a summer gathering or the basil-pistachio feta crostinis topped with baked local strawberries. Let's face it, a meal without bread is unthinkable. Savor every bite of these crispy potatoes with hints of thyme and bits of salt flakes. Quench your thirst with our summer sipper, perfectly enjoyed on the porch or poolside. You can't escape that Southern heat, but you won't break a sweat creating these easy recipes.
Basil - Pistachio Feta Crostini & Baked Strawberries
Servings: 2 cups of feta spread
Pistachio Feta Crostini Ingredients:
1 baguette, cut into one-inch slices
1/2 cup basil
1 tbsp lemon juice
2 tbsp honey
1/2 cup Greek yogurt
14 oz block of feta cheese
3/4 cup roasted pistachios
3 tbsp olive oil, extra for baguette
Baked Strawberries Ingredients:
1 lb strawberries, stems removed & halved
2 tbsp honey
Directions:
1. Preheat the oven to 350 degrees F.
2. Add parchment paper to a baking sheet and add baguette slices. Coat one side with olive oil. Place in the oven and cook 5-10 minutes or until lightly toasted. Remove from the oven and set aside.
3. Add strawberries to a bowl and coat in honey. Add the strawberries to a baking sheet on parchment paper and cook for 15-20 minutes.
4. While the strawberries are cooking, add all the ingredients for the feta, except the baguettes, into a high-powered blender. Blend until smooth.
5. Spread the feta on top of the crostinis and top it off with the baked strawberries. Add basil leaves as a garnish if you want a pop of color. Enjoy!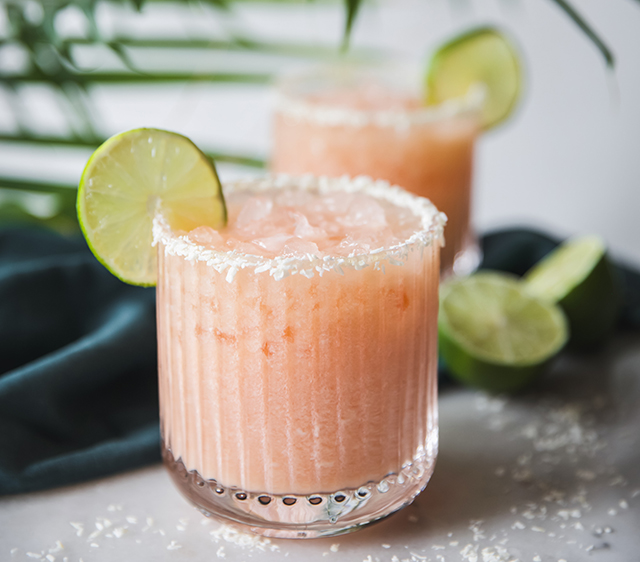 Summer Sipper
Servings: 1
Ingredients:
2 oz coconut milk
1 oz lime juice
2 oz tequila
2 oz grapefruit juice
1 oz simple syrup
Shredded coconut for the rim
Honey to rim the glass
Directions:
1. To make the coconut rim, lightly dip the top of your glass in honey. On a separate plate, add the shredded coconut and roll the honey part of the glass through the coconut to create the rim. Set the prepared glass aside.
2. Combine the coconut milk, lime juice, tequila, grapefruit juice, and simple syrup into a cocktail shaker. Fill with ice and shake until well combined.
3. Pour into your prepared glass and top it off with lime to garnish. Drink and enjoy!
Shrimp Pasta with Honey-lime Dressing
Servings: 4 - 5
Ingredients:
16 oz uncooked farfalle pasta, cook according to package directions for al dente
2 mangoes (peeled & diced)
2 lbs shrimp, peeled and deveined
1/4 cup thinly sliced red onion
2 cups baby arugula
1/2 cup shaved Parmesan
Kosher salt/ pepper
1/4 cup olive oil
Honey-Lime Dressing (see recipe below)
Directions:
1. Salt and pepper the shrimp. Add olive oil to a sauté pan and cook the shrimp on medium heat. Cook about 1-2 minutes per side, or until pink, and remove from heat.
2. In a large bowl add the cooked shrimp, cooked pasta, arugula, Parmesan, mango and red onion. Add the honey-lime dressing and toss together. Plate your dish and season to your liking with salt and pepper. This dish can be served hot or cold.
Honey - Lime Vinaigrette
Ingredients:
1/4 cup extra virgin olive oil
1 tsp Dijon mustard
1 tbsp lime zest
Pinch of salt
2 tsp honey
2 tbsp champagne vinegar
Juice of 1/2 lime
Directions:
1. Add all ingredients together into a high-powered blender and mix until well blended.
2. Store in a sealed glass container in the fridge.
Thyme Potatoes
Servings: 3-4, as a side
Ingredients:
1.5lb golden potatoes, cut into 1-inch pieces
6-8 thyme sprigs
Kosher salt & pepper, as desired
1/2 tsp garlic powder
2 tbsp butter
Optional: sea salt flakes
Directions:
1. Add cut potatoes into a pot of boiling salted water. Allow the potatoes to boil for 10-12 minutes. Remove from the water and place on a paper towel to dry.
2. Warm a skillet to medium heat with two tablespoons of butter. Add the potatoes and sprinkle with salt, pepper, thyme sprigs and garlic powder.
3. Cook in the skillet for 10-15 minutes or until golden brown and crisp. Stir the potatoes occasionally to cook all sides.
4. Remove the potatoes from the skillet and pick out the thyme sprigs. Season with flaky sea salt or kosher salt as desired.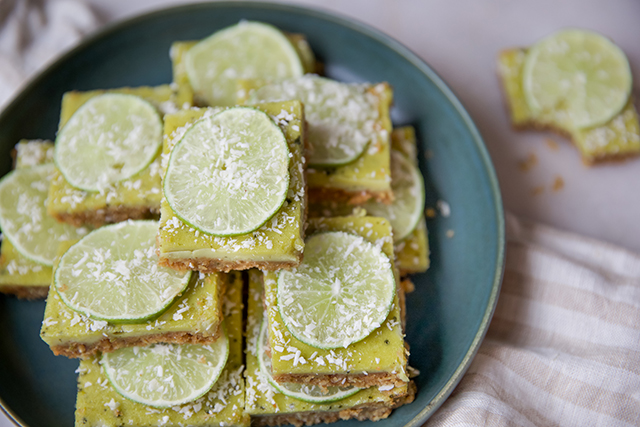 Lime Coconut Bars
Servings: 6-7 people for dessert
Crust Ingredients:
1.5 cups graham crackers
6 tbsp butter, melted
Pinch of salt
1/4 cup of sugar
1 tsp cinnamon
1 tbsp honey
Filling Ingredients:
4 eggs
1/2 cup lime juice
3/4 cup canned coconut milk, using the cream at the top first
1 tsp lime zest
2 spoonfuls of all-purpose flour
1/4 tsp vanilla extract
1/2 cup sugar
Lime, thinly sliced on a mandolin for garnish
Shredded non-sweetened coconut for garnish
Directions:
1. Preheat the oven to 350 degrees F.
2. To make the crust, add the graham crackers to a food processor or high-powered blender and mix until it turns to crumbs. Add the graham cracker into a bowl and mix in the butter, sugar, cinnamon, salt and honey. Continue to mix until it holds together.
3. Spray a nine-inch square tart pan with coconut oil. Press the graham cracker dough into the pan and cook in the oven for 8 minutes. Remove the pan once it has cooked and allow the crust to cool.
4. In a separate bowl, begin making the filling by adding four, eggs and sugar. Use an electric mixer to cream it together. Add the flour, zest, lime juice, coconut milk and extract. Blend until smooth.
5. Place the crust in the tart pan into a large baking pan or baking sheet. Pour the filling into the crust. Place the pan into the oven and cook for 20-25 minutes or until the filling is set.
6. Once the tart has finished cooking remove from the oven and allow it to cool. Remove the tart from the pan and cut it into squares or rectangles.
7. Add the thin slices of lime on top and sprinkle coconut on top to garnish.
8. Place in the refrigerator for at least one hour before serving.