Local artist Mitzy Jonkheer has honed her skills making precision handcrafted jewelry from various metals
By KIM HENRY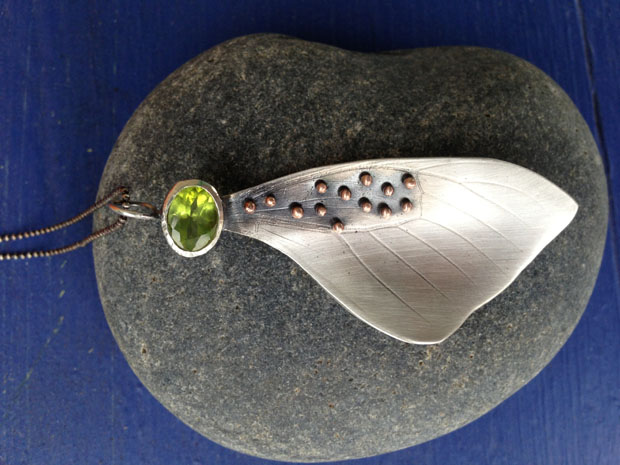 Think hearts, wings, metal, nature, stones and wild and wonderful treasures, and you have the essence of Wilmington artist Mitzy Jonkheer. Surrounded in her studio/gallery by her diverse array of creations, as well as work by an eclectic mix of local artists, Jonkheer is overflowing with ideas and energy.
Born in Wilmington and raised on the Cape Fear, Jonkheer studied metal design at East Carolina University School of Art and Design, after switching from an English major. "I had designed a ring for my mom and was looking for a metalsmith to make it for me. When I walked into her studio, I was inspired by her unique, handmade work—so different from a traditional jeweler. I knew that I had found what I wanted to do," she says. She changed her major to study metalsmithing, along with pottery, painting, sculpture and woodwork. Jonkheer can still turn her hands to any of these media, although metalwork and jewelry design are her true passions.
Her work is infused with meaning and symbolism. From the healing properties of semi-precious stones and lines of poetry engraved in bracelets, to her one-of-a-kind, custom jewelry, Jonkheer specializes in the personal touch. On her right hand, she wears a piece that she designed herself: a ring featuring her own imprinted fingerprints and her ten year old son.
"Sometimes I wake up in the middle of the night with design ideas racing through my mind," says Jonkheer, who can be working on up to 100 pieces at any one time. "But my favorite thing to make is a customized piece of jewelry, like a wedding ring." Working in synergy with her clients, she creates timeless personal pieces that are both beautiful and meaningful.
Over the years, Jonkheer has designed many pieces for the film industry. Her work has made its way into several movies and television shows, including Dawson's Creek, One Tree Hill, and the film Safe Haven. She designed a pendant that actress Sandra Bullock wore in the film, 'The Divine Secrets of the Ya-Ya Sisterhood' and a whale brooch worn by Dakota Fanning in the film version of 'The Secret Life of Bees.' The film's producer also commissioned her to create a bracelet for "Secret Life" author Sue Monk Kidd. In tribute to the book, Jonkheer engraved its final line on the bracelet's silver, "They are the moons shining over me."
Often recycling and up-cycling objects that she picks up at estate sales, such as antique silverware, Jonkheer goes out of her way to tread as lightly as possible on the earth. She does her best to ensure that all of her materials originate from responsible sources, recycles her own scrap metal, and incorporates natural elements, such as feathers, bark, and 'found' cicada and dragonfly wings into her work.
When she's not creating original pieces in her studio, Jonkheer can be found teaching at DREAMS of Wilmington, a nonprofit serving youth in need through the arts. She's currently working with students in DREAMS' Design Studio program, teaching them how to market their creations. "I tell them, make sure that you love what you do and we'll work out how to sell it."
Jonkheer also holds summer camps at her Wrightsville Avenue studio. Mainly for children between the ages of 6-12, these camps offer a hands-on exploration of several artistic media. "I have an outline of what we're going to do in the workshops, but I keep it flexible so that I can respond to the particular group of children that I am working with," she says.
Jonkheer shares her love of jewelry-making with her son. The two have collaborated to create their own line, 'Frida Ruby.' Named for their chocolate lab (who, in turn, was named for the revered artist Frida Kahlo), all of the 'Frida Ruby' pieces are made with sterling silver. "I wanted young girls to be able to wear real silver, responsibly sourced and made. My son works the tools and makes his own designs. They are sold at Jonkheer Jewelry and at Learning Express."
In celebration of Valentine's Day, she recently held her third annual 'Heart Art' show, featuring wooden hearts decorated by Wilmington's finest artists, DREAMS students, and friends. "I think we're all artists in our own way, and these hearts give all sorts of people a chance to see what they can create."
Jonkheer feels a connection with every piece of her work and with the people who come into her studio. "One of my main reasons for opening a retail space was to be able to meet the people who buy my work," she smiles. "I'm a painter in my dreams and a writer at stoplights. But in my daily life as a metalsmith, I feel very fortunate to be able to share my gift with others—and I get so much in return." 910-409-8758, mitzyjonkheer.com