Azalea Garden Tour 2014
29 Mar 2014
A preview of three gardens on this year's tour and a little advice from The Transplanted Garden
By JAMIE PENN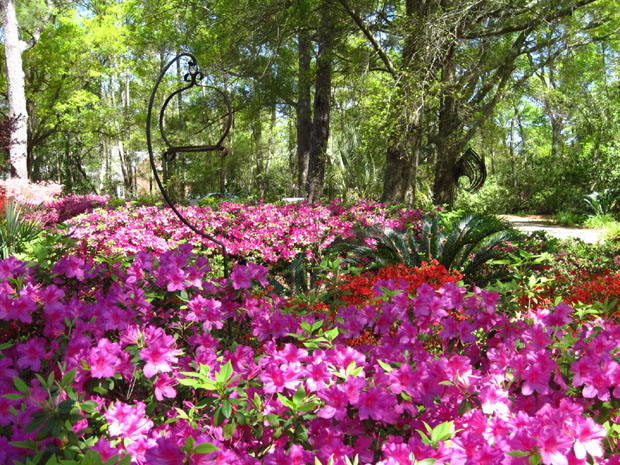 March in Wilmington vibrates with anticipation as April's colorful palette prepares to spill across local landscapes. From the loud, purple-tinged, fuchsia blossoms of Formosas to the small, compact, flashy Coral Bells, azaleas bring the long-awaited burst of spring that residents pine for.
And every year, since 1953, the Cape Fear Garden Club has been prepared for the show.
The Azalea Garden Tour runs from April 11-13 from 10:00am to 6:00pm at the height of area gardens' biggest show of the year.
"We've prepared quite a showcase," said Rebecca Philpott, 2014 tour chair. "Gardens range from charming to exotic. There's a lot to see this year, I highly recommend breaking it up into two days."
Of the 12 private gardens on the tour, there are three that well-represent the wide-range of garden styles chosen this year.
Schoolfield Garden
Jim and Rhonda Schoolfield bought their home on Beagle Trail in 2004. The road was aptly named for the beagles kept in a pen behind the house by former owner Bud Rose and his wife Nancy. The Schoolfields, preservationists at heart, restored the beagle pen and use it now as a greenhouse for precious houseplants and exotic fruit trees that hang out poolside in the hot summer months.
"The trees sold us," Rhonda said. Three masterful oaks tower over and sprawl above the front landscape. And one massive water oak in the back shades the beautiful screened in porch addition.
The existing beds of established azaleas, the mature dogwoods, and the fabulous camellias that have been around for decades also helped to seal the deal.
"We actually built the house around that camellia out front!" Rhonda said.
The Schoolfields renovated the home before moving in, adding nearly 1,400 square feet. Through restructuring the exterior, they transitioned the architectural style of the home from Dutch Colonial to Cape Cod. Mimicking this transition in the garden was an even bigger undertaking.
But, Rhonda says, it was so worth it.
"If I ever feel bad, I just walk out into my garden, and I feel better," Rhonda said.
If the front is a lush, shady reprieve―full of aspidistra, aucuba, azaleas, camellias, ferns and fatsias, then the back is a sunny, whimsical oasis of color―full of vibrant perennials, grasses and palms.
"The pool is definitely my favorite feature," says Jim.
But, it's not just any pool. The saline pool below the back garden has curves all its own, surrounded by intricate stonework decking. A hand laid stone-stacked water feature on the far side of the pool takes relaxation to another level. The deck is surrounded by garden beds and the privacy fence is made from woven copper wire covered in a mat of confederate jasmine.
"It's like being in the garden of Eden when you're back there," Rhonda said.
Corbett Garden
Melissa Corbett is not one to let the grass grow under her feet. Neither in life nor in the garden. She left Wilmington after high school and didn't look back for a while, country-hopping from England, to Tokyo, France, and Australia.
But, in 1996, she came home to settle in for a while, bought a house, and almost instantly, she says, she became a gardener.
"It gives me a hobby," Corbett said. "Planting gives me peace!"
Her relatively small cottage garden is chocked full. Quaint little pocket gardens and lounge areas, like little rooms, are nice surprises around each bend.
"It's been a lot of trial and error," Corbett said. "I've literally transplanted some things three times!"
The yews in front along the sidewalk were her second choice, and they work well there, as do the notoriously temperamental dwarf variegated pits that line the walkway leading to the front stoop where neatly trimmed ficus has creeped up the surrounding brick exterior.
Traditional plants―azaleas, gardenias, and lots of mature camellias―are a consistent theme.
"I've finally come around to the Encores. They really do just give a good show," she said. Encore azaleas and other varieties serve as the understory for a magnificent live oak that instantly calls attention to itself. It's the presence of such giants that both enhance the garden and create great challenges for the gardener.
"The holly tree is enormous!" She said. The presence of the giant American holly just off the back porch is softened with an understory of dynamic greenery―aspidistra, variegated fatsia, mahonia and more. Luckily, Corbett has proved herself the master of softening such hard edges in her garden.
The view from the back porch, surrounded by Lady Banks rose, is enchanting. A canopy of Yoshino cherries drapes over a dining area where Corbett and her daughter enjoy summer meals. And in the back corner of the garden sits a quaint shed that could double as a doll house. A confederate jasmine frame gives it the cottage-feel it deserves.
Maloy Garden
Tom and Jane Maloy have been around the block a few times. It's their third time on the tour and it's easy to see why.
Their English style home on Mimosa Place is complemented by a formal southern garden with a distinct English flare largely to do with their gardener, Laurie Walker, of The English Gardener.
Sprawling rosemary accompanied by perennials and annuals greets guests. Mature Emerald Green arborvitae add formality and flavor when approaching the front entryway. And a large Chinese Elm lends a shady, summer reprieve to the side garden.
Perfectly pruned miniature English boxwoods pop up throughout the landscape. Stunning iron gates lead to the back garden, where a feeling of timelessness pervades.
The stately, shaded dining patio looks out onto traditionally southern plants―camellias, azaleas, a lone kumquat. In the corner, the 14 year-old potting shed, looks as though it grew there.
"Tom's the gardener," Jane said. "He could spend hours out here potting and repotting."
Maloy has never met a fig tree he didn't make two or three more from.
"Why have one fig tree, when you can make more?" Maloy said with a grin.
As the lawn leads guests to pockets of trimmed, dignified beds and quaint features, one shouldn't be surprised to find the occasional tomato plant in mid-summer, lettuces everywhere they'll grow, stalks heavy with peppers or slender vines laid over by endless sugar snaps.
"Where there's sun, we plant vegetables" Jane said. "And our three grandchildren can't get enough of them."
As March thaws, dreams of lush, colorful gardens pervade. And in April, the Azalea Garden Tour will come to greet residents and visitors at garden gates, bringing them the very dreamiest of spring.
Just Ask Tom
Tom Ericson, co-owner of The Transplanted Garden on S. 16th Street, is a sought after man.
Especially now.
When interviewing local gardeners and Azalea Garden Tour participants, a common response was either, "So we asked Tom," or "Tom told me try it, so I did."
The Transplanted Garden is apparently not only known for its magnificent variety of sought after plants and its array of decorative and useful garden supplies, but it's also known for…you guessed it, Tom. His enthusiasm alone can make anyone want to dig in the dirt.
WM: Do you advise homeowners and gardeners preparing for the Azalea Garden Tour?
Tom: We usually know which gardens are going to be on the tour in advance. If they are doing it themselves, we see a lot of them. We also give them a discount, as they are buying in volume. If they have help in the garden, we know their landscapers too.
We always try to make sure they get all the help they need to fill their garden and steer them in the direction of the sexy new stuff.
WM: What are your favorite azalea varieties?
Tom: Hardy Gardenia. It's a white, hose-in-hose with a green center. It is a compact, low plant with small, dark-green leaves. Gorgeous! And it re-blooms very reliably each fall for an extended period. Koromo Shikibu. Rather than the typical trumpet-shaped blooms, this one has long, thin separate petals in pale lavender. And, Satsukis in general. They bloom in May after the standard varieties. Some blooms are bordered in white, some are more marbled with different shades of the same color. George Tabor. It does not get as large as Formosa, and the lavender pink blooms are very nice. It also has a light, but noticeable fragrance. And, deciduous varieties. Vardanoes 'Phlox Pink'. The flowers come in clusters at the tips of the naked branches, just as the leaves begin to pop. They also have a nice fragrance and the hummingbirds love them!
WM: Name a few plants that seem to be happiest here and perform the best.
Tom: Crape myrtle. You can't kill them, but people sure try! If you want a smaller tree, plant a variety that will do so. Crape "murder" is completely unnecessary and does nothing but make the trees look like they have been butchered, because they have. Spread some Super Phosphate around them in late January or early February and they will cover themselves in blooms for the entire summer. Hydrangeas. In the last several years, there has been a huge increase in the number of cultivars of these plants, be it's Mopheads, Paniculatas or Oakleaf types. Loropetalum. It is a great plant, but a bit over-used and poorly at that. People want to take a plant that really wants to be a mid-sized tree and turn it into a 3-4' tall hedge. I sell the Zhuzhou fuchsia in single-stemmed tree form. Put it out in the full sun and let it grow.
To find out more about good garden synergy or for Azalea Garden Tour tickets, just ask Tom. 910-763-7448, transplantedgarden.com