New Year, New You, New Kitchen
03 Jan 2015
By CHRISTINE HENNESSEY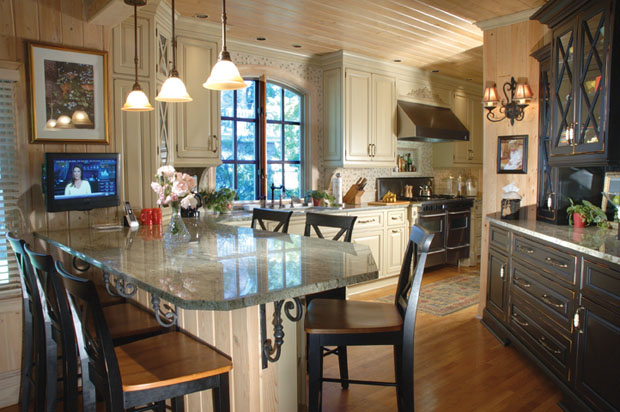 It has been said that the kitchen is the heart of the home. (It's also been said that a clean kitchen is a sign of a wasted life, and to that we say: no comment.) Originally carved out for the sole purpose of preparing and serving dinner, kitchens have spent the last few years enjoying a quiet (and mostly clean) evolution. They've become a place to serve and share meals, a space where parties inevitably gather, a comfortable spot where children can complete homework assignments and help mom and dad with the cooking, and the backdrop for important conversations and lasting memories.
If your resolutions for 2015 include an updated kitchen, there are plenty of professionals in Wilmington who can help get the job done. This is especially true for spaces that don't seem to offer an easy solution—the longer we stare at them, the more issues we see. A professional designer, on the other hand, is trained to transform those problems into possibilities.
To help illustrate such possibilities, we asked a few local designers to share a project where a fresh and unique approach saved the day, and the kitchen. We hope they inspire you to see you own space in a new light.
Dynamic Kitchens and Interiors: A Family of Chefs
Alice Evans has been the owner of and designer for Dynamic Kitchens and Interiors since 1997. When a recent client approached her with not one but two problems, Evans dove right in. The first issue involved the client's height. Shorter than average, it was difficult for her to see over the kitchen's pass-through into the dining room, or to work comfortably at the countertops. The other issue was that the kitchen was designed with one chef in mind, but in practice there were many cooks in the family—the client, her husband, and their two teenaged children were all interested in the culinary arts, which made it difficult to prepare meals as a family.
Evans tackled the first problem by lowering the pass-through so all family members had a clear view of the dining room, regardless of height. As for the workflow problem, Evans deftly redesigned the kitchen island. On one side, chairs were placed catty-corner rather than in a line, making conversations more convenient. On the other side, the countertop was lowered for easier food prep, and the oven and the refrigerator traded places. Finally, five-star meals for this family were a cinch.
Let There Be Light
There's nothing quite like an abundance of natural light in a home, which is why this client was disappointed with her dark and dreary kitchen. She came to Dynamic Kitchens and Interiors, hoping Alice Evans could find a way to invite sunshine in and provide a view of the great outdoors despite the lack of windows.
While the idea of knocking down a wall might scare off some designers, Alice Evans had a secret weapon—her husband, John Evans, who just happens to be a builder. Together they designed and built a pass-through from the kitchen to the dining room, which conveniently faced the dining room's large sliding glass doors. By moving the sink under the pass-through, the client is now able to enjoy the new view—and the sunshine—while washing dishes and preparing meals in her bright, light-filled kitchen. 910-763-9870; dynamickitchens.com
Kitchen & Bath Design Studio: An Artist's Vision
When an artist with eclectic taste purchased a new home in a developing neighborhood, she was disappointed in the kitchen options. The standard house plans called for builder grade cabinetry and fixtures, which didn't suit the client's personality. The client quickly realized that if she wanted a kitchen that reflected her own unique style, she'd have to seek it out herself. She headed to Kitchen & Bath Design Studio for their style and expertise, and found exactly what she was looking for.
Tonya Nesselroade, owner and business manager of Kitchen & Bath Design Studio, shares that they were able to work with the existing house plans while still finding ways to create a wholly unique kitchen experience, tailored to the client's needs and sensibility. To make the kitchen less cookie-cutter and more stylish, the designers installed backsplash made of iridescent glass, which added just the right touch of sparkle and shine. Because the client also wanted a completely clutter-free counter top, Kitchen & Bath Design Studio installed pullout shelving in the lower cabinets. Even the client's coffee station was hidden from view, revealed only when it was needed and helping to create a truly personalized kitchen space. 910-332-4656; kandbdesignstudio.com
Kitchen Blueprints, Inc.: A Different Angle
When this client approached Kitchen Blueprints, she brought with her a number of problems that needed fixing. The first was that her kitchen was small and narrow, full of odd angles that made cooking and preparing meals a challenge. Even though space was limited, she wanted an island where the family could sit together for breakfast, and she was desperate for more storage.
Cynthia Orr, owner of Kitchen Blueprints and a Certified Kitchen Designer, shares that by looking at the kitchen from a different angle, her company's designers were able to give the client everything she wanted and more. An island that seats six was added to one end of the kitchen by extending the counter, and a small television mounted on the wall makes it easy to catch up on the morning news while enjoying a plate of pancakes. Across from the island stands a custom-fit cabinet that makes use of formerly dead space. Not only does it provide ample room for dishes and serving ware, but the black wood also provides a beautiful contrast to the otherwise light-colored kitchen. Style and substance—now that's an angle worth taking. 910-763-2536; kitchenblueprints.net