Over the Moon
06 Nov 2018
For an exceptional gift shopping experience, look no further than Blue Moon Gift Shops and Eclipse Artisan Boutique
By EMILY GORMAN FANCY Photos by KELLY STARBUCK PHOTOGRAPHY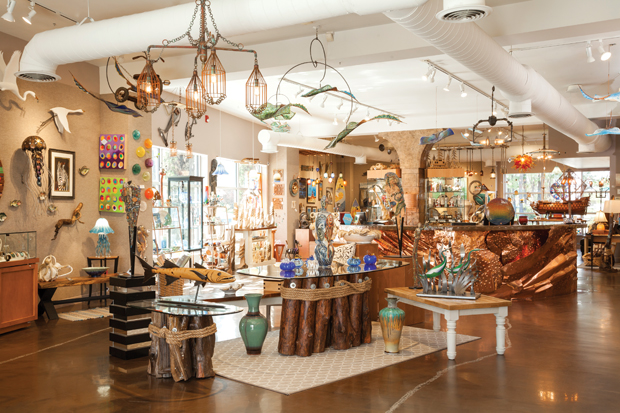 Whether you have a discerning eye for wall art, are in the market for handmade jewelry, or looking for a stand-out wedding gift, Blue Moon Gift Shops has something for everyone. With more than 100 vendors filling 8,500 square feet with a vast array of merchandise, Blue Moon remains a shopping aficionado's treasure trove.
Originally opened in 1999 as the Racine Center for the Arts, the business was eventually renamed Blue Moon, and in 2004, Mary Ann Masucci purchased it. Unlike your average strip mall or big-box store, Blue Moon resembles an indoor farmer's market lined with individual, specialty boutiques. Blue Moon's vendors carry one-of-a-kind clothing, art, food, jewelry, and housewares – to name just a few of their many items.
Blue Moon has long been recognized as Wilmington's Best Gift Shop for ten years in a row. Masucci attributes this recognition to the store's unique blend of vendors offering handmade items as well as the pleasant experience of shopping there. "People love to come in and get lost strolling through the stores," she says. She also emphasizes that they offer nice touches such as free gift wrapping to amplify the customer's experience.
Masucci's vision for Blue Moon is to establish an iconic destination for Wilmington residents and tourists in the same vein as other well-known attractions, such as the Battleship and Fort Fisher Aquarium. "When people have out-of-town visitors, they bring their guests here because they don't have a Blue Moon where they live," she explains.
Blue Moon is a pioneer of the business model in which vendors rent a space ranging from a wall to a large booth. Through Blue Moon, artisans have the opportunity to sell their wares without the costly investment of maintaining their own independent stores. Vendors can market their business under Blue Moon's umbrella without the usual risk and overheard involved with new business ventures.
While Blue Moon is mostly associated with artistic gifts, its vendors selling freshly prepared culinary delights have become wildly popular, whether you need a quick meal to feed your family on a busy week night or you want to give the gift of a gourmet meal. Strawberry Moon Market features a range of local food products, including coffee, jelly, pickles, and honey. Raleigh-based caterer Ladyfingers' meals to go often sell out, leading the proprietors to make frequent trips to Wilmington to restock their Blue Moon store. Heritage Farms, a company out of Goldsboro, sells humanely-raised pork products and seven popular varieties of barbecue sauce. At Slice of Pie, you'll find a range of delectable pies, including apple, coconut, chocolate chess, and pumpkin, all of which are available by the whole or half pie.
Masucci says she is often contacted about franchising, but she emphasizes that Blue Moon is not an easy business model to emulate, and she enjoys focusing on sole location on Racine Drive. Because she interacts with vendors, artists, and customers, running a business like Blue Moon takes a high level of interpersonal and organizational skills.
After browsing Blue Moon, stroll over to its sister business next door, Eclipse Artisan Boutique. In 2013, the gallery next door to Blue Moon was up for sale. Masucci and her business partner decided to buy the space and create an art gallery that would complement Blue Moon's ambiance. Their brainchild evolved into Eclipse, which features the original art of more than 200 artists, including sculpture, custom furniture, original paintings, pottery, photography, and much more.
Masucci estimates that ninety-five percent of Eclipse artists stem from Wilmington and NC. "There's a lot of local talent in this town," she says.
Eclipse features one-of-a-kind gifts in a range of price points, with numerous items under $50. "Everyone who walks into Eclipse comments on how the gallery is very eclectic, with unique items not found anywhere else," Masucci says.
When you browse around Eclipse, you may notice that the art doesn't feature any placards identifying the artists for each piece. However, if you want to learn more about the artist behind the art, just ask the staff, as they are all well trained on the background of each artist and can tell the specific stories of each piece, another personal touch that sets Eclipse apart.
To keep Eclipse fresh and inviting, the staff regularly change the displays and bring in new pieces. "We want to wow people when they walk in the door," Masucci says. "You never know what you'll find here," she adds.
The second Saturday in November, Blue Moon will get in the holiday spirit with its annual Holiday Open House. Featuring more than 100 gift card giveaways, artist demos, food trucks, and free valet parking, the Holiday Open House is an occasion not to be missed. This year's event will be Saturday, November 10th from 10 a.m. to 5 p.m. bluemoongiftshops.com, 910-799-5793.