Quanto Basta: Italian Eatery & Wine Bar
03 May 2021
High-end Italian eatery takes over the key of the city and is winning

By BRIDGET CALLAHAN » Photos by G. FRANK HART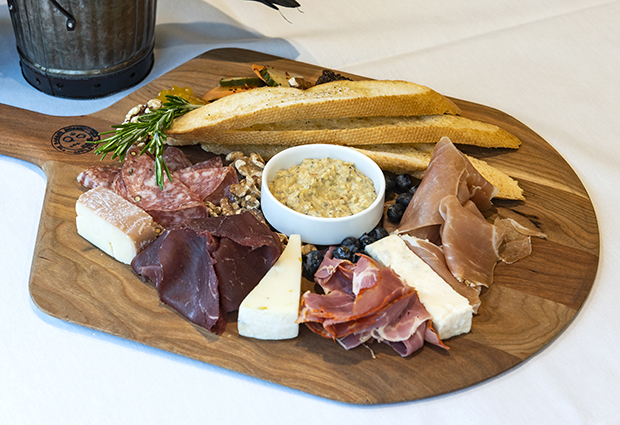 Wilmington was not in the plan for Lynette Matthews-Murphy, one of the owners of the new Quanto Basta on N. 2nd Street. Already running two successful high-end restaurants in Winston Salem, the original Quanto Basta and Springhouse Kitchen, and having just acquired a country club to renovate, she had her hands quite full. But her son, Vance Matthews, was persistent. Vance moved to Wilmington to work for Untappd, and quickly realized the potential of the downtown core. He kept after Lynette, insisting on-site visits and location scouting, and finally sold her on a historic building hiding just across from the parking deck that had incredible potential.

"We really just lucked out with the building itself," Vance says. "It's known as the key of the city, because if you look at the building from an aerial view, the center courtyard rounds out at the back and looks like an old keyhole. When we got the building, it was three old law offices with 8 ft. ceilings, total cubicle world. The coolest part of the project was visualizing what it could become."

Working with architectural firm LS3P and designer Lucie Matthews Patton, the hidden historical gem has been converted into an airy, open mix of a formal dining room, beguiling courtyard, and intimate private grotto adorned with oyster shell chandeliers. A special events manager in her former life, Lynette has an eye for creating spaces, and hiring the right team to fulfill her vision.

"We took into account that we are in a beautiful coastal city, the outdoors and fresh air are important. And who knew at the time that having fresh air and an outdoor space in your restaurant would be so critical to survival in the face of Covid?" she says.

Quanto Basta, which Lynette translates to "As much as you want, as much as you need," opened last July, and the reception even in the middle of a pandemic has been warm. Vance, in his role as general manager, and with the assistance of Reina Laws, chef Joe Heskin, and bar manager Joe Rushing, has created a high end Italian dining experience that seems equally upscale and casual at the same time. That's an addictive mix for downtown Wilmington, whose regulars love being able to slip in and have a cocktail or bring their visitors in for a more formal dinner. The main menu mirrors that of the Winston Salem location, originally created by partner and chef Timothy Grandinetti, featuring recipes from his family in Naples. But Chef Heskin has also had the opportunity to create specials tailored more to Wilmington crowds, like a seared scallop over chickpeas dish that Lynnette raves over.

"With the menu, we've brought in more local seafood and calamari. It's just great seeing how these Italian dishes come out with the seafood we have access to," Vance says.

His favorite dish, and one of their most popular, is the beef short ribs barbaresco, with tender short ribs served with pillowy gnocchi and charred carrots, garnished with tomato jam. Lynnette's favorite is the first dish she ever tasted from Grandinetti's original menu, the Fettucine John Angelo.

"It's our rotisserie roasted chicken (we actually have a rotisserie in the kitchen, spinning away all day), and the chicken is hand pulled with spinach and mushrooms, pancetta, truffle oil. The alfredo sauce is lovely. It's amazing," she says.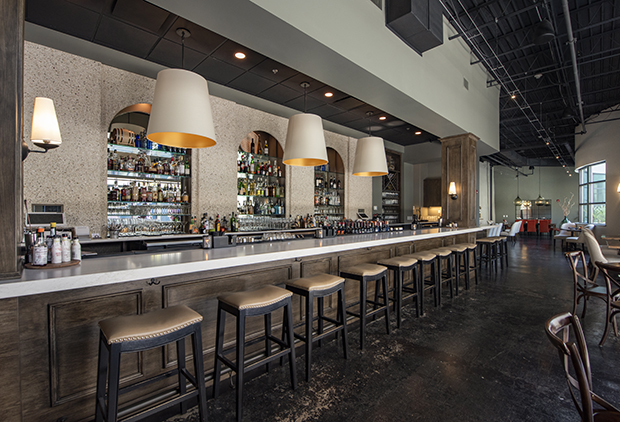 Other menu hits include the tagliatelle with a ragu signature bolognese, and the cannelloni al Forno stuffed with chicken, mushroom, spinach, and a rich asiago cream. The star of the starters menu is the stuffed peppers parmesan, with sausage and focaccia stuffing and oozing mozzarella. The pizzas are thin and charred to perfection, fired in the huge pizza oven with olive oil and sea salt crusts. And of course, there's always spaghetti with Mama's Sunday Sauce, a rich tomato-based bolognese.

There's a lot to discover on the menu, and even your favorite dishes can be changed every time you come with the option to add on your favorite proteins, from shrimp and scallops to pulled short rib and meatballs. Save room for the traditional after dinner coffee and desserts by sous chef Jay McRedmond, including a life changing olive oil cake with vanilla gelato, an orange blossom prosecco reduction, and candied oranges and pistachios. Or opt for the caramel soaked butterscotch budino with candied walnuts, Lynnette's personal favorite.

Regulars come in to sit at the bar, nibble on a charcuterie board and sip on Rushing's specialty cocktails. But if you're trying to get a table, it's best to call ahead. Even with Covid restrictions, reservations are usually packed out for the night. Since events have been curtailed, they've opened up the grotto and courtyard to accommodate new tables. But as private events, wedding rehearsals, and business meetings pick back up, tables may be even harder to come by. The Grotto accommodates up to 36 seats, and the beautiful, private events space is sure to become a popular venue once large gatherings come back. Vance is already looking for ways to add more tables throughout the courtyard, as they anticipate a busy summer ahead.

It's obvious Quanto Basta is already a Wilmington hit, and they're in a great position coming out of a tough year, with a dedicated staff and a lot of months of "soft" practice under their belts.

"We're so blessed to have a great team working with us, and we can't wait for normalcy to hit," Vance says.

"We're so grateful too," Lynnette adds. "The people here have just welcomed us with open arms. It's been a wonderful thing during COVID, it's warmed our hearts."

To make a reservation, visit Quanto Basta on Open Table.