All About Chemistry
03 May 2021
Finding a spark in St. James with Firetti Builders

By CHRISTINE HENNESSEY » Photos by G. FRANK HARRT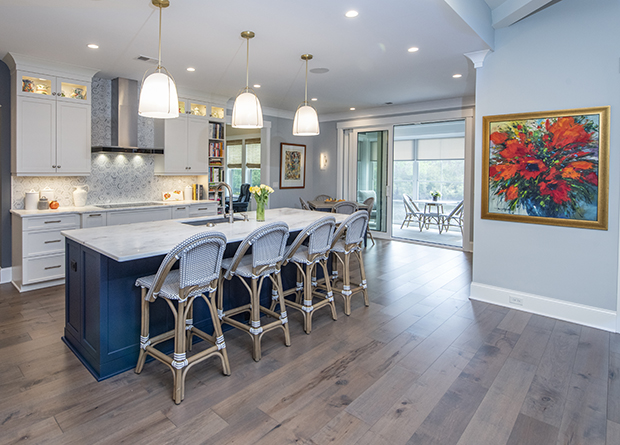 Sam and Lydia were both born and raised in New England, so it was only natural that they got married there too. The couple spent most of the ensuing years living in the northeast, including over three decades in Massachusetts, where they raised their family. "Then we followed the traditional route for people our age, and decided it was time to get rid of the big house in Massachusetts," Sam says. "We didn't know where we wanted to go, but felt the market was good." The couple spent the last two years before they sold their house traveling extensively, especially in the winter, to see where they might want to spend their retirement.

"As part of that process we had friends in St. James, and we had visited them a few times," Sam says. A popular neighborhood nestled between charming Southport and historic Wilmington, the gated community offers many amenities such as 81 holes of championship golf, four distinct clubhouses, over 36 miles of outdoor trails, fitness studios, tennis courts, and a full-service marina right on the Intracoastal Waterway. The couple liked the amenities, and the people they met at St. James Plantation, not to mention North Carolina's warmer climate. So it's not surprising that on one of their visits, they purchased a lot, just in case.

"We still weren't sure what we were going to do with it, or if this was it," Sam says. After a while, and with the encouragement of their children, the couple decided to commit to St. James and finally settle down. But first, they had to build a home.

Quality and Excellence

When it came to finding the perfect builder, the couple, who had previously built two homes, had clear goals and a vision for their home. "We weren't novices," Sam says. "We knew what we wanted and how the process works. We had some custom requirements, which ruled out the production builders who don't want to modify standard plans. That put us in the custom family."

After viewing a number of homes, the couple ultimately chose Firetti Builders. "Joe Firetti has a long history of building in St. James, and to us that meant on-site oversight, as opposed to being spread out and splitting his attention," Sam says.

The couple also appreciated that Firetti Builders had a design team to help with the many interior decisions building a home requires, such as cabinets, tile, floors, and more. "The design team was a value add, and it was a very professional organization," Sam says.

The final piece of the puzzle was a little harder to define, but Joe and his team were able to offer it anyway. "Whether it's a custom house or a production house, there has to be chemistry with the builder," Sam says. "We met everyone in Joe's office as part of the process, and the chemistry was there."

As the couple quickly discovered, Firetti Builders offers much more than just good chemistry. The firm has been building homes since 1977, and working exclusively in North Carolina since 2001. Founded by Joe Firetti, Sr., the company is now run by Joe Firetti II, a third-generation homebuilder. A family affair, the team is known for professionalism, honesty, craftsmanship, providing an enjoyable and exciting experience for their clients, and an impeccable reputation.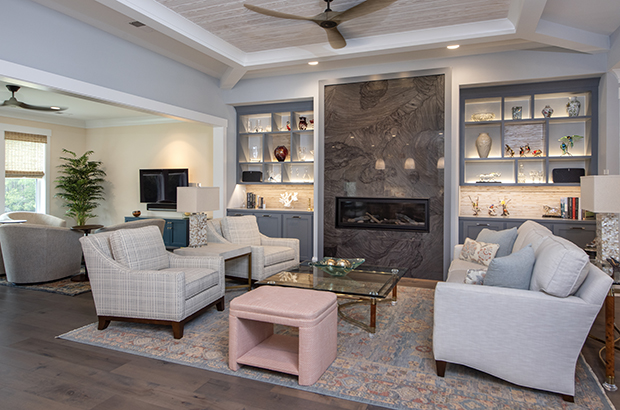 Further setting them apart is their commitment to building distinctive, energy-efficient homes that feature innovative floor plans and unique features, all while offering exceptional value. "We've won multiple Guild Master awards from Guild Quality for exceptional customer service, and in the last six years we've won more Parade of Homes than we've lost," Joe says. He believes communication is the hallmark of a successful project, and the firm's easy build system of custom building makes this a priority.

"When you walk into a car dealership and see a price sticker, you can get the car pretty quick," Joe explains. "When you're building an $800 thousand dollar home, things are a lot more complicated. It's a different experience, and we try to simplify that as much as we can." The firm's design/build process, as well as their partnerships with interior design firm Mackenzie Baker and a team of trusted subcontractors, provides a single source of communication that keeps their clients informed and up-to-date every step of the way. These were qualities that the couple appreciated most, especially as the design and construction of their St. James Plantation home began.

Collaboration and Communication

"The couple were looking for higher-end appointments and a unique look," Joe says. "They were combining a few homes into one, and wanted a dream retirement home. It was a great relationship, very collaborative. Sam was familiar with construction and very involved in the project. It was a joint effort between us, them and the interior designer, Kathleen Abrams."

"I let Joe know early on that I'm the kind of person who likes to be involved," Sam says. "I'm not the kind of person who says to a builder, 'Okay, we'll see you in six months.' The other side of it is that as construction moves along you might discover something that didn't get through at the design, whether it's the location of the outlets, or the width of a doorway."

Because Sam was so involved in the project, and because Joe and his team were so diligent about communication, they were able to make changes to the design of the home during the build process, in the small window of time that still offered some flexibility. "The original design had an open back porch, and it was very narrow," Sam explains. "As construction started, we changed our mind and wanted to turn it into an eze-breeze porch so we could enjoy it year-round. Joe was able to expand it toward the pond and extend the roof without major surgery."

Inside the home, the overall layout and many of the features the couple wanted were fairly standard, with a few notable exceptions. "A master suite on the first floor, a guest suite on the other side of the house so everyone has privacy," Sam says. "Those were not unique things. The things that were unique were the sitting room, and the big, walk-in pantry."

Lydia is an avid cook, so the kitchen was the most important part of the house, and they spent a lot of time making sure it would suit their lifestyle and needs, paying extra attention to the layout of the room, the size and placement of the cabinets, and two special features.

The first is the sitting room, located just off the kitchen, which gives Lydia a beautiful space where she can relax, while still keeping an eye on the stove and oven. The room includes a fireplace, windows overlooking the beautiful pond on the property, and a five-foot wide doorway that leads directly to the kitchen, which provides easy access between the two spaces.

The second is the walk-in pantry, which is truly unique, and one of the most versatile and customized areas of the home. "When the house was being framed, a contractor was in there and asked if the pantry was the bedroom," Sam says, laughing. In addition to ample storage for their various appliances, special occasion dishes, and beloved ice cream maker, it also includes a second refrigerator, a second dishwasher, a built-in desk, and specially designed storage for a 50-bottle wine collection. "The cabinets on the bottom are all closed cabinets, and the top is all open," Sam says. "When you're looking for something, it's easy to find it."

While the kitchen, sitting room and pantry are showstoppers in their own right, one of Joe's favorite features is the fireplace in the living room. "There's a massive piece of granite in their fireplace—probably six feet wide and 11 feet tall. It's a beast. My granite installer actually requested that no one be in the house when his team came to install it, so they wouldn't have to pay attention to their language," Joe says, laughing. "I told the couple to spend that day at the beach. 'Trust me,' I said, 'you're going to want to see it, but you don't want to hear it.'" The installation went off without a hitch, and the results are well worth whatever expletives may or may not have been uttered.

It's been almost a year since their house was completed, and Sam and Lydia couldn't be happier with how things turned out. "The kitchen, the sitting room, the dining room, the bar—everything just works really well," Sam says. Whether cooking an elaborate meal in the kitchen, relaxing in their eze-breeze porch, strolling through the beauty of St. James plantation, or choosing a celebratory bottle of wine from their collection, one thing is certain: they are home.

*The homeowners' names have been changed for privacy.

Firetti Builders Inc., 910-477-6018, firettibuilders.com