Rediscovering Home
21 Jan 2014
Home remodeling is something we all consider at some point, and for these two kitchen and bath makeovers the end result is truly astonishing
By JASON FRYE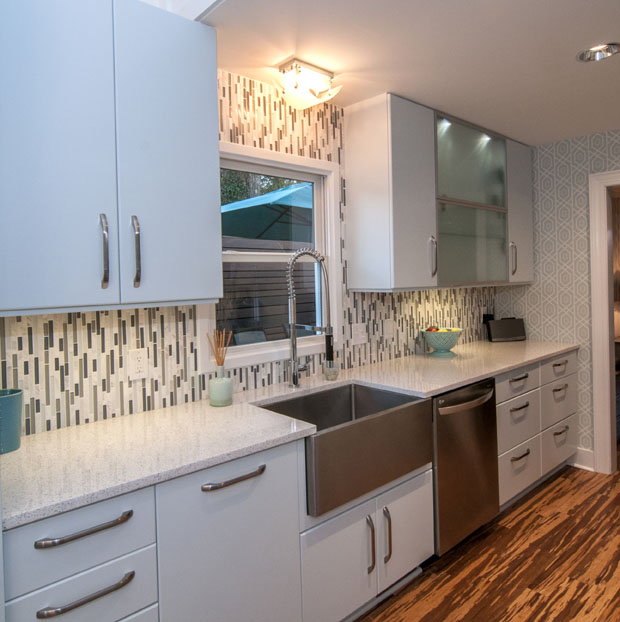 It's easy enough to give your home a new look – a coat of paint on the walls, new lights, maybe even new furniture, but when you need more substantial changes – like, say, a kitchen remodel or a new bathroom – you're talking about home renovation that goes beyond the abilities most of us have. Fortunately, professional interior designers and certified kitchen designers in Wilmington are here to lean on. Their intimate knowledge of the ideal functional spaces, finishes, fixtures and layouts for kitchens, bathrooms and more can help us create spaces within our homes that are more fun, more functional and more expressive of our personalities and interests, all while adding value to the homes we inhabit.
Kitchen Blueprints
At Kitchen Blueprints, designer Cynde Orr has been in the kitchen design game for more than two decades. As a Certified Kitchen Designer from the National Kitchen and Bath Association, Orr knows her way around the heart of the home.
"Kitchens are about functional space. You need to love how it looks in your home, but you need to love how it works for your home, your style of cooking and the ways you use your kitchen," she said.
Many of the designs from Kitchen Blueprints include islands and breakfast bars, both sized just right to fit the space without filling it, but large enough to entertain around, use as a prep station or staging area, dine at or use any other way you please. Integrated into these islands are everything from icemakers to prep sinks to wet bars to cooktops, it all depends on the client.
"Every client is different, so one big part of the job is ascertaining their individual needs," said Orr.
This includes their stylistic needs as well as their cooking, storage and prep needs. Often, clients will go back and forth with Orr on likes and dislikes of their own kitchen, kitchens they've been in, ones they've seen on TV, the internet or a magazine.
Between new appliances, countertops, fixtures, cabinet hardware, cabinet styles and finishes, backsplash and tile work, wall color and lighting, Orr says some homeowners become bogged down in the never-ending details. That's where she comes in. By walking clients through their wants, needs and desires for a new kitchen, she can properly curate the design elements she puts in front of clients.
"And sometimes you find a client, like one we finished recently, who wants to keep or incorporate existing elements into their new kitchen."
The design element she is talking about is a sleek, 1955 Thermodore oven. It still worked and has a mid-century elegance to its design that both she and the homeowner felt would work in the kitchen. It helped that it was stainless steel, like the new appliances they put in.
Now that kitchen has been completely reimagined, using the Thermodore as a design springboard in many ways. The cabinets are white with a touch of grey, giving them a pearlescent sheen reminiscent of stainless steel; other appliance faces (except the refrigerator, which is faced with a panel to look like it's part of the cabinetry) carry the stainless look too; the countertop picks up the lighter notes in the color while the tile backsplash plays with the grey elements. To soften the look and keep it from becoming monotonous, the center island is topped in walnut, and the dark wood is carried through the room and the rest of the house with a similar tone in the wood flooring.
The cabinets Kitchen Blueprints uses are high-quality custom and semi-custom cabinets, of which, some lines are manufactured right here in North Carolina. As with the quality of the cabinets, the hardware – drawer slides, hinges, soft close assist mechanisms – are top of the line.
"We used cabinet builders from North Carolina, Pennsylvania, all over, but we're very selective in the lines we carry because we only want to give our customers the best products that fit their budgets," she says. "We have a local craftsman who does installs and casework."
For the project with the vintage Thermodore oven, the design and install process was a little more complicated than some other projects.
"There were a number of windows to consider when we designed the kitchen, as well as a door into another room that we didn't want to move, and there was a wall that divided the kitchen. We eliminated the wall, effectively doubling the space, integrated the windows into our upper-cabinet design, and found an innovative way to allow for a door that didn't intrude on our space: a bifold door. It was more practical, easier and less expensive than a pocket door," she says. "Then there was the subfloor. We had to have some work done to make the floor level and on par with the construction of the rest of the home."
Looking around the kitchen, you'll find it with upgraded, high-end appliances. And thanks to the color of the cabinets, the selective use of glass panes in the doors of several upper cabinets, and the integrated work desk, the entire kitchen has a high-end feel to it.
The homeowners, reports Orr, love their new kitchen. It is big, airy and light filled, and that light plays along the cabinets and tile, giving the room a slightly different hue depending on the day and time. Above all, it is functional and far beyond what used to be there. 910-763-2536, kitchenblueprints.net.
Kitchen & Bath Design Studio
The 3,500 square foot showroom at Kitchen & Bath Design Studio on South Kerr Avenue is a wonderland of dream rooms. There, designers Tavia Douglass and Meghan Lewellyn assist homeowners in reenvisioning their kitchen and bath spaces and new homebuilders in designing the spaces they have always wanted.
"Today, most of our clients make it pretty easy to get a handle on what they see in their kitchen or bath," said Douglass. "With the number of great home magazines and shows, and websites like Pinterest and Houzz, they often come in to talk with us and already have a pretty good idea of a direction or two they'd like to pursue."
That was the case with Cale Lewis and Christy Coltrain. When they walked into the showroom, they had a pretty good idea of what they were looking for.
"I'm big on that mid-century modern look, "says Lewis. "Eames chairs, the great look on appliances and cars. That design, that look is so elegant, we both knew that we were looking for something in that area, maybe even leaning a little more modern."
They came in with that idea and some pages from magazines, sat down with Douglass and Lewellyn and began the process of refining the idea.
"Initially, they wanted to go with white cabinets in the kitchen, but because of the color palate from that mid-century era Lewis liked so much, we decided to show him a couple of things reminiscent of that era. He loved this blue we found and went with it," Lewellyn says.
"The color choice for the cabinets. Well, the designers recommended it and as soon as I saw the blue, I knew that's what it had to be. We had been thinking of the kitchen from the mid-century aesthetic, but all we knew was we wanted a white quartz countertop and a stainless steel apron front sink. The blue was perfect in the space and with those other things taken into account," he says.
Their kitchen is a galley layout, perfect for the Cape Cod style home they live in, and Douglass and Lewellyn did what Lewis called "a spectacular job" in designing the space for maximum storage and function.
The master bathroom was a similar masterwork.
"Here, we wanted a more high-end feel; we wanted it to be more like a spa or a bathroom in a four-star hotel," he explained. "They took our idea and ran with it, using some beautiful and interesting tile, lots of glass and a lot of care to the details of how the space worked and looked. We couldn't be happier with it."
One of the favorite elements of both the design team and homeowners is the tile wave pattern used in the shower. Here, two different colored, shaped and textured tiles meet with an irregular edge made of a series of small, soft curves. The color of the tile, the shape of the edges and the darker tile surrounding it gives it a distinctly oceanic feel that truly shows the design risks Lewis was willing to take, and the innovative, creative design elements Douglass and Lewellyn were willing to incorporate.
Custom tile wainscoting along the walls in the bathroom add to the richness without adding much to the budget, and the placement of the bathroom – master bedroom at one end, walk-in closet at the other – allows each space to feel separate and luxurious, even retreat-like. Even the simple details like knobs, faucets, and showerhead communicate the sense of luxury.
"We feel like we managed to squeeze a lot of [Lewis and Coltrain's] personalities into this design, and that little bit of personalization, that little bit of heart, can make a project. This one turned out great. 910-332-4656, kandbdesignstudio.com.