Wine Tasting in Alsace
21 Jan 2014
Here, at the edge of France and Germany, cultures and cuisine co-mingle beautifully, with a lot of help from the fruit of the vine.
Text and Photographs By KATIE MCELVEEN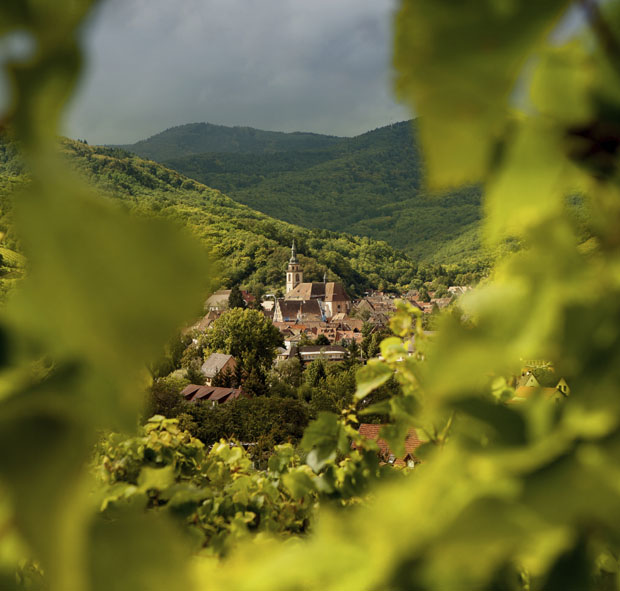 Albert Seltz knows wine. A 14th-generation vintner from Mittlebergheim, a tiny hamlet in France's Alsace region, Seltz can speak for hours about soil composition, pairings, sugar content and proper serving temperature. Today, though, as we're standing in the tasting room of his 16th-century home and winery, he's teaching me how to properly spit wine onto the floor, a necessary skill since there are no spit buckets in the vicinity and, at 10 am, it's too early to start drinking. It's not going well. As my companions effortlessly shoot perfect spurts out of pursed lips or take the easy way out and swallow, I'm dribbling down my chin. M. Seltz gives me one more chance, shakes his head and suggests we move on.
Alsace's wine culture can be traced back to the Romans, who snatched picturesque valley between the Vosges Mountains and the Rhine River from the Celts in 58 BC and immediately began planting grapes on the sunny slopes. In 1953, the French Government linked Alsace's 107 "vintner villages" with a well-marked, 105-mile long Route des Vins d'Alsace. It's a beautiful trail that winds through peaceful vineyards, storybook villages and stunning estates. Along the way, castles from the Middle Ages look down from emerald-hued ridges that wouldn't look out of place in Ireland. The main route is also crisscrossed by more than 50 walking paths that loop through meadows and woods, climb hills covered in grape vines and pass through tiny villages. Signposts lead the way and offer information on historic sites and wine growing.
Alsace's Germanic roots have also made its food and wine traditions different from anywhere in France. As in the rest of France, the types of grapes that can be legally cultivated in the region is regulated; Alsace's white varietals, Sylvaner, Riesling, Pinot Gris, Pinot Blanc, Muscat and Gewurztraminer are considered less French than German, where they're also grown. But where German wines can have a sweeter edge, in Alsace, the wines display more freshness and minerality. But they're not pushovers. Made to complement the region's heavy, comforting dishes – think sauerkraut baked with smoked meats; casseroles of sliced potatoes, onions and either meat or fish, onion tarts rich with butter and all kinds of sausages – they've got the backbone to push back. And the dessert wines are heavenly with fruit tarts or the dense, spicy gingerbread cookies that fill bakery shelves in the fall and winter. More often than not we ate in winstubs, the uniquely Alsatian wine bars that serve traditional dishes in surroundings that are homey with paneling and red checkered tablecloths.
We'd started our visit in Strasbourg, a picturesque medieval city known for its pretty canals, covered bridges, twisty cobbled streets that lead to lively squares and profusion of architectural treasures, particularly the Cathedral, with its still-working astronomical clock and ornate 466-foot spire. Half-timbered buildings give the landscape Hans Christian Anderson vibe, but within the walls I found French cafés and boutiques selling clothing, leather goods and accessories from France. Museums abound, but we were taken with the unassuming Alsatian Museum, which is filled with artifacts that include costumes, pottery and traditional painted furniture. One surprising fun fact we learned is that the Amish community in America originated in Alsace. It made sense. Much of the furniture had been painted with motifs similar to what's seen in Amish communities, and the evil spirit-intimidating symbols topping doorways resembled the colorful hex signs that appear on Amish barns. Tiny villages revealed marvelous restaurants: Chef Olivier Nasti of La Winstub du Chambard, in Kayserburg, has been awarded a Michelin star at his formal restaurant in the in the Chambard Hotel; at the winstub we lunched on impeccable dishes – some Alsatian, some not, like fish in aspic, sauerkraut and veal risotto. In the tiny village of Kientzheim, the stylish Cote Vigne served duck confit, beef with morel mushrooms and turbot with fennel and black olives under massive stone arches.
It's said that wine tastes better sipped in the vineyard, and after this afternoon, I agree. We've set up a picnic in one of Willm winery's vineyards in Barr, which is as famous for its centuries-old Grand Cru Kirchberg vineyard – one of 51 Grand Cru estates in Alsace – as it is for St. Martin, its 17th century Protestant church. We're tasting Cremant d'Alsace, a light, uncomplicated sparkler that's made using the same method as Champagne, but with local varietals standing in for the Pinot Noir, Chardonnay and Pinot Meunier that can be used in Champagne. Next, we move on to still wines, starting with Pinot Blanc and Riesling, then moving to Pinot Gris, finally, spicy Gewurztraminer. They're surprisingly dry, without the heaviness or odd aroma that I've tasted in these varietals before. Even better, we're enjoying them with traditional Alsatian accompaniments. One of which is Kuglehopf, the turban-shaped bread that's eaten at all hours, both with coffee and with wine. Unlike the rich, sweet version seen in other parts of Europe, Alsatian Kuglehofp is a bit dryer, with a salty bite that's nice with the wine. There are also wheels of Munster cheese, which is aged and served with caraway seeds sprinkled on the top and large, soft bretzles, which resembled pretzels in every way except the spelling, French bread with distinctive pointed ends and pate.
We walked off our lunch in the postcard-worthy town of Obernai, with its neat half-timbered houses, pretty town square, ancient synagogue and Renaissance bucket well. Just off the square, Rue de General Gourad is lined with bakeries and sophisticated shops selling clothing, pottery, foie gras and home goods. Although the town is located on the Wine Route and is well-known to tourists, it has managed to maintain its authentic charm. We spend another afternoon in Colmar, one of the region's largest cities, and easily one of the lovliest, particularly in the canal-strewn Little Venice area. Although it's considered the wine capital of Alsace, art is everywhere in Colmar. Frederik Auguste Bartholdi – sculptor of the Statue of Liberty – was born here. His works adorn several buildings, including the statue of a cooper that was added to the 1609 House of Heads, which is covered with a façade of masks. It's also the home of the Unterlinden Museum, where the Issenheim altarpiece (the magnificent multi-panel work painted by Matthias Grunewald), is displayed.
We're back at wine tasting the next day, this time driving from our home base in Rodern, where our cloistered inn sits in the shadow of a an 18th century church amid acres of pinot noir grapes, to Domaine Weinbach, in Kayserberg. Owned by Colette Faller and her daughters Catherine and Laurence, Kayserberg has been in the Faller family since 1898. Elegant in black with a chic blonde chignon – but with telltale dirt under her nails – winemaker Laurence tells us that although the domain was established in 1612, grapes have been planted here since 890. As she points out specific plots of land and explains how the different soils will affect the wine, we realize that we're someplace special.
Entering the chateau, the first thing we notice is a decidedly non-winery aroma emanating from the back. Laurence explains that we're smelling what will eventually be cassoulet, a fragrant French stew, to be served for lunch for the grape pickers, many of whom have returned back for their 30th harvest season. Next, we notice that our tasting will be held in the dining room, amid antiques and family photographs. We also realize that we were right. The wines – Pinot Blancs, Rieslings, Pinot Gris and Gewurztraminers – display an elegance and finesse we hadn't experienced before. I chose not to spit.
If you go:
In centrally located Rodern, each of the five rooms at Peche du Vigne are large and individually decorated. There's free wi-fi, a pool and a bountiful breakfast. Pecheduvigne-rodern.com
Domain Weinbach is open for tours; visit domaineweinbach.com to make a reservation.
To learn about Albert Seltz wines, visit albert-seltz.fr
For information about Alsace, visit tourisme-alsace.com