Refresh Your Home with Fabric
03 May 2022
From window treatments to furnishings, Artéé offers design solutions with fabric

By Judy Royal » Photos by Abigail Whitehurst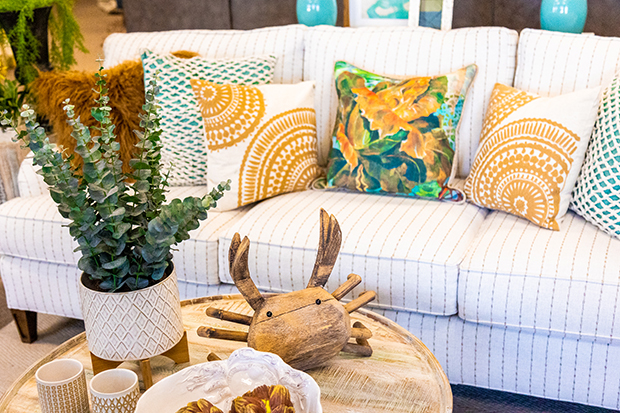 With a Wilmington location for over a decade, Artéé Fabrics & Home is a local resource to add special touches to a living space with fabrics and trim, furniture, accessories and more.

"If you can put fabric on it, we do it –everything from slipcovers, upholstery, bedding, window treatments, cushions, pillows, most anything," says Manager Pam Battson, who has been working at the 8,000-square-foot store since November. "And we have a dedicated workroom that does all of our work for us. We also have ready-made draperies as well as furniture, art, lamps and accessories that you can buy off the sales floor, so it's not solely custom pieces. It's a mix, or you can just buy fabric."

Battson has a bachelor's degree in interior design, so she can offer complimentary in-store guidance to Artéé customers.

"There's no obligation whatsoever," she says. "I'm happy to give advice if asked, but if they want to shop on their own that's fine with me, too. It's here if they need it."

Battson says she enjoys seeing homes that have a diverse collection of coordinating items rather than pieces that perfectly match.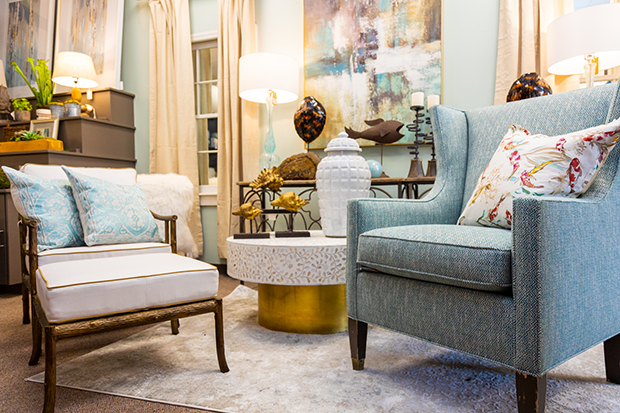 "Your space should feel like it's been naturally accumulated, that you didn't go out and buy the set and pillows all together," she says. "I think it gives you a richer, more interesting room for you and for people who visit your home."

The biggest design mistake many people make is choosing large pieces – such as sofas, chairs and ottomans – in daring colors and patterns, Battson explains.

"Keep those as neutral as possible because you can always change the look with accessories," she says. "Once you have a big pink-and-red floral sofa, you're stuck. If you keep your big investment pieces more neutral, then you can jazz it up with pillows and rugs and then it's not as expensive to change the look. It doesn't have to be boring but keeps it more versatile."

While coastal tones are always popular in this area, many people are beginning to embrace brighter colors for their décor. Battson encourages her customers to pay less attention to trends and focus more on personal preference.

"If you like it, it's in style," Battson says encouragingly. "Don't worry about what others are doing. We've got tons of different options, no matter what your taste."

Artéé Fabrics & Home is located at 7016-B Market St., Wilmington, 910-686-2950. arteefabricsandhome.com