In-store Inspiration with a Guiding Hand
03 May 2022
Creating a modern, coastal and relaxed style with ease and collaboration

By Judy Royal » Photos by G. Frank Hart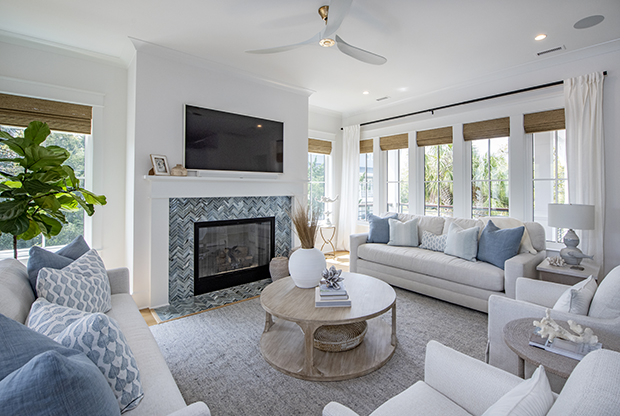 When a local couple recently sold their Wilmington home along with all of its furnishings and built a new residence in Wrightsville Beach, they were ready to start fresh and didn't need to look far for inspiration. In fact, almost everything they wanted was at Sugarwood Interiors, owned by Janece Stone.

"They loved the look of the store," says Megan Strimbu, who works retail at Sugarwood and also offers her own interior design services to customers. "It's very modern and coastal and relaxed, so they definitely wanted their home to look like Sugarwood."

Strimbu explains she helped these clients select all their furnishings, as well as paint colors. They wanted to source their entire home from local businesses, including artwork, she says.

The project took about a year; construction of the home was completed in December, but a few pieces are still trickling in for finishing touches, Strimbu says. Soaring demand coupled with supply-chain issues caused delays, including a dresser for the master bedroom that took almost a year to arrive.

All of the challenges were worth the effort required to give these clients exactly what they wanted, Strimbu adds.

"They are very happy," she says. "It's bright and airy and just makes the house look bigger and brighter. They're happy clients, which makes me very happy."

Anyone looking to furnish a new house should get started as soon as the project breaks ground, and the first thing they should order is upholstery, Strimbu says.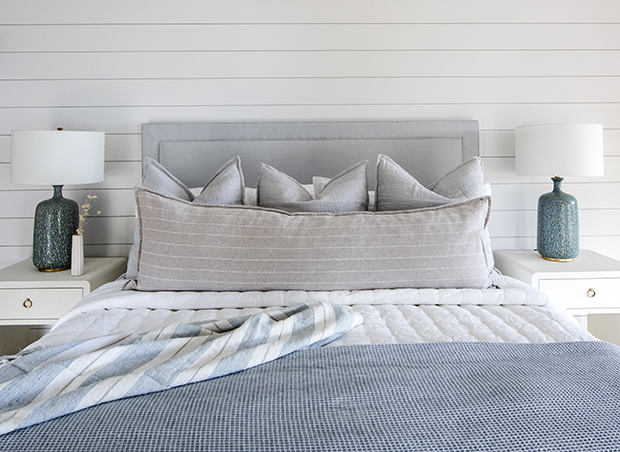 "I would just say that it's going to take longer than you think and will require a lot of patience," she says. "There are a lot of choices out there, so if you have someone help you narrow the choices down it's going to be a lot easier process. It gets so overwhelming with all the selections out there."

Enlisting the assistance of a professional is always a good idea to consider, Strimbu adds.

"Designers know what's tried and true," she says. "It's an investment, but it's definitely worth it."

Recent trends that will likely stick around for a while include adding texture to your home with natural elements such as grasscloth, linen and other natural fibers, Strimbu explains.

"Different kinds of texture make it look all put together and make it feel more elevated," she says. "It looks nice and the design has more depth."

Sugarwood Interiors is located at 167 Porters Neck Road, Wilmington, 910-319-7779. sugarwoodnc.com