Ruth's Chris Steak House
03 May 2022
New scenic waterfront view seals its five-star status

By RAY LINVILLE » Photos by G. FRANK HART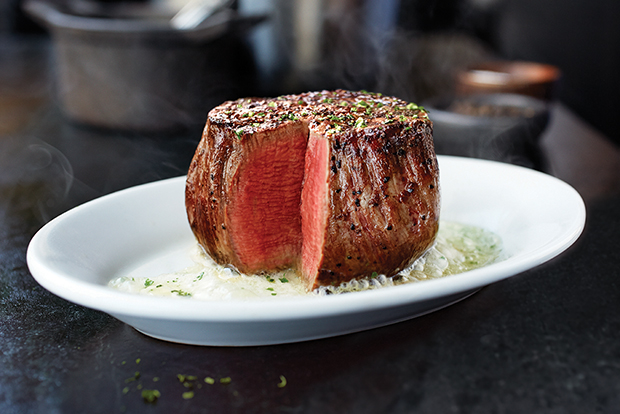 Is it the scenic waterfront view or the legendary steaks that's making the new location of Ruth's Chris Steak House on Water Street so popular?

The steaks, of course, are fabulous as is the dining experience. Those reasons are why you voted Ruth's Chris the winner last year in our Best of the Best contest for fine dining. It checks every box for being a fine dining establishment, and the new scenic Riverwalk locale certainly bolsters its five-star status.

The new location, which opened in January, is much larger than the restaurant's former space in Hotel Ballast, previously known as Wilmington Hilton Riverside. Now Ruth's Chris has 7,000 square feet for indoor dining and banquets as well as more than 2,300 for an outdoor "al fresco" mezzanine.

The patio dining size, for example, has increased from 20 seats to about 125 and includes a temperature-controlled pergola that seats about 80. "Not only do we have a brand-new restaurant, but the patio is really great," says owner Steve de Castro.

Ruth's Chris orders only the highest quality USDA Prime beef from its selected premium suppliers. The best of the best, these cuts are well-marbled and hand-selected for thickness and tenderness.

The steaks are corn-feed Midwestern beef, which are fed first on grass and then switched to corn to gain the flavor and quality that the restaurant requires. When you dine at Ruth's Chris, you are guaranteed of getting the highest quality beef available.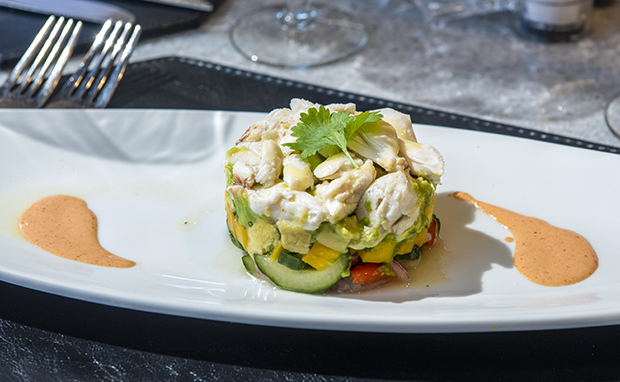 But what differentiates Ruth's Chris from other steak restaurants? De Castro says, "The difference is the consistency that we have from steak to steak, and we take our service very seriously."

The restaurant's story is as legendary as its steaks. The founder, Ruth Fertel, risked her life savings in 1965 by buying a small steak restaurant in New Orleans and then built a reputation over the years of offering the perfect steak, warm hospitality, and good times that never stop rolling. A proprietary 1,800-degree broiler gave her another important edge over the competition.

She added her own name to the restaurant, which had been known as only Chris Steak House, when a fire forced her to relocate the business and she couldn't continue to use the original name. Now the world's largest fine dining company, its roots in each location guarantee hometown personal service.

De Castro worked with the restaurant's founder and has been with the company since 1985. After immigrating from Cuba with his family in 1968, he entered the restaurant business and did everything from washing dishes, doing prep work, and working on the line in the kitchen as well as busing tables, tending bar, and taking orders in the front of the house.

In 1985, Fertel offered him the opportunity to manage the restaurant's Washington, DC, location, and he took it from struggling to the best performing one in the country. And the rest is history. In addition to the Wilmington location that de Castro has owned for 13 years, he also owns three in the Triangle and five more out of state.

About Fertel, de Castro says, "Her values are unbelievable. She was a very hard-working lady all her life. I learned a lot from her about taking care of customers."

At Ruth's Chris, your last bite is just as good as your first. The perfected broiling method and seasoning techniques are why each cut served arrives cooked to perfection and sizzling on a 500-degree plate—just the way Ruth liked it.

Steaks and chops include a 16-ounce ribeye, a 16-ounce New York strip, a 24-ounce T-bone, and an 11- or 8-ounce filet. Want to share the richness of a strip and the tenderness of a filet with someone special? Order the 40-ounce porterhouse for two.

Specialty cuts include the 40-ounce bone-in ribeye, 19-ounce bone-in New York strip, and 16-ounce bone-in filet. Consider entrée complements such as lobster tail, grilled shrimp, Oscar-style, and bleu cheese crust.

In addition to serving the perfect steak, Ruth's Chris has fish, chicken, and lighter vegetarian fare among the other tantalizing options to please every palate. For example, these specialties include garlic-crusted sea bass, featured fish and shrimp, sizzling crab cakes, and stuffed chicken breast.

Before enjoying your entrée, consider an appetizers such as spicy shrimp, beef carpaccio, sizzling crab cakes, and mushrooms stuffed with crabmeat. Complement your entrée with the signature side dishes such as cremini mushrooms, roasted Brussels sprouts, sweet potato casserole, and creamed spinach.

Are you surprised to learn that the recipes of Ruth's Chris amazing sweet potato casserole and creamed spinach dishes are available? They are along with recipes of bread pudding, mozzarella and kumato tomato salad, barbequed shrimp, and crab cakes. Just ask your server or another team member.

A prix fixe meal features Ruth's seasonal classics such as a six-ounce filet paired with three large shrimp or lobster tail as the entrée with sides of creamed spinach and garlic mashed potatoes. First, enjoy a starter such as lobster bisque or a salad. The chef's seasonal selection of dessert finishes the perfect meal.

The bar, which is the home to the popular happy hour menu available from 4-6:30pm, is more than just world-class wines, although some 300 labels are available. Handcrafted cocktails from vintage classics to house specialties are all made with fresh-squeezed juices, premium spirits, and the perfect finishing touches. Ruth's favorite is the Gambler's
Old-Fashioned.

Ruth's Chris is the best place to celebrate life's special moments, such as a romantic steak dinner, an important business meeting, or a private party. Complimentary valet parking makes every arrival easy regardless of the time. "It's convenient—it's what counts," adds de Castro. And it's those details that add up to the five-star experience.