Soundside Seafood & Raw Bar
01 Jul 2022
Enticing menu and transformed location create new local favorite
By RAY LINVILLE » Photos by G. FRANK HART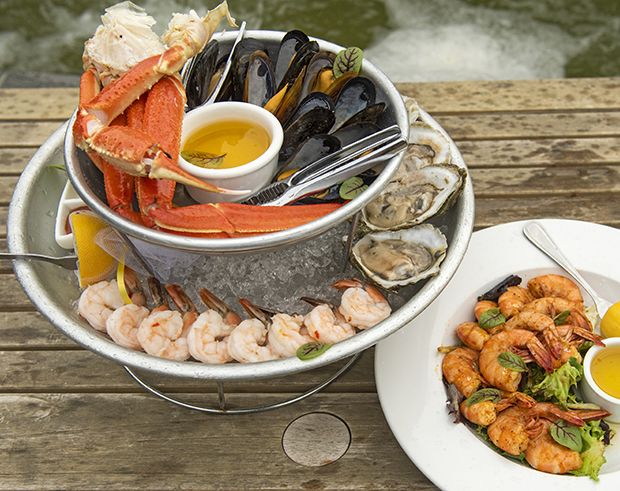 The new favorite for fresh, local seafood and Sunday brunch has roots to an old favorite. A year ago, the popular restaurant Boca Bay was rebranded as Soundside Seafood & Raw Bar by Urban Food Group, which relied extensively on feedback from local customers in shaping the new menu.
After learning what they liked about Boca as well as what they had always hoped it would offer, the change to Soundside was ready after the space of Boca had been transformed and revamped, including the addition of a new outdoor patio with a firepit, rocking chairs, and fountain. The rebranding with its casual flair has been met with the full approval of the region's seafood seeking diners.
Inspiring the seasonal menus and leading the culinary crew is executive chef Eric Prange. "He is very dedicated to his craft," says Brian Smith, general manager of Soundside.
Offering a modern twist on locally caught seafood, Soundside has something for everyone who is looking for fresh catches and more.
The most impressive and tempting item on the dinner menu is the seafood tower. It comes with eight oysters, eight shrimp, and a half-pound each of mussels and crab with melted butter, cocktail sauce, and lemon.
The seafood bar has everything you want: oysters Rockefeller, shrimp cocktail, East Coast peel-and-eat shrimp, crab legs, roasted oysters, fried oysters, and local oysters. In addition, the Calabash platter has a choice of shrimp, oyster, or flounder, or all three, and is served with house-made coleslaw, hushpuppies, and fries.
Of course, you should ask your server about the local catch before you begin perusing the enticing menu.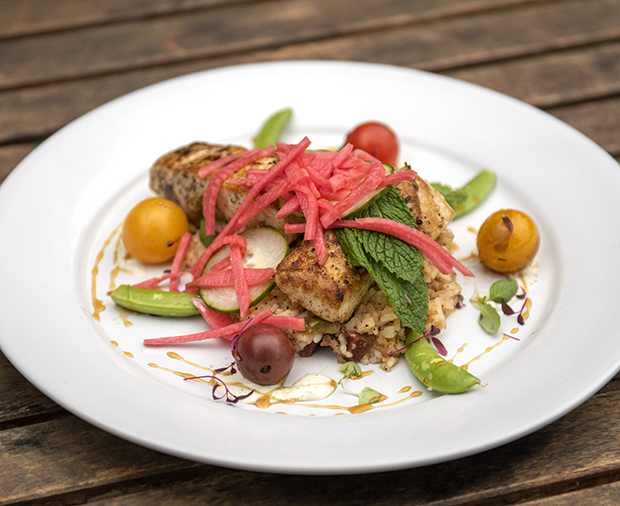 The choices of large or small plates are very extensive and varied. Among the rotating seasonal menu large plates, seared scallops served with roasted butternut squash risotto and brussels sprouts hit the right note of deliciousness while not being too heavy for a warm night.
Equally tempting is Cioppino, with Chef Prange's twist of serving the light seafood stew over linguine, featuring shrimp, clams, mussels, crab, and local fish prepared in a white wine and tomato broth. The "local catch" is where Prange's daily fish specials shine. The night I dined featured blackened bluefin tuna seared perfectly.
Owen Dunne, the regional district manager for Urban Food Group in Wilmington, says he likes that Soundside mainly "offers fresh, local seafood from down the road," and adds, "We are a little bit more casual yet providing great service."
The small plates are also appealing for any seafood lover. Calamari with red onion, banana pepper, sesame seeds, marinara, and garlic aioli tops the list for my daughter. Mussels prepared in white wine, shallots, garlic, butter, and thyme are another favorite.
The fried fish sandwich, jerk chicken sandwich, and black Angus burger are other small plates deserving consideration.
Among the soups and salads on the menu, the best etouffee east of New Orleans is served with crawfish, shrimp, or chicken-and-andouille sausage over rice. And don't confuse the thicker, gravy-like etouffee, a Cajun stew, with gumbo, which is also one of the soup options. Gumbo is thinner and is made with a soupy, stew broth. Both are excellent depending on the consistency you prefer.
For steak lovers, the 12-ounce New York strip anchors a prominent spot among the large plate choices. Served with asparagus, the steak has an intense flavor with bold, beefy notes. The Surf & Turf choice combines this succulent steak with six blackened shrimp.
Owned by Stacey and Kevin Jennings, Urban Food Group expanded into the Wilmington area about three years ago when they also bought Brasserie du Soleil and Osteria Cicchetti, which remain local favorites. They also have operations in Raleigh, Charlotte, and Denver. Kevin spends a good amount of his time sourcing for the couple's restaurant group.
He recently returned from a tasting trip to find the best tasting beef for their restaurants with an eye towards responsible stewardship of the cattle, something he learned about from his father-in-law who raised a herd for decades on their family farm in West Virginia.
The goal for Soundside, Jennings describes, is to have a seasonal menu "dictated by what is coming out of the ocean," and adds, "My hope is to build the seafood in a focused, fresh local theme."
One of the best ways to sample this desire is Soundside's local oyster offering for $1.25 a piece Monday through Saturday from 4 to 6 pm at the bar. As a participant in the N.C. Oyster Trail that features restaurants that serve N.C. oysters on the menu, tasting these saltwater delights also promotes discovery of the important role that oysters play in coastal communities and how they improve water quality and create habitat for other animals.
There will always be exceptions on the menu, of course, one of which is the ever-popular salmon served with grilled portabella mushrooms and asparagus. The shrimp scampi and a bacon-infused shrimp & grits will also be mainstays with shrimp coming from regional waters.
Popular brunch choices include a crispy mile-high quiche as well as Florentine Eggs Benedict with sauteed garlic spinach. Seafood lovers will likely be lured by Soundside Eggs Benedict with crabcake, the seafood crepe with shrimp and fish, or blackened shrimp and creamy grits.
Soundside opens at 4pm. On Sunday, brunch is served from 10am to 3pm with music beginning at noon. Special dining options include the East Room that can accommodate parties of 30 to 40 however Dunne points out the large patio that seats 75 as "having great energy out there," and says he hopes people coming to the beach "sees the patio upfront and lit" and just pull in.
Whether you're seeking the unique flavor of oysters that makes them such a desirable dish or other locally caught seafood, Soundside has become the destination to enjoy the best of our region as the restaurant supports the state's aquaculture industry and the livelihoods of local watermen. soundsidewilmington.com