The Creative Use of Stone
01 Jul 2022
New technologies expand the design and inspiration of stone for homeowners
By Judy Royal » Photos by G. Frank Hart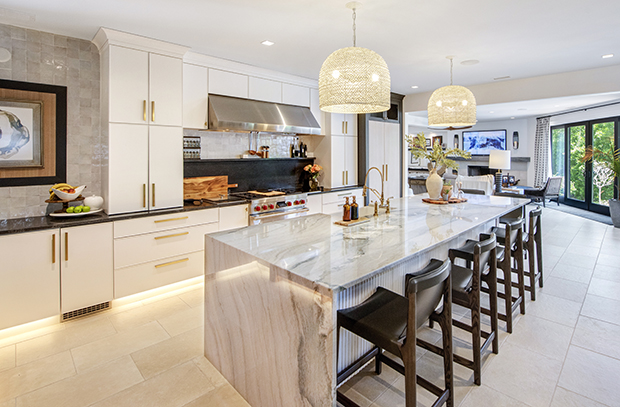 When a local interior designer was making changes to her own home, Bluewater Surfaces was the choice for natural stone selections to highlight the kitchen, fireplace, bathrooms and laundry room.
Interior Designer Bridgett Mazer worked with Bluewater Surfaces Owner Dustin Braudway, a third-generation stone fabricator, and his team as she renovated her Landfall home from a traditional into more of a modern look. Much of the space features Brazilian quartzite, a stone that Braudway travels to South American to handpick.
"Quartzite is metamorphic sandstone," Braudway said. "You get the look of natural marble without the maintenance of marble."
The project took about four weeks to complete and was finished last fall, he says.
Braudway explains how he loves the challenge of complex, artistic projects that require a lot of attention to detail, such as custom sinks. He particularly enjoys going directly to the source to find new stones that will wow his clients.
"I'm known for the more unique stones in Southeastern North Carolina because I go and pick them out and import them myself," Braudway says. "I travel to places like Brazil, Italy, Turkey, India and China about three to four times per year. It is a passion to get to visit the places it comes from."
Braudway is always on the lookout for stones with coastal color palettes because he works on a lot of vacation homes in Wrightsville Beach and Figure Eight Island.
In addition to stone varieties and colors, advances in how stones are being used offer many unique options for homeowners looking to do something stunning and creative, Braudway says.
"I'm excited about how we're implementing technology into the countertops and wall features and fireplaces," he says, and elaborates, "We're starting to do a lot of translucent natural stones that we apply lights to and transmit light through them. You can tell Alexa to turn on the wall."
Another recent trend Braudway has noticed is induction cooktops that eliminate the need for a traditional stove.
Not everyone is an interior designer, so it can be overwhelming when embarking on your own remodel project. Braudway says it's important to do your homework first."I always tell people to work with local designers and get as many inspiration pictures as they can so that the designer can put together a working project board to achieve the look desired," he says.
Bluewater Surfaces is located at 4022 Market St., Wilmington: bluewatersurfaces.com or 910-547-1980.