The Healing Power of Paint
01 Jul 2022
A Wallace artists' creative muse is a balm to a pivotal life
By Kim Henry » Photos by Abigail Whitehurst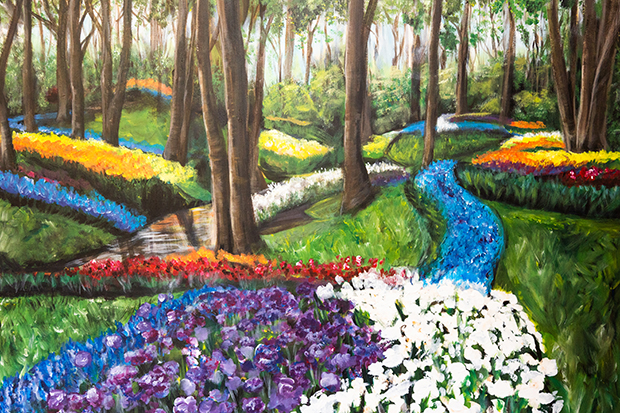 Humans have been using art to express different aspects of their lives since the beginning of time. The love, the loss, the grief all pours onto the canvas to be transformed, processed, shared, and in this way, art can truly facilitate a healing journey. Such is the case for Wallace-based artist, Emily Blankenship Jones, who at the tender age of 25, is in the midst of her creative muse evolving from grief to joy.
Jones had a pivotal life moment when her closest friend died in a car accident when they were just 19. "To add to the trauma, Riley was driving to Wilmington to visit me later that day," shares Jones. The free-spirited nature of her friend had already had an impact on her life, as he was the one who had encouraged her to overcome the fear surrounding the notion of being a 'starving artist' and instead, to honor her true calling. "After the accident, I realized how fragile and precious life is and that I need to pursue my dreams no matter what."
The arts have always been an important part of Jones' life. Surrounded by creative family members, being artistic wasn't too out of the box but Jones found herself wanting to maintain her art as a more personal experience during her high school years. "My art always helped me through the tough times and so when it began to be analyzed, I felt like it was being taken away from me. Now as an adult, I've fully claimed my own style and I can use it to support my wellbeing both mentally and financially, but it was a process for sure."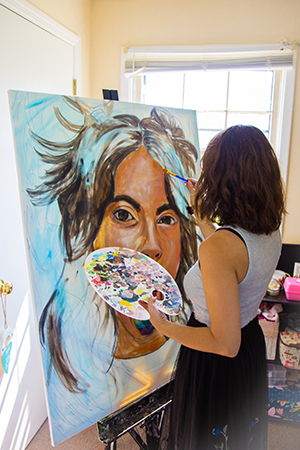 Transforming her work into a deeply healing process is a triumph for this prolific young artist, who was the victim of sexual violence by someone she trusted. Channeling this trauma into her art while she was at UNCW was an empowering and effective way to stimulate important conversations and facilitate her own healing. Her instillation which consisted of clothes painted with facts and statistics about violence against women, was not only displayed but was also photographed and hung in the Women's Studies department. This opened the door to other women talking about their own stories and to a zero-tolerance stand being reinforced within the department.
"My art has originated from pain and suffering but it is now coming into a place of confidence, security and happiness," Jones smiles softly, with her young daughter playing in the background. So how did she find her way to the uplifting, moving portraits that dominate her work now? During the isolation of Covid, Jones decided to practice painting faces and put a post on Facebook asking people to send her photos that she could use as a subject. One thing led to another, and people started buying the portraits that she'd made of them.
This unfolded to her painting memorial pieces of those who had passed on, wedding photos, family gatherings — pictures full of love, precious memories, and connection. The whole experience brought so much joy and comfort to both the artist and her clients, that it was truly transformative on both a practical and emotional level. As a full-time artist, Jones also receives commissions to blend photos of grandparents with grandchildren they will not meet because they have passed on, and these are particularly close to the artist's big heart. "I think Covid reinforced how important family and community really are," shares Jones, who currently lives in Wallace with her husband and one-year-old daughter.
"The biggest piece of advice I would give to any aspiring artist is to follow your dreams no matter what and do what makes you feel good!" Jones's quiet determination to do just this is palpable, as she stands in her home studio surrounded by her acrylic on canvas work. Bold brush strokes and an exploration of color are indicative of the strong energy behind her self-expression. Empowering women is a definite theme, especially with the larger pieces that explore different aspects of what it is to be a woman. "I love doing big pieces of women. I like how they dominate a room, how they take up the space that women deserve."
Finding the balance between being a mother and an artist, painting from pain and joy, honoring her authentic self and paying the bills is no small feat but Jones is dancing that dance, challenges and all. And the Wilmington art scene is all the richer for it. facebook.com/Emily-Blankenship-Art