A Deep-cleaning Service Whose Polish is Kindness
01 Jul 2022
A 28-year residential and commercial cleaning business run with a family-first philosophy
By Katie Schmidt » Photos by G. Frank Hart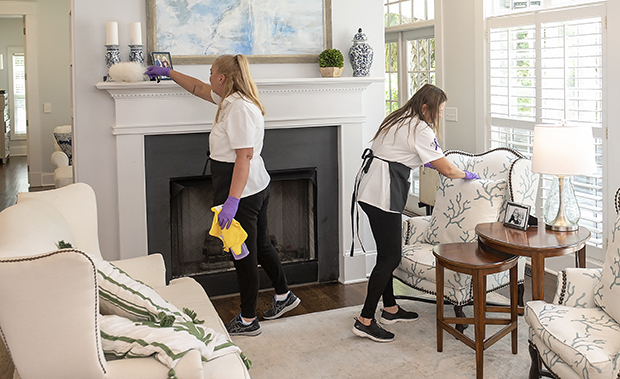 In this sometimes tumultuous life, more often than not it is the simple pleasures that bring about the most joy. A tidy home, a kind soul, a reminder to not take life for granted. Aneliese Bard Andrades and her company Carolina Cleaning Services delivers all of these things in spades.
Founded in 1994, the company is run by Aneliese and her husband, Luiz. The two were fresh residents of Wilmington (and America, for that matter, having just moved here from Brazil), when Aneliese began the business out of the trunk of her car, serving just a handful of residential clients. Now, 28 years later, the company has evolved and expanded its services, staffing, and impact on the community. A huge piece of that effort is the company's partnership since 2017 with Cleaning for a Reason, a non-profit that provides free home cleaning to patients battling cancer.
"It is in my heart to do good works every chance I get," Aneliese says. "It always has been. I was raised in the Catholic church, so I would go with the nuns when I was a little girl to seniors' houses and sing to them or bring toys and meals for kids in need. It is in my blood to care."
Aneliese exudes the importance of giving back and credits a traumatic childhood event with instilling in her a true sense of purpose. At three-years-old, Aneliese was kidnapped one morning from her family. Luckily authorities were able to locate Aneliese later that evening, but there is of course a deep sense of, "What if?" after such an occurrence. One positive lingering effect of the ordeal is the emphasis that Aneliese places on ensuring she runs her company with a family-first mindset.
"Everybody knows that Carolina Cleaning doesn't work on Sundays," Aneliese says. "That is the time for family, for church. It is too much to work always. I want my team to take care of themselves, to be with the people they love, and to be restored."
Another critical tone that has been set by Aneliese is the empowerment of Carolina Cleaning Services' female cleaning technicians. She works hard to not only provide her team with fair pay, but to ensure that they are being properly trained and mentored for what may be next in their life.
"I believe in the importance of leadership," she says. "I believe that we should teach responsibility, integrity, community. I want for them to know when they leave here, they can do anything. I have a good eye for talent and don't want to hold anybody back. I think every experience that you have adds to whatever you will do and be next. It is all training."
For Aneliese that training can come in the form of the good and the bad. The company has faced setbacks during the more obvious times of tumult the world has faced — recessions, September 11th, and more recently the COVID-19 pandemic. Carolina Cleaning Services has adapted and risen above circumstances in all of these seasons. Aneliese also has the added distinction of being both bilingual and a female small-business owner.
"I think in a lot of ways women still face discrimination, but it is much better than in the nineties when I first started," Aneliese says. "But Wilmington has always embraced me, my family, the business. That has always been true."
The best testament to this fact? After 28 years, Carolina Cleaning Services is still retaining some of its original customers. Aneliese and her team receive hand-written cards of appreciation, emphatic online reviews, and the glowing recommendations of satisfied clients. With an emphasis on fair prices and consistency in quality, it's really no wonder that the team is an established and well-loved part of their customers' lives.
"I don't think it should be a luxury to have your house cleaned," Aneliese says. "What we do is we create free time for people so they can enjoy their life and be with the people they love." carolinacleaning.net