The Little Churches That Could
01 Nov 2023
A look at some of the determined, smaller houses of worship in an expanding city
By Vera Wilson » Photos by Carin Hall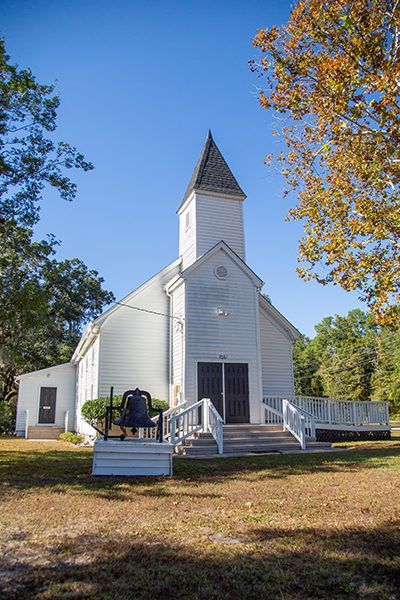 On any given Sunday, the doors of Wilmington's many churches are flung wide open, casting a welcome to anyone who wishes to walk through their doors.
Not so conspicuous are some of the smaller, older houses of worship that still dot the Wilmington landscape. When they are noticed, they can appear out of place, like Carl's house among the skyscrapers in the movie Up. For other passers-by, they might pose a pleasant, almost calming, reprieve from the businesses, restaurants, and busy streets that encompass them.
Let's take a closer look at three that fit the description.
Zion Chapel AME Zion Church
6311 Greenville Loop Road
During the week, Greenville Loop Road, a popular cut-through to get from Seagate to Myrtle Grove, is teeming with cars. Neighborhoods and multi-family housing, old and new, line the street, bookmarked by gas stations on either end.
Tucked between two of the few wooded areas left, you'll find Zion Chapel A.M.E. Zion Church. The cornerstone of this white church with the purple doors tells us it was laid in 1894; there's also a small cemetery not visible from the road. At its inception, it was seven miles outside of Wilmington proper, but it's now found itself right in the city center.
According to past records and interviews documented by its members, the church was built from "good heartwood" left behind after a storm caused major destruction in the area, and "using boats, horses, and wagons, the citizens gathered the drifting lumber and floated it across the Sound."
As you enter the church before service on Sunday, you're likely to hear some gospel blues reverberate through the small building. Reverend Corine Brown has led the church for the past seven years.
"Most Sundays we have between 10 to 15 people present, sometime less, but when we have events, then we have about 40 to 50 people," says Brown. Before she arrived, there was talk that the church might close, but Brown is having none of that. In fact, she wants to expand the church's footprint to include a fellowship hall.
"Right now, we have to serve food under tents, and we can't cook here," she says. "Before I retire, I would like to get the foundation going."
The church lacks young members, but Brown is trying to convince more people to attend.
"When I'm out in the community—I go wherever my service is needed—I give folks a pen with our name on it," she says.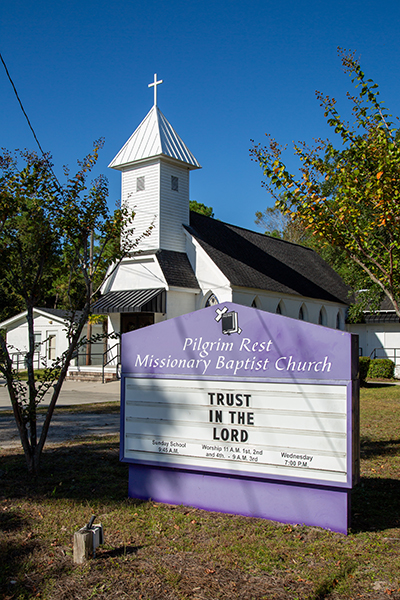 Mt. Ararat A.M.E Church
7061 Market Street
On the northern stretch of Market Street, just behind a barrage of orange traffic barrels, sits Mt. Ararat AME Church. It's a picturesque white church, classic in its design, and surrounded by majestic trees on its 1.3 acres. A celebration was held in June to mark its 145th anniversary.
Cynthia Bell and Mildred Evans are long-time members of the church, representing two of its 20 to 25 current members (the youngest is 13; the oldest 94). Any concern, large or small, is discussed with all church members.
"Everyone always works together to make things happen, but you never know how God is going to lead us," says Evans.
Services are available via Zoom and shared on Facebook, so house-bound and out-of-town members can join in.
Developers interested in buying this prime piece of real estate have made overtures to the church, but Evans emphatically states the church is not for sale.
Although previous pastors have tried to attract new members, they're just fine with being a small church, although Bell is quick to point out that they receive everyone.
"We love it when people come in off the street and say, 'Can I come in?', Bell says.
Mt. Ararat Church is like the mountains of Ararat where Noah's Ark comes to rest after the Great Flood, Bell explains.
"It's a place of rest," she says. "The weight of the world will beat you down, and you need that rest."
Pilgrim Rest Missionary
Baptist Church
6761 Wrightsville Avenue
On the way to Wrightsville Beach across from what used to be an ABC liquor store, you'll find Pilgrim Rest Baptist Church. The church, built in 1934, is adorned on three sides with exquisite stained-glass windows. A fellowship hall is on site as well.
The church has a website and Facebook page. A recent post simply states, "Psalm 3: 1-3 No worries." Another one invites you to a line dance that the church occasionally holds at a nearby park.
Deacon Jerry Williams laments that attendance has dropped off. On a recent Sunday, there were six cars parked outside the church—an unwelcome trend at many churches, large and small. However, with a new pastor in place, they are making plans to encourage people to return. After all, the church motto is "the size of our church will not be determined by the size of our building but rather by the size of our hearts in Christ."
For over a century, these sanctuaries have provided a place for spiritual comfort, guidance, and fellowship to some of the Cape Fear region's first families, friends, and ancestors. And God willing, they will do so for many more.