The Scorecard for Our State's Old Rivals
06 Sep 2020
North Carolina reunited with the savior; NC State may soon search for a new one


By BRIAN MULL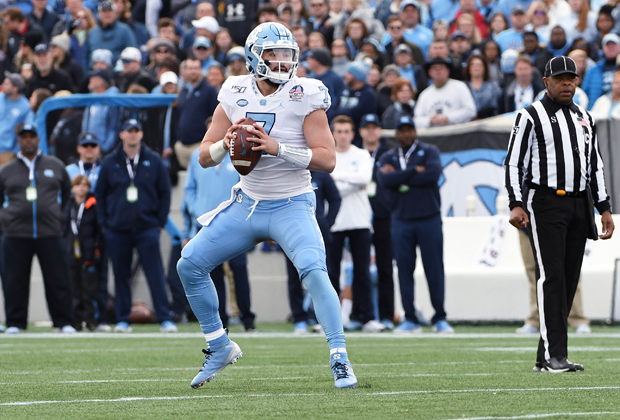 A year ago in college football's opening week, Mack Brown, the 68-year-old Prodigal Son who returned home, silenced doubts regarding his ability to restore the UNC football program to the lofty status it last enjoyed in the 1990s during his first stint on the sidelines in Chapel Hill. A thrilling come-from-behind victory over South Carolina made everyone believe. From Southport to Sylva the Tar Heels' bandwagon filled again, taking fans on a rollicking ride through an injury-riddled campaign. They ultimately rejoiced the program's first winning season since 2016. Now, a superstar quarterback returns. A celebrated recruiting class arrives. UNC enters the 2020 season ranked No. 19 in the USA Today coaches poll. On Franklin Street these days, Fedora is nothing more than a shuttered boutique or a soft brim hat with an indented crown.

Frustration reigned in Raleigh last season as the passionate Wolfpack Nation watched opponents romp through Carter-Finley on a parade of touchdowns and the once prolific offense sputtered and stumbled to quick punts and fumbles. Some regression was expected, and even acceptable. NC State sent talent to the NFL in droves in the two previous drafts and their replacements lacked experience. Still, a 4-8 record by a seventh-year coach rattles a fan base. A half-dozen lopsided losses in a row concealed any in-season development. To some it confirmed their worst fears: Even during those 9-win seasons in 2017 and 2018, the Wolfpack underachieved, squandering a collection of elite talent. The season-ending 41-10 loss in Chapel Hill reaffirmed the swift transfer of Triangle football power from red to baby blue. The end result? NC State coach Dave Doeren, recipient of $3.5 million annually despite losing 62.5 percent of ACC games, must lead his team to a very good year.

After closing the regular season on Thanksgiving weekend in recent years, the old rivals meet for the 109th time in midseason, convening at Kenan Stadium on Oct. 24th. UNC will aim to extend its comfortable edge in the series (66-36-6), while NC State hopes to prevail for the fourth time in five years.

In two years, the programs have essentially switched places. The gap between their prospectus grows wider with each 4-star recruit Mack Brown and Dre Bly lure to Carolina.

UNC Tar Heels

Of course the season-opening stunner against South Carolina ignited the UNC football fire. Wins over Miami and Georgia Tech fanned the flame. Defeating Duke feels good in any season and the program's first bowl victory since 2013 - a 55-13 romp over Temple - not only clinched a winning record but served as a powerful recruiting tool for skill position players who want to scamper up-and-down the field and into the end zone.

But the most important moment of the 2019 Carolina football season actually came in a loss. Trailing the defending national champion Clemson 28-27 midway through the fourth quarter, Brown and the Tar Heels opted for the two-point conversion. That they fell short of the end zone is beside the point. Brown's call sent a message to the five-time defending ACC champion Tigers - and the rest of the conference - that backing down from the competition is not part of his plan. Not on the field and not on the recruiting trail, where UNC beat Alabama and Clemson for blue chip prospects in an incoming class ranked on the cusp of the top 10 nationally, depending on which recruiting service you believe.

The most important recruit Brown has attracted to Chapel Hill thus far, however, is Sam Howell the sensational quarterback from Indian Trail who joined the Tar Heels after Brown was hired in the spring of 2019 and exceeded every expectation in winning the starting job and earning Freshman All-American honors.

Howell passed for 3,641 yards and 38 touchdowns to lead the ACC in both areas. He was 14th nationally in passing offense and his firm command of offensive coordinator Phil Longo's Air Raid attack. Avoiding sacks (36 a year ago) will be a critical component in his development as the Tar Heels strive to inject additional horsepower into an offense that generated 474 yards and 33 points per game a year ago.

"I think [Howell] can be as good as anybody," Brown said this summer. "He's got a real calmness about him. It's a calmness and a confidence. So he is a great leader without saying a whole lot. He's the hardest worker on the team."

The Tar Heels coaching staff has also surrounded Howell with dangerous playmakers. UNC returns a potent backfield combo in speedy Michael Carter (1,003 yards and 3 TDs) and powerful Javonte Williams (933 yards and five TDs), a sophomore who led Wallace-Rose Hill to four state championships during his high school career.

Perhaps no team in the nation has a deeper receiving corps. UNC wants to shuttle fresh bodies onto the field to keep the heat on the opposing secondary. Longo has options.

Dazz Newsome (1008 yards, 10 TDs) and Dyami Brown (1,034 yards, 12 TDs) are poised to enjoy monster seasons. Beau Corrales and Antoine Green are proven threats. In all, UNC returns 88 percent of rushing yards and 97 percent of receiving yards.

Up front, UNC returns five offensive lineman who started at least one game last season. Ideally, they'll have an eight-man rotation but the most important question Brown and his staff faced entering preseason camp was finding a starting left tackle. Asim Richards, a sophomore, appeared to have the inside nod and the sooner he can solidify the position the smoother the unit can work together. UNC allowed 2.85 sacks per game in 2019, which was one of the nation's highest rates. Given time, Howell has shown he can dissect opposing defenses.

On the other side of the ball, Carolina was adequate last season but suffered as key personnel were lost to injury. The recruiting class addressed these issues and found two defensive ends to anchor their unit for at least the next three years. Desmond Evans, 6-6, 240 pounds, from Lee County in Sanford and Myles Murphy, a 6-4, 280 Greensboro Dudley product.

Brown called lineman Raymond Vohasek the most improved player on defense early in the preseason camp and lauded his veterans for helping the talented newcomers understand the Tar Heels' schemes and packages. That being said, the UNC coach doesn't plan to overload the younger players. He wants them to rely on their instincts and terrorize quarterbacks and ballhandlers.

The leader of the defense is Chazz Surratt, a first-team All-ACC selection last year after finishing second in the conference in tackles. He's the frontrunner for Defensive Player of the Year and has a bright NFL future and understands the Tar Heels won't sneak up on the opposition in 2020..

"I would say the expectations for us are a lot different this year. Obviously we wanted to go into every game last year and win every game, but this year we really think…we have the ability to be able to do that," Surratt said. "Our big goal is to win the state and then win the ACC championship. That's something I think we can attain this year as long as we play how we're supposed to and stay healthy."

Jeremiah Gemmel joins Surratt to give the Tar Heels one of the ACC's best interior linebacker tandems and having those veterans in place should enable defensive coordinator Jay Bateman to unleash an array of pressure packages and blitzes. He wants an aggressive defense and on paper, UNC should be able to deliver.

Applying pressure demands strong coverage in the secondary. UNC scored a major coup when it added Virginia Beach star Tony Grimes (originally the top-ranked cornerback in the 2021 recruiting class before he reclassified to 2020) late and putting him alongside Ja'Qurious Conley, a freshman out of Jacksonville could produce the interceptions and game-changing plays the Tar Heels' secondary coach, Bly, wants to see from his cover corners and safeties.

The holes in the roster are minor and manageable. Carolina has put its faith in the man at the helm. Brown has won 66 percent of games in 32 seasons as a Division I college coach. More important, he's won 59 percent in 11 seasons with the Tar Heels. In the 22 years between Brown's two stints at the school, five men held the job. They had a combined record of 106-126. With another top-10 recruiting class on the way, Brown is the Heels' blue sky, and sunny day.

NC State Wolfpack

Down I-40 a ways, the Wolfpack also returns a solid nucleus from one of the nation's youngest teams, although the good vibes have faded and unfamiliar faces abound. Doeren made sweeping changes to his coaching staff following last season's dismal effort, replacing both coordinators and several key position coaches. Only two assistants remain from the 2018 team that won nine games.

"It's the hardest thing you do as the leader of an organization, I think," Doeren said over the summer. "It's painful. I wouldn't wish it on anybody. I have great respect for the coaches in my program that have been here — the ones that have left on their own and the ones that I've had to ask to leave. I think they are tremendous men. But sometimes you just need to go in a different direction, and I felt like I did."

NC State landed the nation's No. 42 ranked recruiting class, snagging a quartet of four-star prospects but it's obvious Doeren and his staff have lost the edge they held in-state before Brown arrived at UNC. Porter Rooks, a wide receiver from Myers Park and Cary defensive lineman Darin Vann highlight their eight newcomers from North Carolina.

Another newcomer expected to make an immediate impact is defensive end Daniel Joseph, a 6-3, 240 transfer from Penn State. Any help on that side of the ball will be appreciated. NC State surrendered 40 points or more in four of the final six games. On the season, in nine games against top-flight competition - the eight ACC opponents and West Virginia - NC State gave up 37 ppg on average.

The Pack was equally putrid on offense, mustering only 22 points per game and ranking in the bottom third in passing efficiency and total offense. The Wolfpack lost 11 fumbles and threw 10 interceptions and were better than only three Division I teams in turnover margin (-1.06).

The offensive outlook is brighter because of the arrival of offensive coordinator Tim Beck, who Doeren lured from Texas. NC State's quarterback situation, on the other hand, is cloudy.

Devin Leary, a redshirt sophomore, completed 48 percent of attempts for 1,219 yards with eight touchdowns and five interceptions and entered preseason camp as the starter. Bailey Hockman completed 56 percent in the seven games he participated in a year ago and Ben Finley, a freshman, also figures in the mix. His older brother Ryan was a star QB at NC State and plays for the Cincinnati Bengals.

The running backs gained invaluable game experience a year ago. Zonovan Knight produced 745 yards while Jordan Houston added 526 yards. Ricky Person Jr.'s return from an ankle injury is also promising news.

NC State would like to see deep threat playmakers emerge from the receiving corps. Emeka Emezie is a move-the-chains ball control receiver, leading the team with 56 catches. Devin Carter, Thayer Thomas and Max Fisher have flashed their talent at different points in their careers and consistent performance is required now. Cary Angeline earned All-ACC honors at tight end with 25 catches for 379 yards and five TDs last season.

Whoever emerges as the primary signal caller should have sufficient time to scan the field and find a receiver. NC State returns four starting offensive linemen.

Alim McNeil is the interior defensive line stalwart and the linebackers have an opportunity to be real difference makers. Payton Wilson led the team with 69 tackles as a freshman and should ease into the starting lineup. Isaiah Moore is a strong presence and Louis Acceus registered a team-high 4.5 sacks.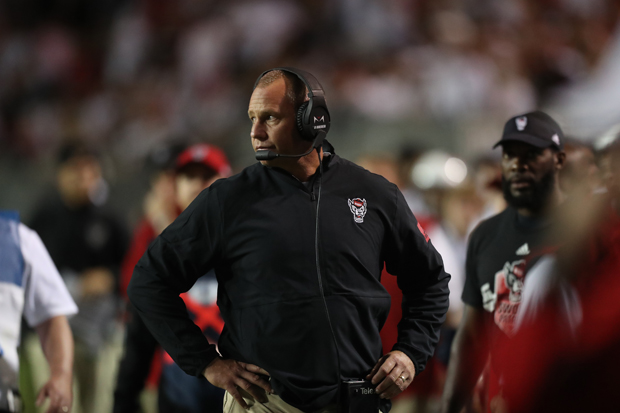 The secondary projects as a serious weakness at worst and key question mark at best. It's a riddle Doeren and staff must solve quickly. In the pass-happy world of college football 2020, poor pass coverage equals long afternoons on the football field.

Avoiding both Clemson and Notre Dame on the ACC football schedule is the best news NC State received. The Pack opens at Virginia Tech on Sept. 12th.

Just two years ago, Doeren was flirting with SEC programs, signing contract extensions and earning raises. Now he has a new athletic director, Boo Corrigan, who supported Doeren's decision to change coordinators, but will expect results sooner than later. How much wallowing near the bottom of the ACC can the NC State fan base handle? No program in the ACC, if not the nation, has received less return on their investment in the last 25 years. The Wolfpack hasn't won an ACC title since 1979 and has enjoyed one 10-win season in program history. Doeren put the Pack on the cusp of both goals, but that door appears to be shutting, if not slammed altogether.