This Season's Best Holiday Décor and Tablescapes
01 Nov 2023
Wow guests, friends and family with details found in the region's best home stores
Compiled by Carin Hall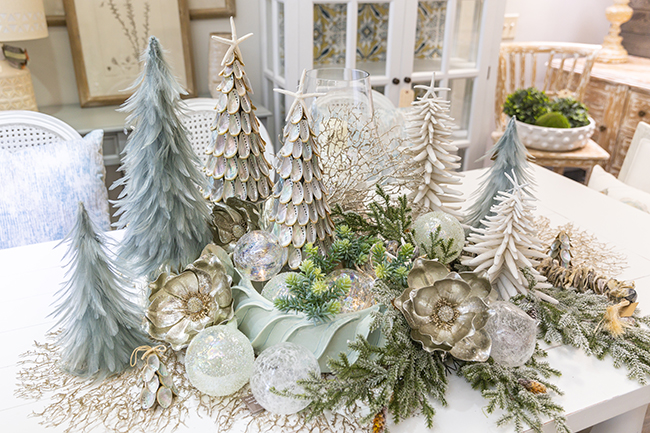 As the holiday season approaches, the anticipation of reuniting with our loved ones from near and far fills our hearts with warmth and joy. We yearn to create an inviting and magical atmosphere within our homes, especially as we eagerly await the arrival of family and friends.
In the realm of holiday decor, there's a special alchemy that transforms our living spaces into cozy, enchanting retreats. A well-curated holiday tablescape, in particular, becomes the canvas where creativity and ambiance unite, weaving precious memories into the very fabric of the season.
This year, we have the privilege of drawing inspiration from the offerings of eight local Wilmington retailers, each with its own distinct focus on home furnishings, decor, and thoughtful gift selections. By choosing to support these local businesses, we not only infuse our homes with character and authenticity but also contribute to the vibrancy of our community.
So, prepare to captivate this holiday season. Your guests, too, will be enchanted by a profound sense of delight and wonder as they step into a space where the magic of the holidays comes to life.
Coastal Neutrals
Classy and classic seaside décor with a light and airy flair
This year niche. features a tablescape centered around a new line of Italian Pottery vases, styled with faux greenery, crackle balls and more! Consider niche. is your one stop shop for Christmas décor and gifts. Their most popular item, LED lit Crackle Balls are now available in several colors (red, green and aqua). Their large selection of faux greenery allows customers to create centerpieces.
You can also bring your own vessel and their wonderful staff will help you style it perfectly for your holiday gatherings. Make decorative layering match our beautiful surroundings by adding some coastal flair. Options range from Oystershell Garland, Seashell Trees, Starfish accents and all things coastal! niche. makes holiday preparation fun, easy and pretty. Stop by the shop for a relaxing shopping experience, and say "hey" to their shop dog, Buddy!
NICHE. DÉCOR & GIFTS
3514 College Road, Wilmington, NC
910-399-4017 • nichebycustomhome.com
---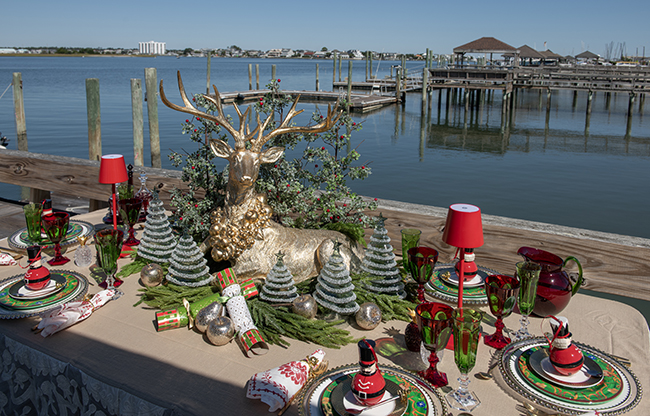 Holiday by the Sea
Welcome Paysage Christmas classic red, green and gold to your beautiful blues
Wilmington rejoice! Complement our unique North Carolina waterscapes with shiny bright colors. Home to a plethora of elegant and traditional European pieces, you'll find Paysage's amazing synthetic crystal collection, golden reindeer centerpieces, glass Christmas trees, and so much more. Consider it a promise that your Christmas table will be stunning.
The artful table set by Gigi Sireyjol-Horsley, the lead interior designer and owner of Paysage Home at Lumina Station, enhances the holiday season. The holidays always feature a crescendo meal, a memory to be savored long after family and friends must bid adieu.
Setting the family table is a step-by-step process, and it helps to have showstopping accessories to pull out and build on year to year. A mix of eucalyptus, berries, and branches are arranged around a handsome golden reindeer centerpiece. Red and green glasses and Nutcracker ornaments add festivity to each place setting, with the gold flatware and embellished napkins completing the look.
PAYSAGE HOME
1908 Eastwood Road, Wilmington, NC
910-256-6050 • paysage.com
---
Soothing Coastal Farmhouse
A seamless blend of seagrass, pine, and gold
The holiday table arranged by Sugarwood Interiors exudes an inviting charm, characterized by the gentle interplay of seagrass and pine tones, delicately accented with hints of gold. As envisioned by Janece Stone, the proprietor of this exquisite furniture and decor boutique, a soothing coastal farmhouse ambiance envelops the setting, firmly establishing itself as a signature of Sugarwood's style.
Megan Strimbu, a valuable member of the Sugarwood team who not only assists customers in their retail needs but also offers her own interior design expertise, is a key contributor to the store's allure. Sugarwood serves as a wellspring of inspiration for those contemplating a refresh of their living spaces, particularly their family dining areas.
In this particular tablescape, a whitewashed farmhouse table takes center stage, flanked by a blend of wooden and rattan chairs. Alongside a sunlit window, a chic sofa adorned with sandy-colored-and-white striped cushions, complemented by soft blues in the accompanying throw pillows, infuses a warm and inviting atmosphere. An elegant modern farmhouse chandelier gracefully illuminates the dining area.
Seagrass placemats, affordably priced at $25, form the foundation of the place settings, underpinning the creamy white dishes—plates, bowls, and salad plates, each graced with a scalloped edge and ranging from $24 to $48. Interspersed amongst the tableware are votive candles and tapered candles, harmoniously mingling with the fragrant pine garland and dried botanicals, conjuring a connection to the natural world. This welcoming tableau is where both family and cherished furry friends will come together, embracing the spirit of the holidays.
SUGARWOOD INTERIORS
167 Porters Neck Rd, Wilmington, NC
910-319-7779
---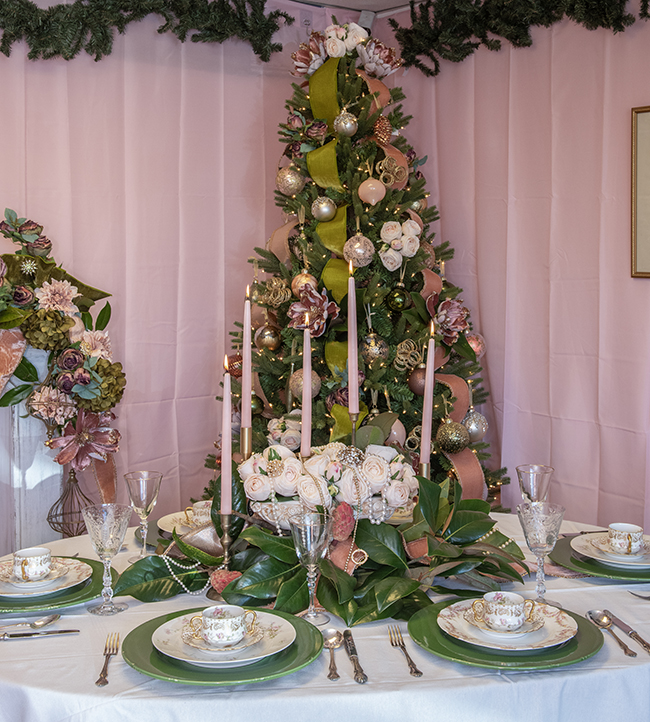 A Vintage Look with a Touch of Femininity
Hues of pink and green, accented with gold details
Port City Peddler's beautiful vintage tableware, complemented by festively colored large dining plates is uniquely styled for the holidays, offering something a little different. Styled with pink florals like fresh magnolias and tea roses, guests at this table will be nothing short of impressed.
"I like to decorate with magnolias," says Owner Kaye Hamm. "Many people don't realize that they transition this time of year into a lovely muted pink, making them a year-round favorite."
The table is embellished with luxurious velvet ribbon, strands of pearls and vintage brooches. Gold candlesticks with tall pink candles add a soft light, bringing out the sparkle in the vintage jewelry. It's the right mix between warmth, comfort and formalness.
The shop also offers an array of ornaments to choose from, including traditional holiday pieces to more chic sets featured in this beautiful backdrop in hues of pink and gold. The table is dressed with vintage Limoges China, a nod to French décor, set alongside vintage silver. The goblets are Heisey fine glass and are ready to toast to the season!
PORT CITY PEDDLER
6213 Market Street, Wilmington, NC
910-444-8881 • portcitypeddler.com
---
Natural Luxuries
Embracing nature, luxury and expert craftsmanship
The design team at artee approaches to the holidays by embracing nature while snuggling up with luxurious accessories such as velvet pillows, chunky knitted throws, faux fur, scented candles. Fine fabrics, trims and furniture are always available along with design advice from their talented designers. Appointments for in-store and in-home consultations are ideal for larger projects one might have.
Artee's expertly crafted custom services cover most any surface in your home, draperies, upholstery and bedding are just among a few items that can be tailor-made to your specifications with the fabric of your choosing.
Not your average fabric store, artee works with any budget and offers products from buyer's closeouts to wallpapers, trims, and fabrics from the likes of Thibaut, Schumacher and many more designer labels. If you haven't been in for a while, stop by the store and you just might be pleasantly surprised.
ARTEE FABRICS & HOME
7016 Market St, Wilmington, NC
arteefabricsandhome.com
---
Warmth and Character
Down-to-earth designs full of authenticity
In the vast world of design, Big Sky Designs sets itself apart with its creative use of textiles, pattern-play, and juxtaposition. Their philosophy transcends into every corner of their work, and they've made it a point to showcase those characteristics while crafting this holiday tablescape.
Beginning with a whimsical chiffon fabric of diffused tones of blues and greens left over from a Shop + Studio passion project, Big Sky Designs infuses a playful spirit into the overall feel. The fabric is bunched organically, playing up the fluid hand of the material, and knots are incorporated to bring some structure back into the design. This technique creates a captivating visual narrative while delivering a blend of practicality and artistry.
Building on that base, extra layers of interest are incorporated including the silver leaf pheasant sculpture sourced from the Shop + Studio, enriching the narrative and sparking conversation. To complete the design, Big Sky Designs harvested its own rough-cut magnolia branches. This, along with the intentional use of mixed metals, brought a feeling of casual authenticity, instilling true-to-life elements into the tablescape.
BIG SKY DESIGN
5815 Oleander Dr #250, Wilmington, NC
910-793-3992 • bigskydesignonline.com
---
Woodland Inspired Christmas
Transform your décor with neutral elegance and gold-touched magic
This year's inspiration for Nest's holiday tablescape comes from a woodland inspired look. A woodland Christmas theme can be characterized by neutral elements and tones exemplified here. Combining rich gold hues, hints of green, and a neutral backdrop that is sure to complement any existing décor.
The tall gold candelabras immediately catch the eye and enhance the gold texture alongside woodland friends. The gold deer lay in a bed of evergreen garland, detailed with pinecones and wood branches. Glass Christmas trees that surround the table include a light-up feature to set the scene for your evening entertaining.
Deck your halls and your tables with warm welcoming decor that will make your home feel cozy and bright this holiday season. A woodland look such as this is sure to get you on the nice list!
NEST FINE GIFTS & INTERIORS
1125 Military Cutoff Road, Wilmington, NC
910-256-6378 • nestfinegifts.com
---
Enchanting Floral Artistry
Let your creativity bloom
Add a little touch of magic to your holiday festivities with real flowers. Designed by Garry Fischer, this tablescape is flocked with trees adorned with a mix of vintage ornaments—a nice juxtaposition. A pop of color completes the look with a Kantha cushion.
There are no hard and fast rules when it comes to decorating. Uptown Market believes in letting your creativity run wild while layering and combining different textures, shapes and colors.
Both Uptown Market locations sell a plethora of holiday decor items and unique gifts and featured local artists.
UPTOWN MARKET
8086 Market St, Wilmington, NC
910-686-0930 • facebook.com/uptownmarketilm