True Reflection
30 Dec 2018
A Modern Marvel on the Intracoastal Waterway
By CHRISTINE HENNESSEY Photos by FRANK G. HART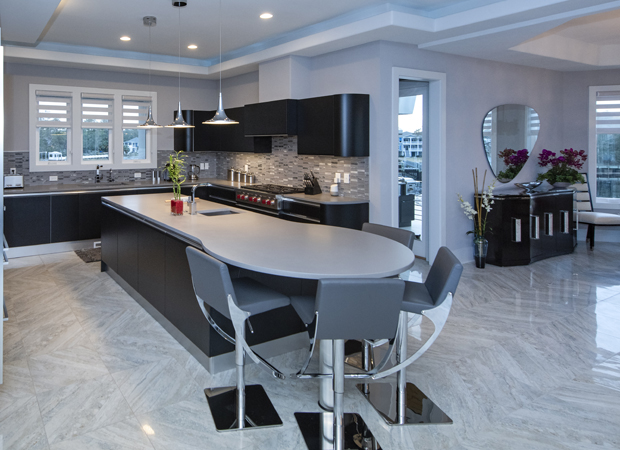 Sharon Petchel was born and raised in central Pennsylvania. Back in 2000, for just fourteen months, her husband's job took them to Greensboro. "I just loved North Carolina and always said I'll get back there someday," Petchel says. Then, some friends of theirs built a second home in St. James Plantation, just south of Wilmington in Brunswick County. The Petchels visited a few times and fell in love with North Carolina—not to mention the amenities St. James offered—all over again, and decided it was time to move.
"We looked outside St. James, too," Petchel says. "We wanted to build on the water, so we looked at communities in Ocean Isle and Oak Island. Then a lot in St. James right on the Intracoastal Waterway became available, and we snatched it up."
The Petchels had never built a house before, but decided that their "forever home" was worth the extra effort. "That's the only way you get exactly what you want," Petchel says. They interviewed four builders in hopes of finding someone who could make their unique, one-of-a-kind vision a reality.
"A lot of homebuilders say they build custom homes," Petchel says, "but too often they have a certain number of plans and then let you tweak them. Whitney Blair is different—they truly start from scratch." For Petchel, who wasn't looking for a cookie-cutter design and wanted to be a part of the process, this sealed the deal.
A Custom Experience
Whitney Blair Custom Homes is a nationally acclaimed custom residential building firm that specializes in residential design, custom construction, and interior design. This gives the firm the ability to guide a project from inception to completion, creating a seamless process and a truly custom experience for their clients. Jeff Sanderson, founder and owner of the firm, named it after his two daughters.
"When people hear the name, they always assume I work for Whitney Blair," Sanderson says. "I guess in a way I do."
Both Sanderson's firm and his building career started in Chapel Hill. He moved to Sunset Beach in the late 90s, where he quickly established Whitney Blair as a premier designer and builder of classic coastal homes in some of the area's most prestigious communities.
"We build a lot of homes on Bald Head Island, a lot in Landfall, Parkside, Wrightsville Beach. And then, obviously, in south Brunswick County," Sanderson says.
The firm's reputation has been recognized and rewarded. Whitney Blair is a two-time recipient of the Southern Living Customer Builder of the Year award, and Sanderson is a multi-year Board Member of the Southern Living Customer Builder Program.
"We basically specialize in southern and coastal vernacular architecture," Sanderson says. "I'd say we're best known for our attention to detail. We focus a lot on architectural detail on the exterior as well as the interior."
Add in their commitment to clear and continuous communication, their use of high quality materials and craftsmanship, and the positive feedback from previous clients, and you can understand why the Petchels chose Whitney Blair to build their St. James home.
A Collaborative Process
When Petchel describes the process of designing the home, you can hear the excitement in her voice. "My husband said, 'Sharon, this if your forever home. Get it exactly how you want it.'" It was a challenge she happily accepted.
With a first grandchild due in January and hopes for more down the road, Petchel knew she wanted plenty of guest rooms to accommodate a hopefully ever-expanding family. She also wanted an open floor plan that didn't feel boxy or closed off, and a view that took full advantage of the Intracoastal Waterway, which was the main reason they chose to purchase their lot.
This list was a great starting point for Sanderson, who begins the homebuilding process by asking the client if they have any existing plans for the home they want to build. "If they say no, I tell them that's the perfect answer. We pull out a blank sheet of paper and start from there. It begins with a conversation, then hand sketching, and then that goes into blueprints. This helps us make sure we give the client exactly what they want," Sanderson says.
The biggest challenge with the Petchel house was that it was, admittedly, out of Whitney Blair's wheelhouse. The firm doesn't often build modern contemporary homes, as most of their clients here on the coast lean toward southern vernacular architecture with coastal accents. After sitting down with the Petchels, talking through their ideas, and making those first rough sketches, everyone at the table, including Sanderson, became very excited about the project.
For Petchel, who knew exactly what she wanted, the process was a bit more straightforward. "I told Jeff that was my style is modern contemporary, now design us a house," she says, laughing. "And that's exactly what they did."
A Modern Contemporary Marvel
Modern contemporary design is focused on form, function, and clean lines, a feeling of spaciousness, and a seamless connection between indoor and outdoor spaces. The Petchels' home achieves all these things, while also feeling warm and welcoming. "The house speaks for itself," Sanderson says, but that doesn't stop him from adding a few comments. "It's really more like a Frank Lloyd Wright house. It has very closed lines, it's almost minimalistic. It turned out fabulous."
One of Sanderson's favorite contemporary features is the freestanding staircase with a 16-foot diameter glass window over directly over it. "It's stunning," he says.
The home's design and placement takes advantage of the lot's location on the Intracoastal Waterway with stunning results. "It captures all the view corridors of the water and really brings the outdoors inside," Sanderson says.
"You can see the water from so many rooms of the house," Petchel adds. "It's situated perfectly on the lot."
Despite having a background in human resources rather than interior design, Petchel took on the challenge of choosing everything for the interior of the home. "I always thought, who can tell me what I like best in my house other than me?" She ended up spending hundreds of hours on the internet, researching options and tracking down hard-to-find pieces. "People who like modern contemporary are in the minority right now," she explains, "so finding fixtures and furniture and lighting wasn't always easy."
The challenge of finding exactly what she wanted led to some truly unique, and uniquely beautiful, results. One example of this is the home's interior doors, which were special ordered from Italy and shipped to North Carolina. As it turned out, Italy held more than one key to the final design.
"I wanted a modern kitchen, so we visited several showrooms of Italian designers while we were in Chicago," Petchel says. Hunting for the perfect pieces to complete her vision took hours of time, but Petchel says her effort was worth it whenever she looks around her house. "I know I won't see my doors or my kitchen anywhere else."
Petchel's love for her home is not limited to just one detail or door. The great room, which combines the living room, dining area, and kitchen, is spacious and airy, the perfect place to entertain and relax. And because Petchel was so involved in the design from beginning to end, it's no surprise that another favorite spot is the Carolina room, a sunroom with water views on three sides, which she has claimed as her own.
"I call it my 'she shed,'" she says, laughing. "I love hanging out there with my dog."
Forever Starts Now
The Petchels have been living in their dream home for a year and a half now, and Petchel says it's everything she dreamed about and more. In fact, when her husband last traveled to their condo in Chicago for business, a northern neighbor mentioned that he hadn't seen her in a while. "My husband said, 'You won't.' I love my house, and I never want to leave."
For Sanderson, a home he built couldn't receive a higher compliment. But for him, it's not just about the end result. It's about the whole process which, in this case, was fantastic from beginning to end. "They were great clients to work with," Sanderson says. "Sharon has impeccable taste and she brought a lot of creativity to the project. It was a true collaboration between us and the client."
Of course, it wasn't all Italian imports and beautiful views. There were some aspects of the process that surprised and challenged Petchel. "When you imagine designing your own home, you think, 'This is going to be great!' You think about the layout, maybe the paint the colors. You don't realize that you're selecting everything, right down to the cabinet handles." Despite the many decisions she had to make, she enjoyed the process.
"No one knows your taste better than you do," Petchel says. "And although the process can be tedious and time consuming, when you see the end result you know that literally everything in your house reflects you and your taste. It's so worth it."