What's Your Spark Bird?
01 Mar 2023
The benefits of birding for you and the environment

By Vera Wilson » Photos by Leslie Koehn Photography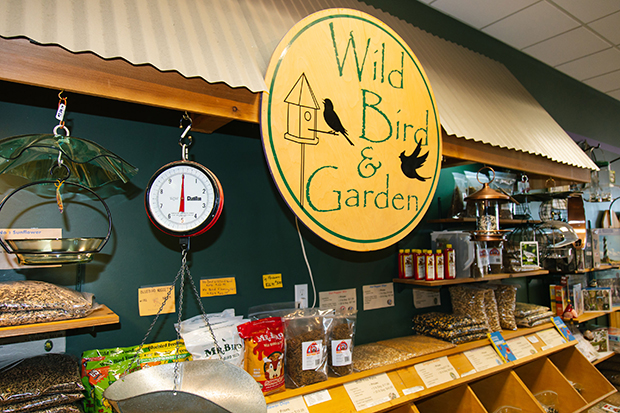 After spending just a few minutes with Jill Peleuses, it becomes crystal clear: Peleuses is a bird nerd extraordinaire.

Birds were her focus all through her college years at UNCW, where she earned an undergraduate degree in Environmental Studies and a Master of Public Administration with a concentration in Natural Resources Management. But while interning at Fort Fisher State Recreation Area, she spotted the elusive purple gallinule for two weeks straight, and that sealed the deal. Peleuses calls the aquatic beauty her "spark bird," a species that triggers a lifelong passion for birding.

So when she and her husband had the chance to buy Wild Bird & Garden in 2006, it was an easy decision. The approximately 2,000 square-foot store in Hanover Center is chocked full of bird paraphernalia. Categorized as a gift shop on their Facebook page, the store offers so much more than the magnificent birdhouses and feeders, whimsical t-shirts, puzzles and decorative figurines.

"Being the owner, I can take this business in the direction that I really enjoy, which is the environmental education side of it," says Peleuses.

And Peleuses walks the walk, literally. For 17 years, she's led monthly bird walks at Airlie Gardens. The store sponsors outings year-round to prime bird-spotting locales like Wrightsville Beach, Burnt Mill Creek and Lake Waccamaw.

"Along the Atlantic Flyway, we're able to see amazing species throughout the whole year, " explains Peleuses.

Peleuses also lectures at UNCW's Osher Lifelong Learning Institute, community centers and private garden clubs.

"These are all great ways to build a community of birdwatchers. I think the more people get excited about birds, the more likely they'll be to set up their yard in a way that's protective of birds, and then they're maybe more likely to vote for green space," says Peleuses.

Setting up your yard for birding is easier than you might think. Peleuses recommends starting with birdfeeders. Wild Bird & Garden features feeders suitable for backyards, water-adjacent properties and even apartment balconies. The store's bread and butter is their fresh preservative-free bird seed.

"We get seed in every week, and we buy blends that are really good for our particular range of habitats," explains Peleuses.

Suet is another easy addition to your yard. Packed with proteins and fats, these cake-like treats are good for birds during migration and nesting season when they need extra energy, or in the winter when natural food sources are less plentiful.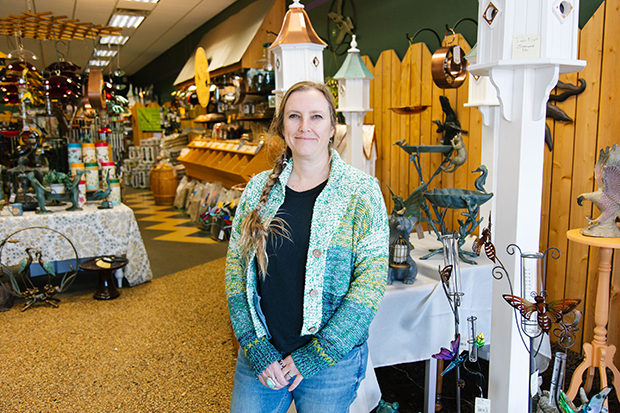 Adding birdhouses is the logical next step. They provide shelter during storms and give mother birds a place to nest and raise their young.

Tying it all together are native plants that provide a natural food source for birds by way of the insects they attract. Peleuses teams up with local growers to offer pop-up plant sales at the store every spring.

"Native plants are so easy," she says. "And planting them gives birds what they need to survive and thrive."

Peleuses' staff is well-trained and can help you make the right choices when it comes to creating your own bird oasis. But the importance of creating yards that attract birds goes beyond the store's bottom line for Peleuses. She always circles back to her initial goal: environmental education.

"I think yards are becoming crucial not just to our community but to the country as we see all the development. We need homeowners and garden clubs to think of what they can do to put back some of what we're taking. By adding native plants, bird feeders and seed, we're putting back into the habitat what is missing," says Peleuses.

It's not necessary to set up your yard to enjoy and appreciate birds. Just pick up a pair of binoculars and you're ready. The store carries selections in all price ranges, including waterproof options.

"It's about slowing things down and taking a breath," explains Peleuses. "You might see a bird headed to Central America, and you got to see it for a few minutes. You have that moment in nature."

Peleuses' unwavering devotion to birds led her to co-found the nonprofit Cape Fear Bird Observatory in 2020. The organization's small but dedicated team is focused on research and data collection, like tracking which species travel the area and when. Believing it's never too early to promote environmental awareness, the group hosts a weekly nature-based, hands-on program for kids called Wilmington Youth Birding. Proceeds from some of the store's bird outings and t-shirt sales go directly to the nonprofit, but donations are welcome.