A Spring Tale
29 Mar 2014
Girlie-girl style with an edge is this spring's hottest trend.
PHOTOGRAPHY: Leslie Koehn FASHION STYLIST: Kristin Wood
MODEL: Devan Claycomb MAKEUP: Amy Kennison
Location: Shelton Herb Farm, Leland NC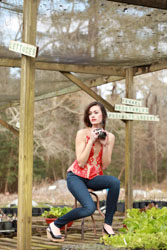 Easy to wear lace with the classic Skinny jean
For Love and Lemons "Lulu" top, $128, Mother Denim "Looker" skinny jeans, $196, Dannijo earrings, $392, Oliver; Stewart Weitzman "Jean" black patent wedges, $370, Torri Belle.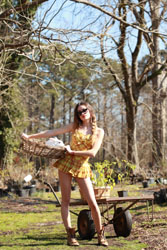 Vintage wonders and hot days ahead
60's Plaid Swimsuit, The Wonder Shop; Kopious "Ring and Tassel" bracelet and "Disk and Bone" earrings, Island Passage; Vintage Boots, Model's own.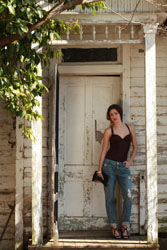 Weekend Boyfriend jeans take you from day to night
Marlies Dekkers Gloria body suit, $169, Lillies and Lace; Koral jeans, $257, Oliver; Stuart Weitzman "Ratatat" black suede heals, $455, Torri Belle; Kenneth Jay Lane Brushed Gold bangle, $188, Monkee's; Kopious "Klutch" handbag, $220, Oliver.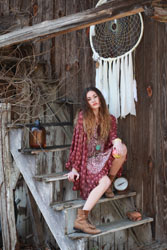 Bohemian whimsies remain!
Free People "Pop Combo" dress, $132, Island Passage Lumina; Kopious "Ring and Tassel" Necklace and "Turquoise Pendant" necklace, Island Passage; Vintage Boots, Model's own.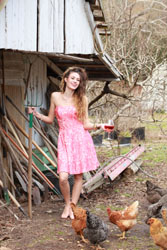 Anywhere anytime, fun Spring dresses are pretty in pink and rose
Yoana Baraschi dress, $323, Loren Hope bracelets, Monkee's .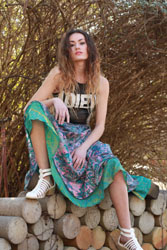 Rock a little contrast this Spring with year round faux leather and a feminine floral print
Morning Warrior "Adieu" top, $40, 70's Style Silk wrap skirt, $36, Liliana "Quincy" sandals, $45, The Wonder Shop; Dannijo earrings, $392, Oliver.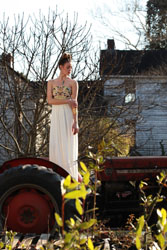 White―the only way to welcome warm weather
Signature 8 "Ivory Interest" dress, $68, Aqua Fedora; Reborn Brass and Copper Feather lariat necklace, $50, Reborn "Over the Moon" brass necklace, $55, Hallelu Boutique; Harrison Murray Feather Leather cuff bracelet, $44, Kopious Brass and Bead hoops, $40, Aqua Fedora.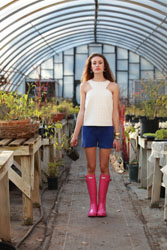 Rain or Shine, the Basket Weave top is a HOT new trend for Spring and will excite your wardrobe throughout the year!
AS by DF "Sao Paolo" Tank, $366, AS by DF "Raquel" suede shorts in blue, $288, Loren Hope bracelets, bangles and cuff, Loren Hope Earrings, $68, Lola Cruz Gold and Rhinestone heals, $259, Hunter "Lipstick" Original Gloss Wellington boots in pink, $140, Monkee's.