Living in the Great Outdoors
29 Mar 2014
We talked with four Wilmington-area outdoor living experts for helpful tips and advice on how to turn your backyard into an outdoor living space worthy of celebrating.
By LAUREN FRYE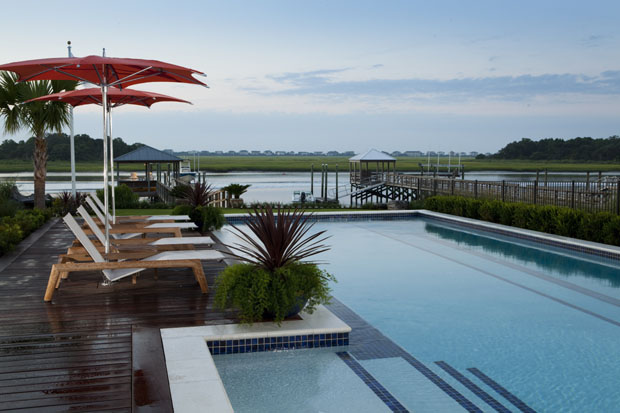 With spring right around the corner, it's time to turn your attention from indoor pursuits to the state of your great outdoors. If you're like most people, you're probably not wholly satisfied with your backyard. Maybe you'd like to upgrade your terrace, add a water or fire feature, or spruce up your landscaping, but it all seems so daunting. Where can you turn for help, guidance or installation?
Relax in Style:
Leisure World
Choices for outdoor furnishings have expanded tremendously over the past 5-10 years. No longer are hard, molded plastic or untreated aluminum your best (and only) options. Instead, exotic woods, hearty all-weather wicker and luxurious fabrics can make your outdoor living room as comfortable as your inside one.
"I tell my customers to think of their outdoor living space as another room in their home," says Trey Folcher, owner of Leisure World Casual Furniture. "It's an opportunity to extend the color story and style of your interior to the outdoors, or to create a unique personality to complement it."
Leisure World, a family owned business, has been selling outdoor furnishings and accessories in Wilmington for 28 years. This long history in the business equates to a deep understanding of the materials that work best in the coastal climate as well as the most popular features and styles.
"Outdoor furniture has really evolved, and it's important to do your research and understand your options before buying," says Folcher.
All-weather wicker, made from polyethylene resin, has retained immense popularity due to its durability and ease of maintenance. Furniture made from this material is lightweight yet sturdy and easy to clean—simply rinse it with a hose. All-weather wicker, which comes in a variety of color options, is UV resistant, which means no fading over time even in a sunny climate like coastal North Carolina.
"Part of the beauty of all-weather wicker is that it's long lasting and durable, and if you get tired of the look, you can easily switch it up by simply replacing cushions or adding new pillows," says Folcher.
Outdoor fabrics also aren't what they used to be. Today's cushions and pillows feel and look like they could just as easily belong in your family room as your outdoor area. In fact, Folcher says many customers are starting to choose outdoor graded material for their interior furnishings because it's so durable and easy to clean.
"Many of our cushions can be soaked in bleach and it won't hurt them a bit," he says. "They're also UV resistant, so they stay looking as vibrant and beautiful as the day you bought them."
Folcher stocks a variety of furnishings made from synthetic materials made to look natural. A coffee table made from a sturdy, resin-based material looks just like wood, while a lounge chair made from twisted vinyl appears to have been woven from a banana palm leaf. If all-natural is your thing, Folcher recommends hard woods like high quality teak and exotic ipe, which can stand up to the elements.
The showroom at Leisure World is stocked with such a variety that choosing can be difficult, and Folcher recommends envisioning what you want to be doing in your outdoor space.
"A lot of folks feel like they have to get a traditional table and four chairs for their patio space because that's what they grew up with," he says. "When in reality, they'd be more comfortable and relaxed sitting around a coffee table with some casual armchairs or a sofa." 910-392-7748, leisureworldfurniture.net
D.I.Y. Spaces, With a Little Help:
Stone Garden
If you're a weekend warrior when it comes to home and outdoor projects, the Stone Garden, a shop featuring natural and cultured stone as well as fountains and garden ornaments, is a great resource for creating a gorgeous new backyard.
Nina Brown, proprietor of the Stone Garden, says she meets a lot of customers who want to make changes to their outdoor space but don't have a clear idea about what they want to do or where they should start. "Folks come into the store staying, 'I want do redo my backyard,' but they don't yet have the terminology to talk about exactly what that means," she says.
That's where Brown and her knowledgeable staff can help. "Our first job is to educate customers about their options, show them examples of what they can do and help them make decisions to start defining their project."
Brown's process begins with asking customers about their intended use for the space. "The way we start thinking about designing your outdoor room depends heavily on who you are and how you will be using it," she says. "For instance, homeowners who entertain a lot might consider adding a built-in fireplace and designated bar area."
She also recommends defining the size and shape of the base of your outdoor area early in the process. There are many ways to visually mark off the space, but Brown says the easiest, cheapest and most effective is to create an outline with a simple garden hose. It allows you to play with dimensions and shape before you commit, and helps with a visual reference for scale.
"Oftentimes, customers come in to the shop with dimensions in mind, but when they see it laid out with the hose they realize the space is too large to be cozy, or too small to contain all the elements they want to include," she says.
When it comes to getting to work on building the space, the Stone Garden offers many DIY friendly services, which only makes sense as Brown reports that 75% of her customers are Do-It-Yourselfers.
"I think it's important for customers to come and spend time browsing our inventory to get an idea of what their options are, and what kinds of materials they gravitate toward," says Brown. In addition to the large inventory found in the yard, Brown also keeps catalogs, samples and photos of past jobs in her "garden room," where she encourages customers to sit and browse for as long as they like.
Novice and experienced do-it-yourselfers alike will love the Stone Garden's free classes, which focus on how to complete popular DIY projects. Past classes have included patios, fireplaces and firepits, pathways, fountains and water gardens. "Do-It-Yourselfers can come to our classes and go home with the knowledge and ability to complete an impressive project," she says. But if DIY isn't your thing, Brown has an extensive network of installers, masons, landscapers and water feature experts to help. 910-452-1619, stonegarden-nc.com
Build A True Outdoor Oasis:
AquaShapes Pools
Mark Batson, owner of Tongue and Groove Custom Builders, has worked on many high-end homes in Wilmington during his years as a builder. Over time he started noticing a trend emerging—instead of moving or building a new home from the ground up, many homeowners were enhancing the outdoor living component of their current homes.
"A great outdoor living space is very important to a high-end home," says Batson. "I've seen a lot of pools and hot tubs that don't meet the same high standards as the homes they were going in, so I decided to start AquaShapes. I wanted to be able to bring well made, luxury pools to the Wilmington market."
Batson, who now runs both businesses, has never looked back. "I love working on outdoor spaces because it's fun, and my clients are excited to work on the project," he says. "It's more relaxed than the homebuilding process."
Batson says his clients are well educated when it comes to the latest trends in luxury pools and water features, and they come to him with lots of ideas. "They're looking at magazines and traveling the world, so they understand how many incredible options they have. It's our job to make their visions a reality," he says.
The homeowners that Batson works with are also looking for something that expresses who they are and how they live. "They don't want the same old pool everyone else has," he says. AquaShapes prides themselves on their ability to find a solution for even the most challenging yard or exotic request, and have created some truly spectacular and one of a kind pools.
Installing a pool in an oceanfront home can be tricky, requiring piling to raise the pool above flood levels, but it's worth it for the privacy and spectacular views offered. "We did an oceanfront pool with adjoining hot tub in Kure Beach that turned out spectacularly," Batson says. "We're not afraid of complicated jobs."
Small or odd shaped lots require different problem solving skills, a challenge Batson welcomes. For long, slender lots that are popular in newer developments, he's designed pools that wrap two sides of the home, giving more square footage with a sleeker profile. "We talk to a lot of clients who think their yard isn't ideal for a pool," he explains. "I love showing them how many options they have if we just think out of the box."
AquaShapes is well versed in all the latest trends in pools and hot tubs, including beach entry pools, which don't have stairs but instead feature a bottom that gently slopes into the water. Beach entry pools are great for families with kids and seniors because they provide easy access to the water and have a more natural look than traditional entry pools.
Infinity pools, also known as zero edge pools, produce a visual effect of water extending to the horizon, vanishing, or extending to "infinity." Infinity pools are particularly impressive when the edge matches up with a larger body of water, like the ocean, and therefore are also very popular in Wilmington. Grottos, swim-up bars and waterfalls are also gaining a lot of attention lately, and Batson is very outspoken on how these new features can add flair to a high-end outdoor space.
"Waterfalls, grottos and swim-up bars give you that 'resort' feel at home, a luxury a lot of people are looking for today," he says.
AquaShapes uses Zodiac pool equipment exclusively, because it's at the forefront of new technology, is intuitive and user friendly. The best part of the system is the way you control it, from a wall mounted touch screen or mobile device. "They're the best quality pools and they're so easy to use and maintain," says Batson. "Our clients love them." 910-679-4610, aqua-shapes.com
Experience Your Back Yard Anew:
Elements Outdoor Living
"There's no such thing as a hopeless backyard," says Blair Walton, owner and head designer of Elements Outdoor Living, a company specializing in designing and installing outdoor living and landscape elements. Walton believes a fabulous outdoor space is just waiting to be uncovered, defined and built in every back yard he's ever seen.
"I believe all spaces have endless potential," he says. "You just need to take a look at your space with a fresh eye, and get creative about how to make it inviting and functional."
That's where Elements comes in. Walton, who's been working in the landscape industry since he was in college, has the depth of experience and creative vision to turn even the most mundane of patios into a posh space for entertaining, and barest of yards into an outdoor oasis.
Everyone's needs differ when it comes to creating an outdoor living area, so Walton's designs vary to reflect his clients' lifestyles and aesthetics while sticking to their budget. But all of Elements' projects strive to ensure a comfortable, inviting and easy to maintain space where homeowners can relax and enjoy Wilmington's beautiful Southern climate.
To ensure that each of his outdoor spaces are custom fit to the client, Walton and his staff approach their design process from the standpoint of the user's experience, asking questions like "how will the space be accessed" and "how often will it be used, and for what purposes?" Starting with the access point from the home to the yard, they move outwards, assessing each area as they go.
"We typically begin with the approach—what do you step onto when you walk out of the house? Do we need to create a path to access the outdoor area, or do you have direct access from the house?" For Walton, the journey is an important part of the experience. "We always look at how you will travel from one space to the next and integrate that into our design. Getting there is part of the experience, and it should feel that way."
Next, Walton looks at the structural elements that might become an integrated part of the terrace or deck: built-in seating and planters, fireplace or grill area. "We're looking at how the space becomes three dimensional. What can we do to make your living area more than a flat surface, and how can these elements add to your lifestyle?"
Walton and company always ask how the homeowner intends to use the space, so he can make the most of it through design. "If you don't entertain a lot, you don't need a table that seats 10. An intimate, cozy area might work better."
When it comes to the hottest trends in outdoor living, Walton puts fireplaces and firepits at the top of the list. "Fire elements are great for Wilmington," he says. "Because our winters are mild, they make spending time outside a viable option almost any time of year, especially if it's located in the area where you tend to congregate, rather that out in the middle of your yard."
Another trend on the rise is the outdoor kitchen. Built-in grills and designated areas for serving make it easy to entertain outside, and a selection of modular products help keep outdoor kitchens more budget-friendly. 910-297-3999.