Classy Planners
01 Oct 2013
WITH YEAR-END CELEBRATIONS ramping up and next year's agenda already in the works, it's time to start organizing your calendar. We found three local stores with some of Wilmington's most stylish planners. —R.W.S.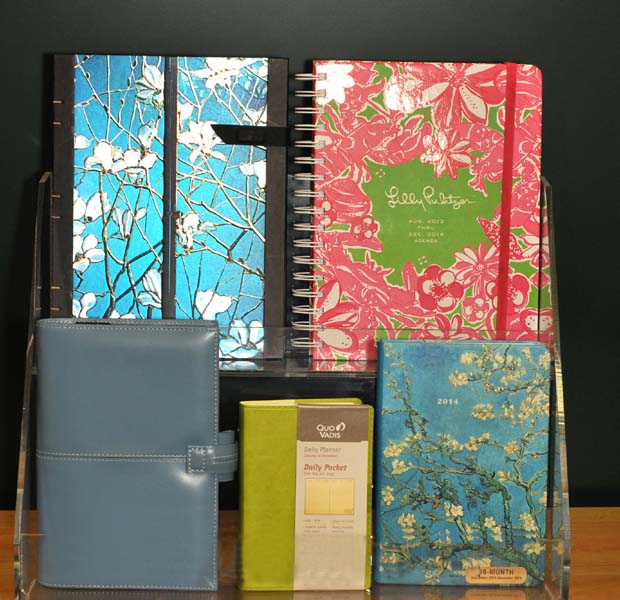 DRAGONFLIES
Vibe: This Wilmington favorite is filled with a trendy selection of stylish, chic, and humorous gifts including books, glassware, frames, candles, planners, agendas, backpacks, home decor, and more.
The Goods: Look for lines like Lilly Pulitzer and Kate Spade. Pair your planner with trendy, yet functional, portfolios, desk accessories, and chic cardholders. 4106 Oleander Dr., 910-796-9997.
OCASSIONS
Vibe: An eclectic stationery store filled with rows and tables of fine papers, specialty pens, calendars, wedding invitations, and unique gifts, this Cotton Exchange store is the source for hand-made paper, sealing wax, composition books, cards, and art supplies.
The Goods: Look for spiral or desktop editions of a number of planners by Moleskine, Lilly Pulitzer, Filofax, Quo Vadis, Peter Pauper Press, and more. Don't forget to accessorize your desk with a pencil sharpener, paper clip holder, and pen holder. 313 N. Front St., 910-343-9033.
POLKA DOT PALM
Vibe: This vibrant shop features a vast collection of chic accessories, unique gifts, and coastal decor including candles, planners, calendars, dishware, totes, and jewelry.
The Goods: Find the perfect agenda, planner or calendar to keep your notes and thoughts in one place. Choose from lines like Lilly Pulitzer and Spartina. 8262 Market St., 910-319-7400.
Plan Ahead
Tips on how to manage your time, plan ahead, and keep your calendar clean
» Prioritize your to-do-list into do now and do later.
» When creating your to-do-list, keep it in the same location until you complete the tasks. This will allow you to constantly make updates.
» To make it easier to remember, try to maintain the same schedule each week. Choose one night a week to plan and organize for the following week.
» Students often have A-days and B-days at school. Get two backpacks for each child to help them from forgetting the correct book or binder.