Erasing Summer Skin Mistakes
01 Oct 2013
OK, perhaps you didn't always re-apply sunscreen when you should have. Lucky for you, we have remedies.
By Mackenzie Matthews-Taylor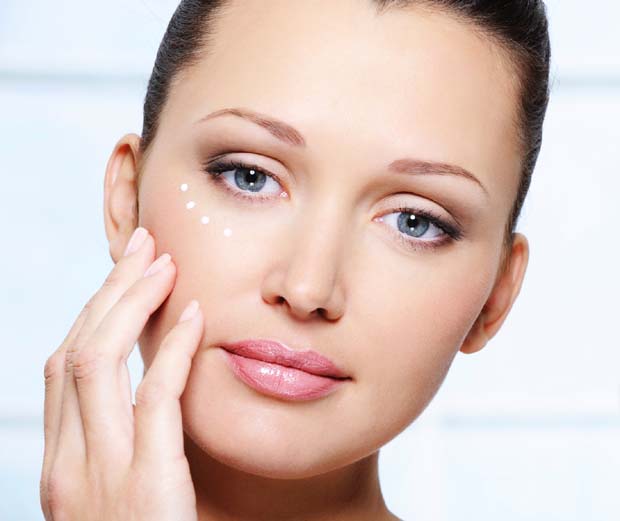 When it comes to reducing the appearance of fine lines and wrinkles resulting from UV damage or aging, Delaney recommends what she calls "the perfect pair" of products.
Summer officially makes its exit on September 21st and I, like many of you, am thoroughly looking forward to the changing of the seasons. I love everything about autumn – the cooler air, college football, pumpkin season, and of course, the re-introduction of boots, tights and scarves into my daily wardrobe. As we prepare, though, for all of the fun that fall brings, we might find that some aspects of summer continue to lurk around, especially when we look in the mirror. I'm talking about those pesky freckles, age spots and tiny lines that popped up in the past few months because we (oops!) didn't properly apply or re-apply sunscreen during our warm-weather adventures. Yep, my head is hanging in shame, too, because I'm a sun-protection offender as well. Thankfully, though, a beautiful veneer can be restored with the help of skincare professionals.
Marci Delaney is a licensed esthetician and founder of Spa 131 in West Columbia. Delaney says that some of the initial signs of sun-related skin damage include the aforementioned hyper-pigmentations and fine lines. We typically notice these conditions first on our face because that's the part of the body that we look at most frequently. However, they can appear just about anywhere, including on the backs of hands, the décolletage, shins and feet.
The key to reducing the appearance of these skin nuisances is to increase cellular turnover through the use of modern-day spa treatments and topical products. "It's never too late to start on a good skincare routine. That's number one," says Delaney. Here are a couple of options available to you.
Chemical Peels: These two little words tend to evoke feelings of utter and complete fear in women everywhere, but Delaney says as long as you're comfortable with and confident in your licensed skincare provider, there's really no need to fret. After all, a lot of the acids used in this treatment are derived from nature's bounties such as apples, berries, milk and plants.
Chemical peels work to improve the appearance of skin by removing damaged outer layers. They should only be performed by licensed professionals, so talk to your esthetician or dermatologist to determine if this is the right procedure for you.
Microdermabrasions: Microdermabrasion is a skincare method that employs minute grains to lightly sand and exfoliate the outermost skin layer. Then, the dead skin particles are "vacuumed" away, a process that stimulates oxygen and red blood flow to the resurfaced skin cells. Delaney says there are several different types of micros on the market today, including granular, diamond-tip wand, and oxygen/water types.
Talk with your licensed skin consultant to determine which method will work best for your skin problems. Remember that microdermabrasions and chemical peels can be done on a variety of body parts. These procedures are not limited to just the face!

Topical Products: If you truly want to rejuvenate your skin and make it look its absolute best, you must invest in and use quality topical products at home that are aimed not only at helping to erase sun, stress and age marks, but also at preventing future ones from appearing.
"When you go to the spa, it may provide ten percent of the solution. Ninety percent relies on the clients when they're at home," says Delaney.
A good skincare regimen should include products that exfoliate, cleanse, moisturize, assist with anti-aging and provide a good amount of sun protection. (After all, we don't want any more sun damage.) Most of these products are applied either in the morning or at night, but one of Delaney's favorite on-the-go products is Glō Protecting Powder SPF 30.
The reality of most sunscreens is that they typically only last for a few hours. The light, compact nature of this Glō product makes re-applying your SPF a cinch because it easily fits into your purse or work bag. The powder also comes in translucent and bronze shades, so you can choose the coverage that best fits your lifestyle.
When it comes to reducing the appearance of fine lines and wrinkles resulting from UV damage or aging, Delaney recommends what she calls "the perfect pair" of products – Glō Therapeutics Advanced B5 Hydration and Glō Therapeutics Ultra 15% Vitamin C Serum. The B5 product assists in cell renewal and hydration, while the Vitamin C formula coats the skin with peptides and antioxidants. The end result is skin that appears healthier, radiant and more youthful.
A key to turning back the clock and staying young looking at any age is to remember to shield yourself from the sun every single day, all year long! Protect yourself and stay beautiful.