Custom Collaboration
30 Sep 2013
RMB Building & Design partners with a Landfall homeowner to create a custom home that's anything but par
By LAUREN FRYE » Photos by G. FRANK HART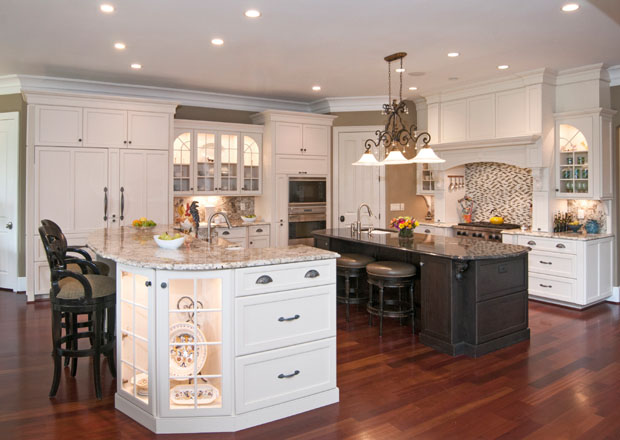 When Donald and Sherry Tedder were ready to build a home on the golf course in the gated community of Landfall, they reached out to RMB Building & Design to help them concept, design and construct the house of their dreams.
"I'd been involved with small design projects before—moving some walls, adding a window—but this was the first time I was going to start with a blank canvas," said Donald Tedder.
Wanting to make sure he had a good experience on his first custom home project, he asked friends and neighbors for recommendations. The name that kept coming up again and again was RMB. "I got so many positive comments about their work," said Tedder. "I knew I wanted to talk to them."
Under One Roof
RMB Building & Design is a family business, owned and run by Mack and Kay Braxton and their son Travis. They've been building homes in Wilmington since 1987, most notably in the Landfall community. RMB's forte is what they call "design and build," meaning they handle everything from drafting floor plans to overseeing the final coat of paint and everything in between.
Mack is a Certified Professional Building Designer and is trained in all phases of drafting, design and construction. He holds memberships in the American Institute of Building Design and the National Association of Home Builders. A whiz kid at drafting in high school, Braxton landed himself a summer job doing drafting in Kinston, his home town. One thing lead to another and Braxton found himself in the building business there.
In the mid-1980's, the Braxton's relocated to Wilmington, where they were both working for Landfall Associates—Kay was the Controller and Mack was building homes for J.P. Goforth. "We've been involved with Landfall from the beginning," said Kay. "We love this community." Their business is still largely in Landfall, but they've also built homes at Wrightsville and Carolina Beaches, Porters Neck and throughout New Hanover County.
Custom, From the Ground Up
The design process at RMB is as varied as their clients. Sometimes Braxton begins with an existing floor plan and modifies it, but most of the time he and his clients start from the ground up. "People want a one-of-a-kind, custom home," said Braxton. "We've never built the same house twice in Landfall." Which is saying a lot, since they've built close to 130 homes in the community.
The design process for the Tedders started the way most do, with Braxton sketching a basic layout and concept that met all their needs. From there, Braxton and Tedder worked together to layer in Tedder's design ideas. Though this level of homeowner input could potentially make the designer's job more difficult, according to Kay, his design ideas were paramount to the success of the final products. "It's very important that our clients build their vision," she said. "It's their home and they need to be happy with every single detail."
Tedder's background is in advertising, so it's not hard to see where he gets his creative energy. "I had a lot of thoughts when we started the project," he explained, "but in the end it was more of a feeling that I was trying to convey. I knew what I wanted my home to feel like when I was inside it. That's what guided me."
According to Tedder, his approach to designing this home was 180 degrees different from how many homeowners approach it. "Instead of thinking about the house from the front and moving back, I always thought about it from the golf course forward," he said. "I was very interested in what you would see when you looked at my house from the course."
Tedder and Braxton are both avid golfers, so thinking about the house in this way came naturally. In fact, according to Braxton, during the building process the two would often take a break for the "long view." "We'd go across the bridge on the course and look back at the house," said Braxton. "It's so important to take a step back and remember the big picture. It's easy to get mired down in the details."
"I often get introduced as 'the guy with the great house on the par 3," jokes Tedder. "People in the community know this home because it's special. There's not another one like it."
Open House
To Tedder, the most important feature was a living area that felt open and spacious. "I didn't want one of those separate, formal living rooms that no one ever goes in," he said. "I wanted the entire living area, including the kitchen, to flow, and I wanted us to feel comfortable and relaxed in the space."
The living area is large, but thanks to a well-plotted floor plan and a strategic use of furniture to break the room up visually, it never feels overwhelming or impersonal. Two sitting areas allow the Tedders to entertain large groups or small, and give them lots of options for seating.
Both Braxton and Tedder envisioned a massive wall of windows in this room to take advantage of the epic golf course view. Originally, the room was designed to have a flat ceiling, and the eyebrow windows that now cap the window wall were to be located in the attic. "When we started construction, I realized we could add an arched, barrel ceiling and keep the windows in the room," said Braxton.
Tedder was on board with the idea, and the end result is breathtaking. The curved, 26-foot ceilings give the room a graceful, gentle feel. Ceilings that high could easily make a space feel cavernous, but these do not. Instead the room feels cozy and warm while retaining and air of grandness and elegance.
A large, open space like this brings additional challenges when it comes to decorating. Because you can see a large amount of square footage from any point in the great room area, all the décor needs to have a similar look and feel. "We looked at a lot of rugs, couches and tables to get to the right place with it," said Tedder. "But we love the way it turned out."
Every Little Detail
"Tedder was the most involved client we've ever worked with, hands down" said Braxton. "He had a say in every little decision, every little detail."
"We had to figure out how to work together," continued Braxton. "Many clients don't understand or like the design process, or don't have the time to get involved. Tedder was both interested and knowledgeable, which made working together much easier."
One example of attention to detail lies in the home's corners. "If you look closely, you'll see there are no right angles," said Tedder. Instead, every corner is a bull nose (or rounded) corner, which gives the rooms a softer look. The arched ceilings and balconies continue the curved line theme.
Tedder had ideas about the fireplace, and brought an image of a stone fireplace surround and mantle to Braxton. Although he didn't ultimately want to use stone, there were design elements—namely curved pillars on either side of the fire box—he wanted to emulate. Together, Braxton and Tedder worked with a trim carpenter to create wide, half columns out of wood to flank the face of the fireplace. Tedder even laid out each tile for the face of the fireplace to ensure the subtle patterns in the glass matched up.
The most challenging design component for Tedder was the wine cellar. He knew he wanted it to feel sunken and tight, "almost like a dungeon," so they lowered the floor and ceiling and lined the whole thing in Brazilian cherry to make it dark. The barrel ceiling and pieced wood are meant to recall the look of wine barrels.
"Tedder put his mark on every aspect of this room. It's a wonder we're still speaking," jokes Braxton. But speaking they are, and as they talk about the house they reminisce fondly about the design process.
"The best thing about working with Braxton was his flexibility," said Tedder. "I made changes just about every week—heck, more than that! But Braxton was always accommodating."
Builder: RMB Building & Design, 910-256-6326, rmbbuildinganddesign.com