Going Beyond Garland
17 Nov 2013
Four Wilmington interior designers offer their tips to get your home gussied up for the most wonderful time of the year
By JENNIFER GLATT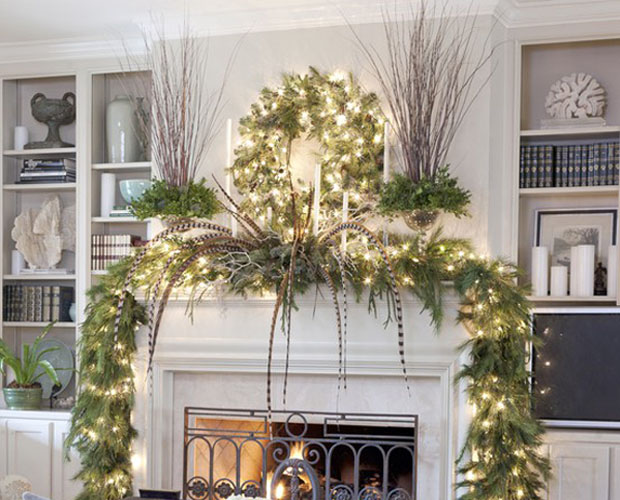 Nancy Mullineaux
Home Design Resource & Dezign Inspirations
A seasoned interior designer for more than 30 years, Nancy Mullineaux grew up here in Wilmington, and the beach is never far from her heart as she creates interior vignettes all over town.
Blending "coastal elegance" with a chic, sanctuary-like vibe, you'll often find items from nearby nature in Mullineaux's designs, such as sand and shells. Also, "fresh-cut greenery (not silks) brings in the fresh aroma that nature provides," she says. Rocks, moss, feathers, raffia, twigs and limbs from plants and trees are all fair game for inclusion, and perhaps even an eclectic item or two, as well.
"I like to creatively bring impact to a space that will project the "wow" factor through my distinctive details. Mixing unusual textures and colors together brings the delightfully unexpected to my designs," she explains.
After ascertaining her client's budget and existing color scheme, Nancy begins her design by highlighting the color tones in the rooms, and uses them to accentuate the space with unique stylish holiday expression.
"It's important to choose an accent color that may not already exist in the space, to bring that unusual "pop" to the pallet of the room," she adds. "If you've had the same green and red decorations for years, it's time to switch things up and add to them, or start over, if the budget will allow. Holiday decorating is no longer standard," she states.
Nancy notes that there is such an extensive, unique and beautiful range of colors to choose from today, especially when it comes to the holidays.
"Bring in the feeling of nature, and discover a theme that inspires a new tradition for Christmas in your home that can be enjoyed for years to come!" (910) 256-5644, dezigninspirations.com.
Style Tips
Use oversized, fresh, natural flowing garland and a wreath to give the "wow" factor to a fireplace mantle.
Use plenty of bright, white lights to accentuate all the greenery and give candle light elegance to the wreath and garland.
Bring in elements from nature like the use of feathers, twigs, and branches.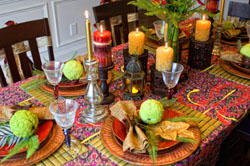 Debby Gomulka
Debby Gomulka Designs
As a designer for residential and commercial spaces, Debby Gomulka characterizes her interior décor as modern glamour, replete with several layers of design "to allow you to really have a sense for the thoughtfulness of the design composition."
Layering is key to her designs, and texture, color and composition of a space are all major components. "Layering a space is what gives it visual interest, she says. "Your eye keeps moving throughout the space to discover a journey that is true to the client's taste and lifestyle. Layering with color is one of my favorites. There are so many fabulous colors that can be mixed. It gives your room that surprise element."
A Wilmingtonian since 2005, Gomulka enjoys creating timeless designs with objects pulled from nature: "Anything shiny and glitzy with bold dashes of color to create that unexpected element of surprise that catches your attention," she explains. She starts any design by first listening to her client to get a sense of their design tastes and style, lifestyle, budget and dreams, then develops a design concept and makes her selections. However, she's careful not to go overboard with the new.
"I am a believer in using what you have, especially if you have fond memories of a decorative holiday item, or it reminds you of a special Christmas moment," she notes. Alternatively, you can "spice up" your holiday decor with a new theme, as she does with her Moroccan Holiday. "It's a twist from the traditional decor by adding just a few extra touches of specialty themed pieces that speak to a specific place you have traveled to."
Her advice for turning tired holiday décor from drab to fab? "Go for it! Add color, shine and glitz! The holidays are fun and festive, and this is the time of year to reflect that wonder and excitement into a tastefully designed space." But most of all, she encourages, have fun with your decorating. (910) 352-7339.
Style Tips
Traditional elegance blends with exotic detailing in this Moroccan Tablescape.
Bold color and objects pulled from nature create a warm, inviting festive table for the holidays.
Marrakech textile design by DG Designs provides the focal point for this festive table setting.
Bamboo placemats, greenery and raffia chair adornments create a twist on traditional holiday decorating.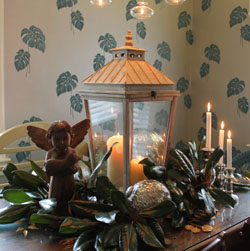 Kathy McKenzie and Patti Baker
McKenzie Baker Interiors
Kathy McKenzie and Patti Baker grew up as childhood friends in Greensboro, N.C. and have lived in Wilmington for 20 and 35 years, respectively. Together, they founded McKenzie Baker Interiors in 1993 and spend their days colorfully consulting on residential, commercial and retail projects, both together and independently.
"Our mission as designers is to reflect the client's personality and style," Baker says. "We strive to reflect the homeowners aesthetic, whether it's traditional, elegant, whimsical, or chic and contemporary."
With the clients' personality as a starting point, Baker says that she likes to incorporate "something unexpected" for holiday decor. "For example, I may use a color like teal or magenta with traditional holiday decor; or a tree topper fashioned with something unusual like peacock feathers and burlap."
McKenzie remarks that she likes to use "everyday items," which could include crystal or glass bowls filled with beautifully finished ornaments; a grouping of the homeowner's candlesticks nestled in ornaments, or beaded garland for a dining or coffee table.
"I think personal memories are important to incorporate into your holiday decorating, even if it's in small ways," McKenzie shares. "In my own home, I use a group of assorted wooden birdhouses on my mantel that my daughters and I decorated with glitter when they were small."
Baker wholeheartedly agrees. "I always include my son's childhood collection of nutcrackers in my holiday decorations. He is 21 now; those nutcrackers bring back memories of friends and family who selected the perfect nutcracker soldier for my son, that would reflect whatever his interest was that particular year."
"Baker and I joke that we can decorate for the holidays with cuttings from the yard and a can of gold spray paint," McKenzie says with a laugh. "But it's true! Holiday decorating doesn't have to be expensive or complicated. Incorporating treasured and everyday items with holiday themes is the key." (910) 762-4222, mckenziebakerinteriors.com.
Style Tips
Create a natural tablescape using fresh cut magnolia leaves along with a weathered wood lantern.
Accent with a hand-carved angel and gold and mercury glass ornaments.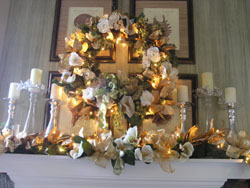 Samantha Nguyen
Samantha's Coastal Interiors
"When I am styling a room for a client, I employ the same rules I use at home," says Samantha Nguyen. "I appeal to all of the senses." She also focuses on meaningful items to the client and on objects that are beautiful to look at. She began interior design work in 1981 and moved to Wilmington in 1992.
As for holiday decorating, "Your décor does not have to be the obligatory red and green," she urges. In fact, her own personal signature is using organic and aqua items. "I fill porcelain bowls with mercury glass balls, aqua glass ornaments, fresh orchids, and starfish with white lights sparkling throughout.
Tradition and family make an appearance in Nguyen's designs, as well. "I use cherished items to inspire my holiday décor. Whether it be my prized hand-blown glass ornaments that were used on my grandparents' very first Christmas tree, my children's rattle, my childhood painted clogs or seashells collected from Masonboro Island, they all speak to family and cherished memories."
Nguyen also is known for the wreaths she creates every year, sometimes from fresh magnolia, natural or painted with metallic paint, with other greens gathered locally like pittosporum, holly, or cypress, and other times from the wisteria and Lady Banks rose vines she pruned during the fall. Then, she embellishes them with shells, starfish, fresh fruit, and ribbon.
To keep your holiday décor from feeling stale, Nguyen suggests mixing things up a bit. "Don't use the same wreath every year. Change up where you place your tree if space allows. Hang your wreath over a large mirror." Above all, she says, your décor should be fresh, livable and happy, no matter what the season. (910) 448-0381.
Style Tips
Add a little bling to a traditional pine wreath by using metallic fruits and magnolia leaves and crystal sprigs. Build depth by working vines and lights in to the wreath form before adding silk flowers and orchids. You can transform an inexpensive wreath from a big box store into something unique.
Add fresh cut rosemary to the wreath and garland before entertaining. The fragrance of the fresh-cut herb adds one more sensory layer that builds an unforgettable memory.
Add lit candles with crystal to sparkle and catch the eye. In this case, more is better. Collections like mercury glass candleholders appear luxurious when placed in groups.