Navigating Success
04 Jul 2023
After 20 Years, Faith, Family and Fun continue to anchor Anglers Marine NC
By JOE JANCSURAK
Selling family fun, one boat at a time, and practicing their faith one day at a time has proven to be a successful business formula for Anglers Marine NC, a 20-year family-owned and operated business with locations in Supply, Clayton, and its newest store in Morehead City.
Overseeing operations is C.W. Hamilton, president; his wife Carol, chief financial officer; their son Wes, vice president and general manager; and their daughter Dana Hobbs, account executive.
"There's something very special about being on a boat, where you disengage from your devices and instead engage with family and friends and just have fun," Carol says. C.W. and Carol raised their two children out on the water and know what valuable memories await other families and their friends, who also share a love for the water.
"Wes grew up fishing and winning tournaments," Carol says. "Now with families of their own, the tradition is passed onto the Hamilton (Wes) and Hobbs (Dana) children. "Our customers embrace us as a family business that promotes family fun, and they appreciate the experience that Wes and C.W. bring with them as tournament fishermen."
"When we fish with our customers, they get to see how our boats perform in tournament conditions," C.W. says. "And we, in turn, can gain a first-hand understanding of their needs such as state-of-the-art electronics and equipment necessary for a successful trip. We also get to share in their joy and excitement when they land a big fish."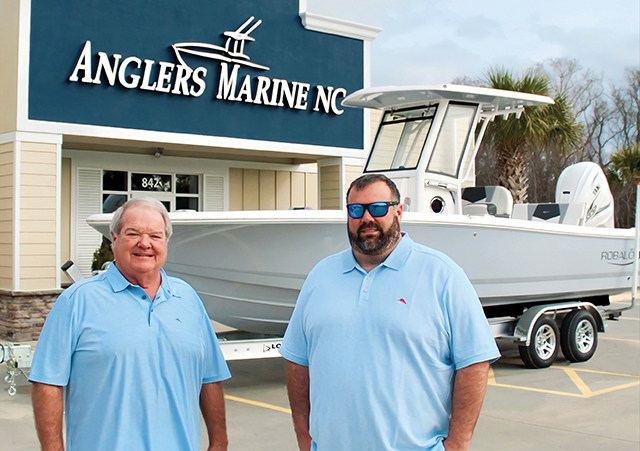 Dual Commitment
The Anglers family and 26-person team remain committed to meeting the needs of their customers. "We have hundreds of boats and the area's most knowledgeable sales staff," says Carol, who also stresses the team's faith-based commitment, which she believes has enabled them to overcome business challenges over the years and to take risks.
"With any business, you can't be afraid to take risks, and we're not," Carol says. "Though we have much to be grateful for, we've had our share of bumps along the way. When we started in 2003, the economy and the boating industry were strong. Then came the 2008 recession. We were small with just five employees and a lot of money tied up in inventory. There were times when we had to tap our home equity line of credit. Through it all, we prayed."
Despite supply chain issues during the pandemic, sales skyrocketed as people turned more to outdoor activities. And, perhaps, because God is central to Anglers' way of doing business, "We always depend on God to make a way for us," Carol proclaims. "He did 20 years ago, and He continues to do so today."