Sharing the Secrets of Our Natural Treasures
04 Jul 2023
A scientist and UNCW professor is on a quest to protect and spread awareness around North Carolina's ecosystems
By Vera Wilson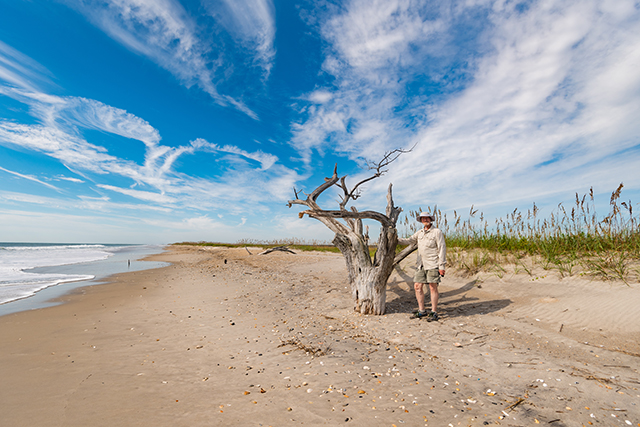 How lucky are we nature lovers who work and play in Southeastern North Carolina where, on any given day, we might leave our footprints in the golden sands of Carolina Beach, or observe a heron clutching a branch in her beak on her way to building a nest?
According to Professor Roger Shew, scientist and senior lecturer of Geology and Environmental Science at UNC-Wilmington, we ain't seen nothin' yet.
Shew is on a mission to share what he calls our area's natural treasures. He believes that most of us who reside or visit the region are unaware of the beauty and mystique of the coastal plains around us, and he says it's time to reveal its secrets.
Shew has done this beautifully through a documentary called "Shew's Natural Treasures." The hour-long film takes us into the nooks and crannies of seven natural ecosystems: Carolina bays, longleaf pine savannas, carnivorous plants, the Cape Fear and Black River, old-growth cypress trees, salt marshes and barrier islands. In the film, we are introduced to native flora like some of the oldest living trees in the world and the enigmatic Venus flytrap that truly does exist outside of the movie "Little Shop of Horrors."
A native of Brunswick County, Shew has spent years educating not just UNCW students but local schoolchildren, community groups and lawmakers on the wonders of these treasures and how vital they are to our local way of life. Wanting to move beyond the PowerPoint slides he normally presents—"I wanted something that's more than me just talking"—so he reached out to UNCW 's Director of Media Production, Jesse Bradley, about making a film. Bradley was quickly on board, and he and his production team worked for four years documenting the coastal plain with Shew.
Of the experience, Bradley wrote: "Nature requires a certain balance. Without our awe of nature, the balance seems uncertain. This experience enhanced my awe and connection to life."
Which takes us to another reason Shew made the film: to create awareness about the serious threats to these natural resources.
"The film is a way to show people why they should be thinking about protecting these treasures," says Shew. "There are three main threats to biodiversity: overexploitation, agriculture and urbanization. And we have all three in spades in Southeastern North Carolina. With all the development in the area, we are at risk of losing some of these wonders."
Shew cites dangers such as hazardous substances flowing from animal operations into the Cape Fear River, stormwater runoff impairing our tidal creeks, deforestation to make way for development and silviculture, the practice of controlling forests for desired outcomes (mainly for timber production).
But Shew doesn't seem like the kind of guy to tie himself to a tree to safeguard it. He believes that there are steps that environmentalists, developers and the government can take together to preserve our natural resources.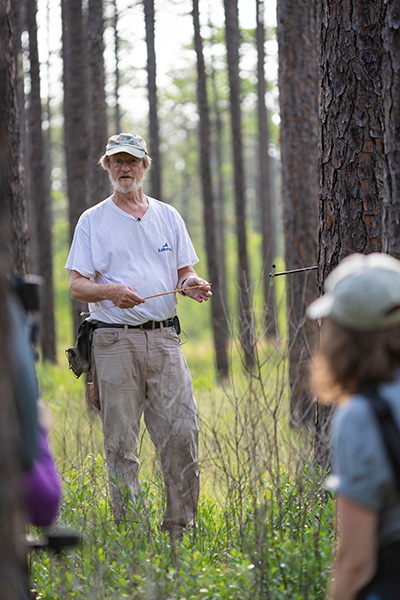 "I understand private ownership, but sometimes it doesn't make sense to do certain things," he explains. Shew uses the proposal for a hotel on Eagle Island as an example, believing development there would lead to safety issues. Instead, he would like to discuss alternative uses for the land. "For instance, it could become an ecotourism destination and be a perfect complement to the battleship," he says.
He also believes that developers and regulators may sometimes have the best of intentions in preserving natural space, but don't quite understand what these ecosystems need to survive.
"Take, for example, the red-headed woodpecker. One family unit needs a habitat of about 180 to 200 acres," says Shew. "If you start fragmenting the land and bisecting it by roads, you've lost that ability."
Committed land management is also important, such as controlled burns.
"One of the things people need to be understanding of is fire," he says. "Fire is also restorative. We need support for places like the Nature Conservancy and the Forest Service to make sure it's done correctly."
Shew is not all gloom and doom. He's happy to report the successes.
"Where I grew up in Brunswick County in the '60s, you could hardly see a black bear and never saw turkey because they were hunted out," he says. "If you went to the beach, you never saw brown pelicans due to the DDT, but today they all have healthy populations."
Shew weaves storytelling into the film to peak interest, like the belief by some that a giant prehistoric fish created the Carolina bays as a result of a mating ritual. Native Waccamaw Siouans believe a star fell from heaven causing all the surrounding waters to flow in the ensuing crater, creating Lake Waccamaw.
One thing's for sure, Shew won't rest until his natural treasures are preserved for future generations.
"With the documentary, I want to make sure that people realize what some of these treasures really are and how they look in their healthy state," he says. "And if they see them that way, I think they'll cherish them and try to protect them a little bit more."
To find out about future screenings, please visit Shew's website: people.uncw.edu/shewr.