These Are a Few of My Favorite Things
04 Jul 2023
A beloved local ceramics shop shares the therapeutic art of pottery with students of all levels
By Kim Henry » Photos by Allison Eding of Lightbloom Photography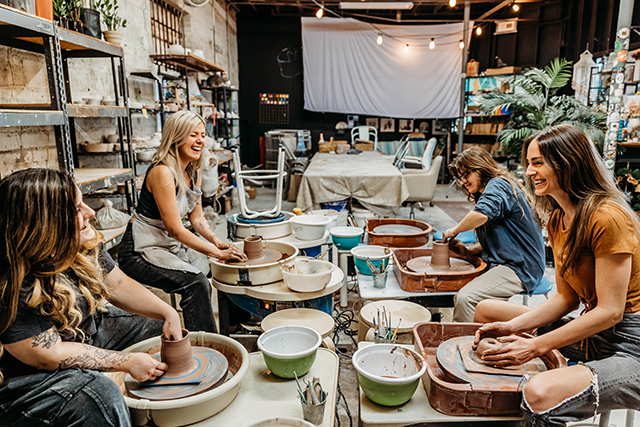 If you had to put a few of your favorite things into one endeavor, what would it look like? And perhaps more importantly, what would it feel like? For Ashley Merklinger the answers to these questions became clear in the shape of Bookworm Pottery & Co. A lover of clay, cats, coffee and books, Merklinger's logo encapsulates the essence of her gorgeous Cargo District ceramic studio, where people are encouraged to leave their expectations and business at the door and enjoy the experience of getting their hands on some clay. The creative dream of Merklinger, Bookworm Pottery & Co is a reflection of this innovative young woman's gentle nature and easy-going vibe, and just walking through the door makes you want to sit down, turn off your phone and get a little messy.
As an avid lover of books and a writer, Merklinger started out as an English major at UNCW, until a chance ceramics class changed the course of her life. "My boyfriend's sister convinced me to do a pottery class with her and I agreed just for fun. Then I fell in love with it! It makes me happy," smiles Merklinger, lovingly cutting up slabs of clay into workable, light grey mounds.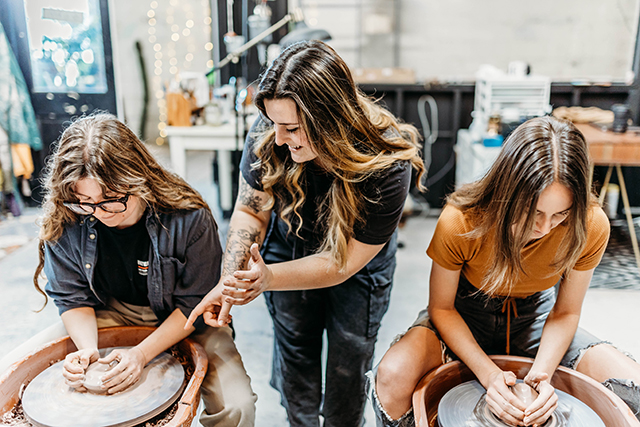 Graduating just as the pandemic hit meant that there was little time to get a career going and Merklinger felt the intense stress negatively impacting her mental health. Thankfully, she gravitated back towards the things that made her feel good, and pottery was high on that list. Dedicated to her passion, despite an empty bank account, Merklinger managed to secure a great space in Wilmington's evolving Cargo District in the fall of 2021, and it's been unfolding ever since.
With a wide range of options available to suit all levels and a welcoming atmosphere, the studio's success is not surprising. From a fun date night adventure to family-friendly hands-on clay classes to courses to help you get comfortable with a pottery wheel, Bookworm has something for everyone, regardless of experience with clay or limited time to learn something new.
"One of the many things I love about pottery is that you can't really fail," says Merklinger as the pottery wheels in the background gently hum. "You can always reuse the clay or keep working it until you create something you like."
As one of the oldest art forms known to humans, ceramics spans many cultures and geographical areas, making it a timeless and tactile point of connection. Merklinger emphasizes that part of her vision is to link as many people with ceramics as possible, firmly believing that being creative and trying new things is beneficial for overall wellness. And in a culture that hypes the need to overachieve, ceramics can provide a therapeutic outlet.
"My classes are like little pockets of rest," says Merklinger, surrounded by students' pottery pieces, including some beautiful items on display for sale, and a comfy sofa complete with cushions in the corner. "I kind of wanted the studio to feel like you're in someone's living room." Well, mission accomplished. Bookworm is the least intimidating pottery studio I've ever been in. Merklinger and her fellow teaching artists expertly guide students to learn ceramic techniques and explore ideas but, at the end of the day, the ultimate gift is being able to provide a warm, safe space for people to play, discover and, perhaps, be pleasantly surprised by what they're able to create.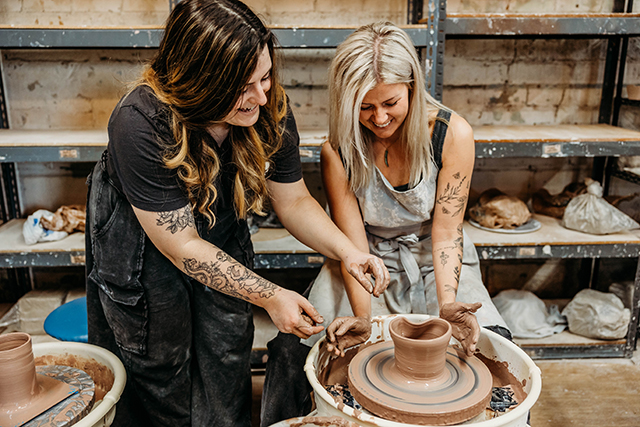 Between Merklinger and her team, Bookworm Pottery & Co has classes and workshops almost every day of the week. "It's important to me that as a small, local business I can employ other people," Merklinger says.
A talented ceramicist herself, Merklinger credits these words of wisdom as the source of her inspiration: "I intentionally make my work colorful and inviting to remind others that life is beautiful, and its magic is endless. And I want to encourage people to use a piece made with intention in their daily life to remind them to slow down and truly enjoy it."