New England Heritage Meets Rustic Coastal in Ogden
07 Sep 2021
A dream team turns a vision into reality

By ANNESOPHIA RICHARDS » Photos by G. FRANK HART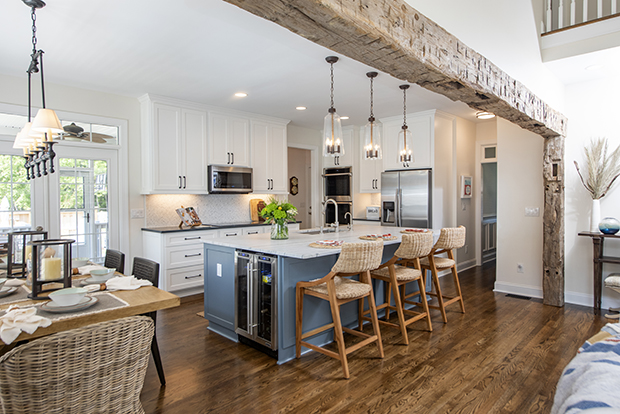 Fate has a funny way of bringing two people together, and for Eleanor Crow and her husband Eric Mino, it happened more than once. Originally from New England, the couple met as teenagers in boarding school in Massachusetts, and they even went to their senior prom together. Life then took them in separate directions, and so it wasn't until they both attended their 25th high school reunion decades later that the two reunited. This time around, however, it was love at second sight.

Years before their reconnection, both Eleanor and Eric actually lived in the San Francisco Bay area at the same time, but never once ran into each other. From there, Eleanor moved to Newport, Rhode Island where she ran her own public relations firm, while Eric transferred to Wilmington for his career with GE. When their high school reunion drew them together in 2017, the couple began dating, and the two were married last summer at Eleanor's home in Newport.

"Life is really all about timing, and I think everything happens for a reason," says Eleanor.

After their wedding, Eleanor sold her home in Newport and moved down to Wilmington full time with her black lab Willa in tow. At the time, Eric was living with his 12-year-old son Vance in a home off Middle Sound Loop, and the newly merged family soon realized that the house was a bit small for them all to be comfortable. Hoping to remain in the Ogden area, Eleanor and Eric began searching for a new home nearby.

"We landed on a house that no one else was looking at, and there were no other offers in," says Eleanor. "With the market getting crazy, we totally lucked out and got the house at a discount, but it needed some serious work."

Undeterred, Eleanor and Eric decided to turn the home on Harlandale Drive into their dream home. They began making a list of what they wanted redone, from simpler upgrades such as new wall colors to larger projects like removing a wall that divided the living room from the kitchen.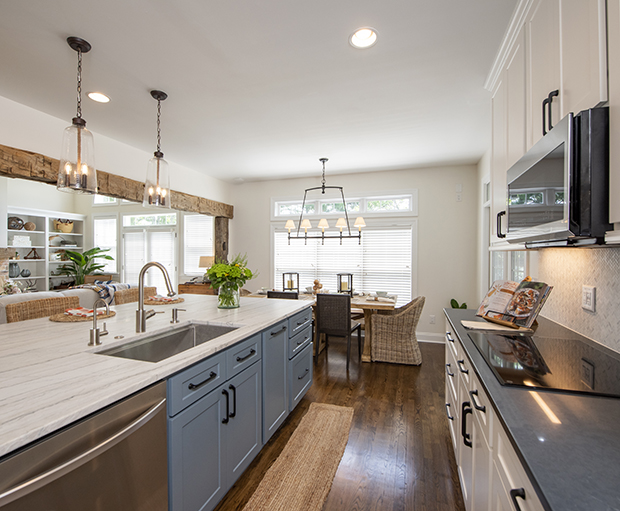 "Despite the strange layout and the odd choice of wall colors, the light in the house was amazing, and it had really good bones," says Eleanor. "Eric and I loved the idea of renovating and doing the necessary work on the house to turn it into what we really wanted."


A Perfect Team

Eleanor and Eric closed on the house in December of 2020, but decided to get the renovations underway before moving in. A friend recommended contractor Josh Thomas with Thomas Trades and designer Morgan Dail with Deeply Rooted Interiors, and Eleanor soon learned what made the duo so unique was their ability to work together well as a team.

"It's hard to find designers and contractors who can work on the same timeline, and equally hard to get them to work in sync – which is something Morgan and Josh do really well," says Eleanor.

With over 24 years of new construction and remodeling experience, Thomas and his team at Thomas Trades can do it all. As a licensed General Contractor in residential and commercial construction, Thomas specializes in custom homes, kitchens and baths, sunrooms, additions, decks and any other remodeling needs.

"We take a lot of pride in what we do, we're punctual, and when we say we're going to do something we do it," says Thomas.

Whenever a project needs an interior designer, Thomas partners up with Dail from Deeply Rooted Interiors. This full-service design firm specializing in both home and commercial design is dedicated to providing clients with a uniquely personalized experience and an individualized approach.

"Once my clients give me an idea, I love to take it to the next level and push the limits on what the clients think can be done to achieve the look they want," says Dail.

A Shared Vision

As for the look Eleanor and Eric wanted, the couple's inspiration came from both their shared New England heritage and a love of the ocean. With this rustic coastal style in mind, Thomas and his team got to work renovating their way through the house. They started by gutting kitchen, then Thomas custom built a new kitchen island and cabinets. He replaced the tile and appliances in both the kitchen and bathrooms and added barn doors to the master bathroom and kitchen pantry. Other rustic touches of the renovation came from the use of reclaimed brick from Chicago on the floors of the mudroom and the fireplace, as well as live edge black walnut used for the bathroom vanity and mudroom countertops.

"We used a lot of reclaimed wood from trees that fell during Hurricane Dorian in the Forest Hills area of Wilmington,"
says Eleanor.

Eleanor wanted to open the space between the kitchen and the living room, so she asked Thomas and his team to knock down the dividing wall and redefine the space. Left with a large opening, Thomas located circa 1840 to 1900 hand hewn, reclaimed barn beams from Little Switzerland, North Carolina, which he used to encapsulate the space as well as to replace the fireplace mantle.

"We had the beams delivered down here, and they were incredible," says Thomas. "At 1,200 pounds, we had to use some ingenuity to be able to get them in the house and then all the way up to where we needed to put them. They were actually one of the last things we installed, and they made the house just perfect."

As for the interior design of the home, one of Dail's main starting points was choosing a color palette inspired by Eleanor and Eric's New England heritage.

"Most times when you think of a home with a coastal vibe, you envision turquoises and seafoam colors, but we really wanted to go with more of the nautical influence, like when you think of sailboats, lighthouse, and those darker toned families," says Dail. "The rustic bricks and beams were big features, so I didn't want to take away from those. We went with navy on the island, and incorporated some dark colors like greens and the darker wood tones throughout the house."

Keeping with the same nautical theme in mind, Dail used a vintage-inspired wallpaper in the powder room as an eye-catching art feature, and it's now Eleanor's favorite thing about that room. In the master bathroom, Dail again wanted to give a nod to a nautical influence while still keeping the room light and bright.

"I knew we were going to do more masculine finishes with the tiles and the colors, but I still wanted to keep the silhouette of the bathroom really feminine for Eleanor," says Dail. "We had the black walnut custom made vanities and shelves, and then we did rounded edges on the mirror and really pretty metals and soft tones on the shower tiles, then we went really dark on the floors, so it's a really nice combination for the two of them."


Creating A Dream Home

Although there are still some finishing touches left to be done, Eleanor and Eric are absolutely thrilled with their home's transformation. She credits the success of the makeover to the wonderful collaboration between herself, Eric, Thomas and Dail, and the feeling is mutual all around.

"Eleanor and Eric are some of the most creative customers I've ever had," says Thomas. "I love working for customers that have a vision, so with them, Morgan and myself, we made a perfect team."

Inspired by her love of real estate and remodeling, Eleanor took the opportunity at the beginning of this year to get her real estate license. She joined Intracoastal Realty and now uses her home renovation experience to help her clients on their search for the perfect home.

"It's such a hard market right now for people to find exactly what they're looking for, but sometimes you just need to be a little creative," says Eleanor. "A dream home doesn't have to be ridiculously expensive, because with the right contractor and right designer, you can create exactly what you want."

Eleanor Crow, Broker/Realtor®, Intracoastal Realty, 910-239-5501, ecrow@intracoastalrealty.com