Outdoor Retreat
04 Mar 2020
Refining your backyard style

By EMILY GORMAN FANCY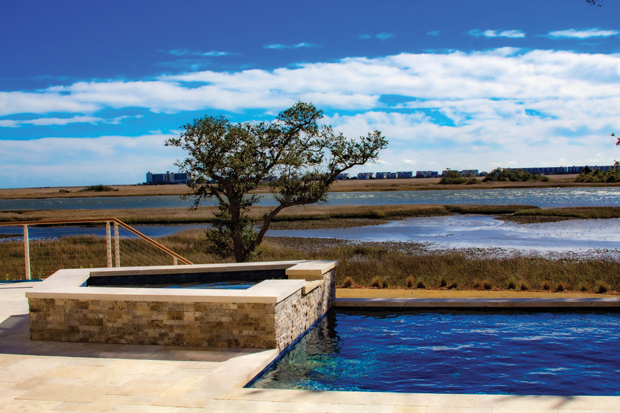 With spring upon us and summer around the corner, outdoor living is an essential part of life on the Cape Fear coast. From relaxing by the pool to grilling to enjoying views of the Intracoastal, many local residents spend a lot of their time outside during the warmer months. We spoke with experts from three local outdoor living businesses on how to create an ideal retreat in your own backyard.

Low Country Landscaping
910-200-1489
lowcountrylandscaping.com

Low Country Landscaping recently wrapped up a long-term project developing a new outdoor oasis for a Landfall family. The home features a pristine, nearly unobstructed view overlooking the north end of Wrightsville Beach and the Intracoastal Waterway with views of Figure Eight Island as well. The homeowners requested a "spectacular but understated" outdoor living space that would allow them to enjoy their home's natural surroundings, according to Scott Hinson, owner of Low Country Landscaping.

Throughout the project's new outdoor transformation, Low Country's attention to detail helped create a true backyard haven. As the centerpiece of the backyard retreat, Low Country created beautiful travertine and maroma stonework around the pool, which is situated at patio height four feet above ground level. The homeowners can swim up to the edge of the pool and enjoy the views and natural beauty of their surroundings.

The client's outdoor space includes environmentally-friendly pervious pavers, a type of porous concrete that allows storm water to infiltrate through the concrete and flow back into the soil. "This controls storm water and prevents it from spilling into the Intracoastal," Hinson says.

The property's landscaping carries hints of an English garden with touches of Southern influence, including boxwood hedges, camellias, and azaleas. The lot is lined with three majestic live oaks that are at least twenty years old. Magnolias and Japanese maples also complement the natural landscape.

"This is the homeowners' first home on the water, and they've enjoyed watching the boats, dolphins, and birds that regularly inhabit the Intracoastal," Hinson says. "They love the inside and the outside of their home and were very happy with the entire process. It was a joy to work with them and see their reactions to the finished product."

Low Country Landscaping has been serving Wilmington, Wrightsville Beach, Figure Eight, Bald Head Island, and surrounding areas for more than twenty years. When asked what he enjoys the most about his job, Hinson immediately responds that his favorite part is working with clients and helping them achieve their goals. "I love the creative process from start to finish. With a larger project like this, it is gratifying to see it all come together," he explains. "This is what I would call a legacy project, something that will define you for years to come."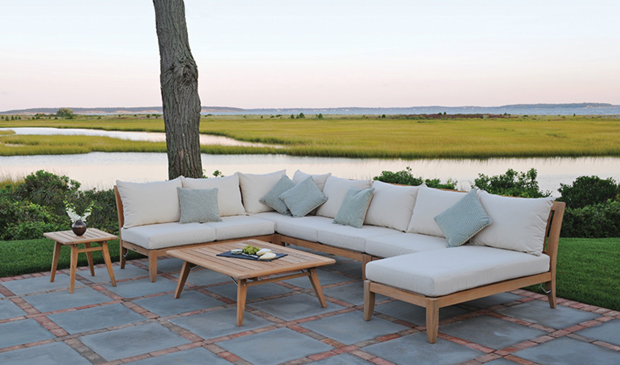 Leisure World Casual Furniture
910-392-7748
leisureworldcasual.com

When a client approaches Trey Folcher, owner of Leisure World Casual Furniture, about furniture options for an outdoor living space, his first question is, "How do you intend to use this space?" Sometimes clients focus on staging the space for when their college kids come home for breaks or extended family is in town, instead of thinking about how they will truly use the space on a daily basis. "If it's only the two of you, eighty percent of the time, gear the space toward how you will use it the majority of the time," Folcher explains.

Folcher enjoys the opportunity to visit clients' homes or view aerial photos of their outdoor spaces, and then make recommendations that perhaps the client hasn't previously considered. "Sometimes a lightbulb will go off in the client's eyes, and this is a great feeling," he says.

Incorporating modern looks in outdoor furnishings is a trend that has become more popular in Wilmington, according to Folcher. The modern style of outdoor furniture involves what Folcher calls a more "linear" look and a blend of materials, such as wicker and teak, wicker and aluminum, and teak and aluminum. Modern sectionals often have low backs and are made for lounging. "When you look outside your back window, the low back of the modern furniture doesn't obstruct your view," he explains. "The lounge style allows people to sit back and relax with a bottle of wine."

The modern look has always been popular in larger cosmopolitan areas such as Miami, Atlanta, and New York, and now with the prevalence of HGTV shows and home design online communities like Houzz, the trend has spread to coastal areas. Folcher encourages clients to garner ideas from HGTV or online resources like Houzz and Pinterest, and then take those ideas to local businesses and give local vendors the opportunity to make those visions into a reality.

When it comes to investing in furniture for your home, there is no substitute for selecting and trying out the furniture in person. "I can't imagine buying a $1,000 chair without sitting in it first," Folcher says.

As a small business owner in Wilmington for 35 years, Folcher values serving the local community. Lump to Laughter, the Cape Fear Heart Ball, and the Brigade Boys and Girls Club are just a few of the local nonprofit organizations that Leisure World has supported.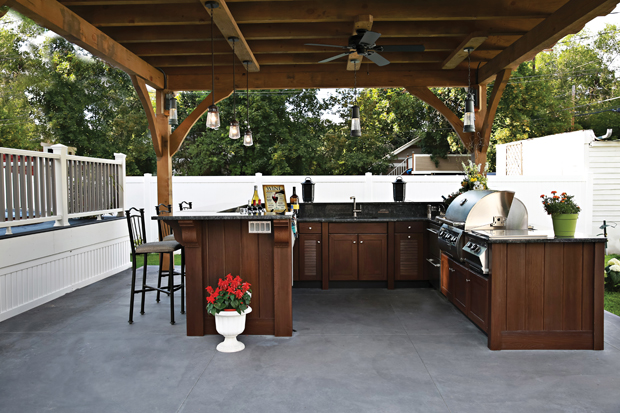 Markraft Cabinets
910-793-0202
markraft.com

Thinking about developing a new outdoor living area, but want to test drive some ideas before you commit? Markraft Cabinets recently created an outdoor living display complete with grill options, counter space and cabinetry, an outdoor TV, and a pergola to allow customers to better envision possibilities for their backyard or patio. Clients can walk through the outdoor living display, touching and feeling the products up close.

The display allows customers to think through the little details, such as positioning of pergolas and other fixtures for maximum natural light. "Markraft's display was designed to showcase the versatility of the products and the myriad options available to customers," says Rachel Jindra, a Markraft designer.

Markraft's outdoor living space offers a clean, crisp design with multiple door and finish styles to choose from, and all of their products are also built to withstand inclement weather. Among the many options available at Markraft are a DCS grill and a ceramic egg grill.

Additionally, Markraft carries NatureKast, a product line featuring 100-percent weather-proof cabinetry made of PVC and a heavy resign, a combination of materials built to withstand the elements. The Dekton quartz countertops promise to be more durable than the traditional indoor variety.

"NatureKast allows us to partner with some of the top grill manufacturers to get cabinets made especially for a certain type of grill," Jindra says. "Markraft offers a quality product that is going to hold up for you throughout every season."

With Wilmington's temperate climate, residents can entertain outdoors many months of the year, making outdoor living spaces a sought-after feature. Markraft has also seen customers trend toward a strong interest in outdoor fireplaces, outdoor pizza ovens, grilling stations, and outdoor bar areas. "Customers are really looking for ways to enjoy their outdoor spaces with ease, and since we spend the majority of our time in our kitchens, being able to bring that type of living outdoors is a win-win," Jindra says.