Photographer's Playground
01 Oct 2013
Uptown Market's chic furnishings and vintage décor make uptown Wilmington a shopping destination
By LAUREN FRYE » Photos by ERIN WHITTLE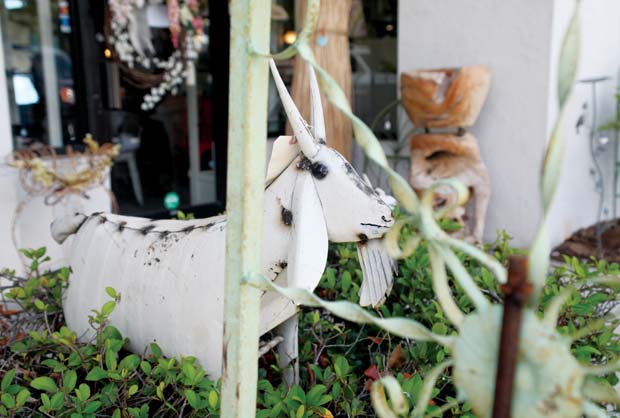 I was headed to Uptown Market on a mission.
My friend J was searching for the perfect vintage buffet to complete her dining room. She listed very specific requirements regarding size, style, color, finish, design and price range. Her clear mental image of the piece had yet to materialize in three dimensions, and understandably, she was feeling discouraged.
"I have a good feeling about this place," I told her as we drove up Market Street.
Pulling into the lot, the sheer size of the building lifted our spirits; how could we not find what we were looking for in this enormous space? We hurried inside and as I paused to peruse a shelf of 1960's jewelry, I heard J whisper-shout, "I think this is it!"
I found her standing in front of a vintage, cottage chic buffet, the exact size, color and style we'd discussed, with a price tag displaying the precise dollar amount she'd budgeted for.
"I think you're right," I said.
New Management
Uptown Market Antiques and Uncommon Goods has been around for more than 10 years, although it hasn't always been the shopping mecca it is today. When current owner Andrea Cumming bought the business in January, she doubled its size by expanding into the adjacent florist shop. The result is a 12,000 square foot retail co-op space offering an eclectic mix of old and new furniture, jewelry, vintage-style clothing, coastal décor, custom signs and cool one-of-a-kind items of all types.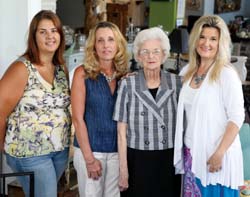 The business model is a retail co-op, meaning the large space has been parceled into smaller "shops," which Cumming rents to merchants who sell goods that fit the Uptown Market niche. With 35 merchants, the store is currently at capacity. "I'm lucky to have found such a talented and dedicated group of entrepreneurs to work with," she said. "My merchants help make Uptown Market a unique and fun shopping experience."
Although the shop's official name has the word "antiques" in it, Cumming says that's a little misleading, at least when it comes to the furniture offerings. "We don't stock much antique furniture in its original, pristine form," she says. "Instead, we take antiques and refinish, rebuild and repurpose them to give them new life."
In some cases, it just takes a coat of paint and a little love to freshen up an old dresser. In others, the transformation is more extreme, with a brand new piece being made from the best parts of multiple antiques. "Mix-and match furniture," Cumming calls it.
If, unlike J, you don't find your perfect furniture piece waiting for you when you walk through the door, the folks at Uptown Market create custom furniture items to order. "Custom pieces are huge for us," says Cumming. "We love to talk to customers and create custom furniture items to their specifications."
Forward Thinking
Cumming came to the retail co-op business from the corporate world, where she held executive positions at global companies like Sarah Lee and AT&T. Her father was living in Wilmington and when he passed away in 2001 she came down from New York for an extended stay. While she was here, her company got bought out, leaving her with big career decisions to make. She ultimately made the fortuitous decision to stay in Wilmington and pursue another dream.
During her time here, Cumming had started playing around with fusing glass. She began making dichroic glass jewelry pieces, at first just for fun, but then more seriously. She eventually started selling her glass pieces—under the business name Sassy Glass—at other retail co-ops in town, namely Blue Moon and Ticked Pink.
"Buying Uptown Market was such a special decision because I had visited them with my mother back in 2004," Cumming recalls. "I remember walking in there and thinking, someday I want to own a store just like this." Nine years later, that's exactly what happened.
According to Cumming, some of her shop's best clients are designers and photographers. "One client I worked with called it a 'photographer's playground,'" she laughed. "They love to come here and shop for interesting props." Interior designers come in search of distinctive statement pieces for clients.
As Uptown Market grows and expands, Cumming hopes to be able to cater more specifically to these designers' needs. "I'd love to get input from them on what they want and need from a shopping experience," she said. She also hinted at another growth possibility—a second location to handle the merchants she now has to turn away because she doesn't have space. A good problem to have, Cumming admits. 8086 Market St., 910-686-0930.