Site Specific
30 Sep 2013
No project is too small or too big for this local award-winning architect and design firm
By KIM HENRY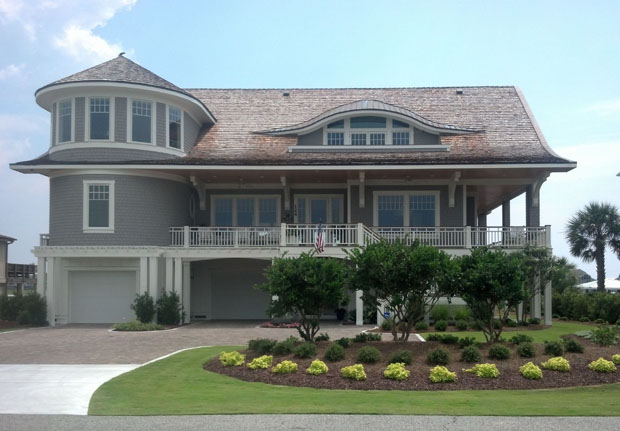 Six blocks along Market Street in Downtown Wilmington, is a beautifully restored historic building that houses the prolific innovations of Lisle Architecture and Design. The building itself is a clear reflection of the inner workings of this creative company, with its stunning stained glass windows cascading light across the open plan offices. Even the conference table is an in-house design, made from a one hundred year old chunk of reclaimed hard wood that was discovered during the renovations.
David Lisle is the creative flare behind this four person operation, and this is the third Wilmington building that he has transformed into the companies office space. Taking only one year to complete this most recent renovation of what had been five separate apartments, the project received the 2010 Preservation Award for 'Adaptive Reuse and Rehabilitation' from the Historic Wilmington foundation.
Forty-six year old Lisle grew up in Laurinburg, North Carolina but moved to Wilmington fifteen years ago with his wife Laura, who is the company's accountant. "We were looking for a great place to bring up our children and Wilmington was that place," smiles Lisle, father of two sons, now ages 16 and 18. With a Masters in Architecture from NC State, a degree in engineering, a bachelor's degree in architecture from Ohio State University, and a genuine passion for design and construction, Lisle is clearly doing exactly what he should be doing in life.
His love for design began in high school and was nurtured by his up-bringing around an artistic family. Lisle's mother is a florist and his father is a creator of stained glass windows, some of which are utilized throughout the present Lisle Architecture & Design headquarters. "My first major project was being a part of the team that designed the fifty million dollar Columbus Convention Center in Ohio. That was a pretty exciting beginning!" says Lisle.
His company was born alongside the move to Wilmington and lays claim to over 1,700 projects during the fifteen years of its existence. Lisle Architecture and Design works on residential, commercial and infrastructure ventures, designing anything from beach houses, to bridges, to site specific furniture. "Someone may come to me needing a total renovation of their home or want lighting that will complement a particular size space. It's all within our remit. It begins with the client. Their needs, visions, dreams and budget set the perimeter for me to get creative within. It's always interesting and I love a challenge," explains Lisle.
Having a creative eye, engineering knowledge and the ability to process budgeting requirements provides Lisle with the many different tools of his trade. Incorporating anything of interest or value that a specific site has to offer is clearly an attractive aspect of the welcomed challenge. Wilmington is rich in old buildings that can be restored to their former glory, with the addition of some modern day trimmings. Preserving original features or reusing parts of dilapidated buildings in new ways, is all a part of the fun.
Present projects include the design for a third of a mile long bridge over the Missouri River in Washington, Missouri, an 11.5 million dollar block of commercial apartments on 3rd Street right here in Wilmington, and they just completed construction of a new beach house on Wrightsville Beach. "We like to source local materials as much as possible," says Lisle. A new office under construction for Castle Branch also includes the redesign of the entire outdoor space to include a butterfly garden, a scent garden and a blueberry patch, using only indigenous and seasonal materials. The recently completed building and landscaping project for the Lower Cape Fear Hospice & Life Care Center is a perfect example of this company ethic on connecting the inside with the outside. This project was awarded the Lower Cape Fear Stewardship Development Significant Achievement Award in 2007, for its demonstration of outstanding environmental stewardship through the protection, conservation, improvement and awareness of natural resources.
The new amphitheater at Kure Beach was another Lisle Architecture & Design creation. This sea front performance and family entertainment venue was made with sustainability in mind. "The siding of the building was made from a plastic composite that was produced entirely from recycled materials," says Lisle.
The company has had to think outside the box within the recent economic climate and Lisle spends a certain amount of time traveling to other states in order to keep the work coming in. However, Wilmington is their first love for a variety of reasons, from the diversity of local ventures, to the sandy shores that provide much treasured family time. This is one company that is managing to walk its talk and be pretty abundant in the process. 910-763-6053, lislearchitecture.com