The Finishing Touch
29 Mar 2014
Fred Kumpel gives us the scoop on the latest trends in window treatments
By CECE NUNN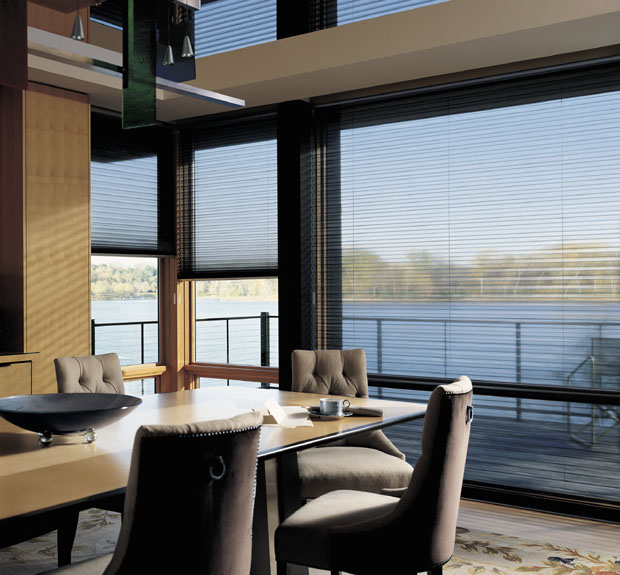 In terms of both function and fashion, gone are the days when little mini-blinds were the most popular choice for window coverings.
As with every industry, tastes change with the times, and these days, the options for homeowners, designers and builders range from the simple yet still aesthetically pleasing to blinds that obey the commands of a remote control or iPhone.
With so many window covering choices available, it can be difficult to know where to start, but the experts at a longtime Wilmington business have some advice. Function should be at the top of the list of what to consider for people in the market for new coverings, says Chris de Jong, sales manager for Strickland's Window Coverings, a North 23rd Street business that traces its beginnings to 1942.
"Normally, people have a specific need, whether it's privacy or sun or heat protection," said de Jong, who has worked at Strickland's for nearly 25 years, ever since he took a job as an installer when he was in college. "It doesn't make much sense to put something up, for example, that's pretty but not going to give you privacy in the bathroom."
Thinking about what you need, whether it's protection for the back of a couch or a painting that faces your windows, or to keep from having to look at your neighbor's air conditioning unit every morning, is absolutely key.
"And once you figure out what you're trying to accomplish," said Fred Kumpel, owner of Strickland's, "then you figure out what products fit those needs the best."
In the 1940s, when former railroad worker James Strickland started Strickland Venetian Blind Works as a maker and seller of 2-inch wooden venetian blinds, those type of window coverings fit the bill. In the 1950s, Strickland introduced metal slats for blinds and later, plastic slats, before working on some of the first vertical blinds with metal louvers. Kumpel, who started working at Strickland's Window Coverings when he was 17, bought the business from the Strickland family in 2008.
Having that kind of history, and the experience that comes with it, can be critical when it comes to helping people choose the coverings they need from among so many options, Kumpel said.
"It's important to get somebody who is trained and is knowledgeable because there are very specific products that serve that (specific) function and there are some products that really don't serve that at all," Kumpel said.
Solar shades are an example of one of the more current trends.
"Solar shades are the roller shades that you can see through so they're real popular anywhere that has a view," de Jong said. "It protects you from the sun but you don't lose outward visibility. You can still see the golf course or the ocean . . .Those are real popular."
Motorized window coverings are in style as well, especially among buyers who enjoy the latest in technological innovations.
"They're not cheap, but they're clever and they're pretty reliable, too," de Jong said. "You can sit on your sofa, hit a button and the shades go up."
Among many other options, HunterDouglas, a window coverings company that Strickland's relies on, makes shades powered by remote control, examples of which can be seen in the Strickland's Window Coverings showroom. These shades, with product names like Silhouette, come in styles that customers find pleasing to the eye while also eliminating the need for operating cords that children and pets can get tangled up in.
"People are starting to realize that they can move away from the chunky window treatments that block out the sun with these new products," said Danielle Boisse, an interior designer whose business, Manifest Design, works with Strickland's Window Coverings. Boisse said the HunterDouglas Silhouette shades are becoming more popular because they let you keep the view but have a softer, lighter feel.
In addition to keeping function in mind, de Jong and Kumpel suggest that buyers visit the website Houzz.com for the buzz in home decor and photographs of options they find interesting.
"People sometimes have a hard time communicating what they want or what they need because they don't always have the language, but if they have a picture, it makes it a lot easier," de Jong said.
Products are available as well for those who want to keep the window coverings they have but bring them more up-to-date, including a sheer material made to snap over existing vertical blinds, Kumpel said. You tuck the louvers into little pockets in the bottom, he explained, and the effect is that of sheer drapery that closes but doesn't look like a vertical blind.
Kumpel said Strickland's on-site repair service also helps customers who want to keep the window coverings they already have.
"Say you have a room that has 12 windows and all the window coverings are in pretty good shape, but it's in a color that's been discontinued and one of them breaks," Kumpel said. The homeowner might be thinking she has to replace all 12, but "we can fix the one and get you back in business with the whole thing. There is a lot of value in being able to repair." 910-762-0944, stricklandswindowcoverings.com